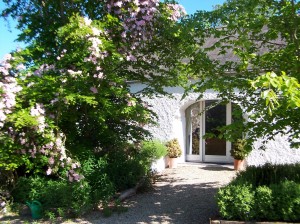 Serendipity is sometimes a life saver. About ten years ago, at one of those crucial life turning points, when I didn't know which road to take, I got a phone call from a friend, asking me to mind his cottage in the Wicklow Mountains for a few months. Within a week I, my husband and baby, had run to the hills. It was a healing, uplifting and bonding escape for all of us and, for this reason, Wicklow will always be, for me, a place to connect with life and breathe again.
A recent trip back took me further East of the Mountains this time, but the short stay was just enough to whet my Wicklow appetite once more. Only 6kms outside Wicklow Town, I stayed in one of the most stylish eco-friendly houses in Ireland, The Old Milking Parlour in Ballymurrin.
Eco-architects Delphine and Philip Geoghegan, first converted a 17th Century Quaker Meeting House into their home, and then the adjoining stone milking parlour into adesign feat of green gorgeousness for guests. "This was my chance to show people that sustainability is not all about calico and spinach", Delphine told me.
Bar the cows, the Geoghegans have worked scrupulously to maintain most of the original features. The four elegant wood and glass doors which open onto the daffodil-strewn rear garden fill each of the original cattle entrances. Resisting any temptation to chop the Parlour into separate buildings, they have preserved the original partitions,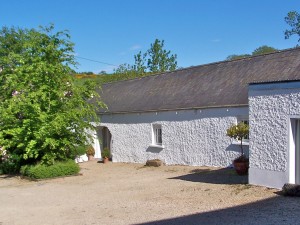 which provide a semi-open plan aesthetic, with one room merging smoothly into another.
The under-floor geothermal heating creates an almost 'soft' warm air, topped up by the roaring designer wood-burning stove, with a flue which stretches up through the pitched timber rafters. As well as this, the energy from solar panels provides the majority of hot water. The Parlour is minimally furnished with pale wood, allowing designer splashes of red or lime green to contrast perfectly with the original dry-stone wall, now painted white with lime and organic paints. Funky designer touches are plenty, from the resplendent shower heads to the energy-saving coloured halogen lights illuminating the porcelain-tiled corridor which links each carefully planned space.
The Parlour is quite simply a place of peace. I recommend leaving the car behind and chilling here for a weekend. You
can take a train to Wicklow Town and hire a bike at Wicklow Cycles from €10per day. Sadly, you can't take your bike on commuter trains stopping at Wicklow, en route to Arklow, unless a fold up. But you can take it on certain Inter-city Services, en route to Rosslare, depending on the train in use. Better to hire one, really, as rail-bike service is still unpredictable. Or take Wicklow Bus, and put your bike in the boot, if it's not too full.
In Wicklow Town you can stock up on the Garden of Ireland's produce at The Dominican Farm and Ecology Centre, just beside Wicklow Gaol. Its shelves are brimming with organic meat and vegetables, most of which are sourced from the 70 acre farm set up and run by the Dominican Sisters in 1998.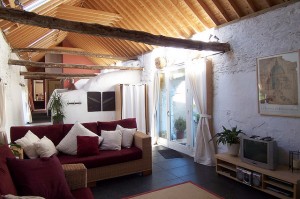 It's another six walk or cycle from Ballymurrin along country lanes to the sand dunes of Brittas Bay. So, between the train, walks, cycling, food, and the Parlour itself, I can't think of a better place to welcome Spring, and start breathing in a bit life again.
This article, by Catherine Mack, was first published in The Irish Times