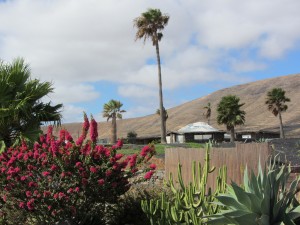 Tucked up in a 'secret cinema' in the middle of the ancient town of Teguise, Lanzarote on what feels like a secret rendez-vous with my loved one, the lights dim. Dramatic scenery from Lanzarote's barren, volcanic magnificence, the location for Pedro Almodóvar's film Broken Embraces, skite across the screen to cheers from the small, but bursting with pride Lanzarotian audience. And proud they might be, as they have managed to keep their stunning island a secret from many of us for years.
The best kept secret is, of course, that Lanzarote is a land of sensuous beauty. 'You're going to Lanzagrotty? Why on earth…?' friends said, but I had been seduced by one particular company's website for years, keeping an eye on its progress, and finally found the opportunity to visit it. Lanzarote Retreats is an eco-enclave located in the fishing village of Arrieta on the island's remote northern coast. We had all been feeling cold to our bones after last year's winter of discontent and, like so many, craved some real sun. So, with enough carbon credits under our belt to justify the flights, we went in search of the green, not the grotty.
Michelle and Tila Braddock, of UK origins, but living on the island for twenty years, created Lanzarote Retreats because they wanted to share some of their beloved island's secrets, and do so in a sustainable way. They began by restoring an old farm or 'finca' , starting with a stone water housing unit or aljibe, now a luxury villa, and expanding organically into its own little universe,  with yurts dotted around the place like the stars and stone cottages like petite planets. All revolve around a central pool area with honesty bar, yoga sessions, paella evenings, or just chilling out on the giant daybed. It is an eco-design coup, the yurts mirroring the soft mounds of the island's myriad volcanic cones, and the stone renovations a reminder of locals' determination to survive in an otherwise arid, infertile environment over hundreds of years. But also because although there are many options of accommodation to choose from, they are positioned in such a way that you are never aware that there are quite a few people staying here, meeting a family here, or a honey moon couple there, some people happy to enjoy the privacy of their self-sufficient yurts and others enjoying the communal camping vibe by the solar heated pool.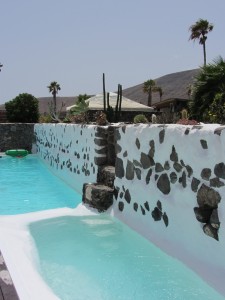 You don't even need a car to come here, as Tila will meet you at the airport in his eco Prius, with a bottle of bubbly to wash away any travel trauma, his equally bubbly personality infusing us all with Canarian cameraderie, as he whisks us down to the beach (just minutes' walk from the yurts) just as soon as we have downed bags, to show us how to manage the surf (body boards provided outside every yurt, of course). The finca is about ten minutes' walk along the beach from the village shops and a few excellent tapas bars too, one of which, the Bar el Pesquito is right by the water, tucked away in a  corner beside Lanzarote Retreats'  other accommodation, 'The fisherman's cottage' which, although separate from the main site, still has the same sussed, sustainable and sassy vibe.  It is so close to the water, you could cast your line from bed in the morning and go back for a doze while waiting to catch your breakfast. It also overlooks the small pier which became part of our daily ritual, swimming out to it from the beach, joining the local kids who jump off it, and swimming back into the beach again. A few rounds of this and you have earned your tapas.
Tila and Michelle, as well as having excellent eco credentials, with wind and solar power, water sourced from a spring while recycling all the grey stuff, free range chickens with eggs for those who can get out of bed early enough, also promote local excursions  in an impressively low key way. We took a rib boat out to La Graciosa, another of Lanzarote's secrets. Just a mile or so off shore, we went on a day trip to this small white sandy island which, along with four other islets make up one of the largest marine reserves in Europe. Totally unspoilt, it has sandy streets, a chapel dedicated to its fishing traditions, barren paths where you can hike between two volcanic peaks and crystal clear swimming and snorkelling.  This is also where we bought some of the best fish of our trip, straight out of the wheelbarrow of a local fisherman who had just arrived into the fish shop, providing us with eight enormous tuna steaks which we barbequed back at the finca, washed down with a bottle of Lanzarotian Malvasian white from our honesty bar.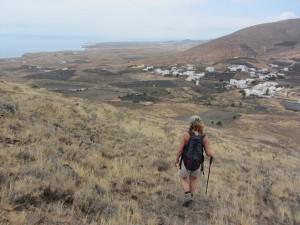 Lanzarote is a walker's dream, and despite it being August when we visited, I managed a few serious hikes. Starting early in the morning, and always bringing my 'Camelpak' of water, I had a couple of very special outings. With over one hundred volcanoes on this island, it is extraordinary to think that the peaks which add such character and undulation to the geography here, did not exist before the first eruptions in 1730. Before this time, the land was fertile and fecund and as my walking guide, Marcelo Espino of canarytrekking.com, explained, there are now just a few spots of lichen and a few fig trees which we enjoy harvesting to give us a bit of an energy boost as we walk, as signs of re-emerging life forms.
Marcelo is one of a handful of walking guides who leads hikers across the highly protected scenery of the volcanic Timanfaya National Park (for more information see turismolanzarote.com).  You need a permit to roam across the dramatic lava flows, tunnels, craters and ridges, and most people choose to do this on a bus trip or by camel, but I couldn't recommend a morning with Marcelo more highly. An expert geologist, charming raconteur and full of local anecdotes, he led a group of six of us up one of the volcanic peaks, Pico Partido.  It was one of the highlights of visiting Lanzarote, and my only regret was not taking the kids, as they would have loved this guy and it sure did beat traipsing round the Park on a bus. You have to touch the lava for the geographical history to come to life, from the tiny volcanic 'lapilli' stones underfoot, which turn to larger, hollow coals the more we climb, or the rough jagged boulders which lie in random spots depending on where the violent eruption sent it, all of which contrast highly with the swathes of smooth, labyrinthine lava flows which had moved slowly, snake like almost, down the peaks all those years ago.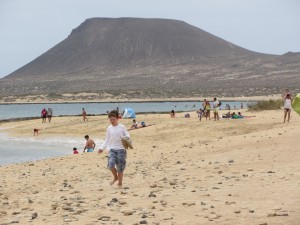 One of the most spectacular scenes in Almodóvar's film is an overhead shot of the protagonists driving through the black, barren interior of Lanzarote. There are mini craters all around them, which are in fact mini oases, each one home to a well protected and carefully nurtured vine. Aesthetically beautiful in their defiance of nature's harshness, they hold the secrets of Bacchus. Similarly, Lanzarote Retreats, tucked into its own natural hollow at the bottom of the Temisa Valley, holds the secret to sustainable and sumptuous tourism. All we're hoping for now is that we get a chance to go back for a sequel (for a humble amateur film of our stay, however, you can click here)
This article was first published in Ireland's Southern Star newspaper.