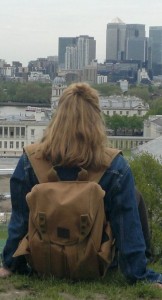 Meet Matthew. My new travel companion. Tanned, gorgeous, flexible, generous, classy, traditional and ethical. I can't believe my luck, but the best comes to those who wait, isn't that what they say? It has been about ten years since I had such a good travel mate so, really, the time had come.
Matthew is so fabulous, however, that I had to take him out around my native London first, needing any excuse to show him off. Shopping trips, school runs and Sunday lunch were not really what I had in mind for Matthew, but I just couldn't wait. And it was worth it. On our first outing to Greenwich Park, someone stopped me and asked where I got it. I mean him. OK, I mean it. Fantasy over, Matthew is, in fact, a bag – a daypack to be precise. Designed by one of the coolest, ethical luggage companies I have come across in a long time, Lake District based Millican, who also name all their bags by the way, just in case you thought I was losing it, these bags are sustainable and sexy. Well at least, if you find high quality canvas, funky and easy to use super sturdy poppers, a built in rain cover, carefully thought out pragmatic pocket design, a quick access front zip, excellent water resistance and perfect size (yes, it does matter) sexy.
On the ethical front, all of the Millican men are sensitive types. The company is named after Millican Dalton, who left early 1900's London living to take up the quintessential sustainable life in the Lake District, making his own organic clothing, rucksacks and tents, in between guiding people across the lakes and mountains which were now home.
Millican founders Jorrit Jorritsma and Nicky Forbes, who also upped stakes a few years ago and moved to the Lake District, say that "Like him, we want to inspire others to care for the planet. We want to tell wild stories. We want to write in leather bound books– preferably Moleskine ones.   Unlike him, we'll never live in a cave. Sorry."  Because they are modern realists too. For example, some of Millican's sourcing is still done in the Lake district, but they also have to source abroad, providing a detailed list of their suppliers, their stories and sustainable principles on their website.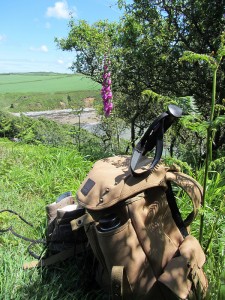 I must admit, I drooled over just about every item on the Millican menu before finally committing to Matthew. Maybe because I think he has a slightly more feminine side than the others. And  I only half jest about my new 'relationship'. Because, as the years go on I get more and more attached to various objects as I travel, with key items coming on every trip now. A black sustainable cashmere sweater from the Scottish Highlands, a green alpaca scarf knitted in a family run business on Ireland's Aran Islands, hiking boots bought so long ago I can't even remember where,  and a bracelet made by a Maasai elder who became a family friend after a trip to his village in Kenya. They are now all my travel talismans, with Matthew slipping comfortably into a similar role already, I can tell. Because sometimes you just know that someone (alright, something) is quite simply, for life. The only problem being – I am already fantasising about Harry, Adam, Stephen, Rob ……
Since writing this article, Matthew has been camping in Ireland, and now we are just back from walking on the Pembrokeshire Coast Path in Wales. It was super comfy to carry, had loads of room for waterproofs and pack lunch, didn't make my back over hot, kept the contents cool, and I loved the easy to reach rain cover which is attached in a zipped pocket at the bottom, which I hadn't spotted originally. And he was, as ever, a handsome companion. See photo below for a few shots of the gorgeous guy in action.
For more information see homeofmillican.com