Ireland Green Travel app for Apple iTunes
A travel app, published March 2011, with over 120 entries of green things to do, places to stay and ways of getting around without a car, in Ireland. Commissioned and published by Sutro Media, the app has been very well reviewed by users and by the travel press. It has been a joy writing this, with the great freedom of being able to update it whenever I want, knowing that people who have bought the app will get  these updates free of charge.  Here are a few comments from reviewers:
"The sheer range of activities and hotels featured makes this an invaluable tool for holidaymakers and business travellers alike" – The Ecologist
"I'm even more excited that Ireland Green Travel provides a different way to approach itinerary planning… whether it's full-on green travel or just a desire to add something eco-conscious along the way. Even those who don't see themselves as green travelers will appreciate the distinctly Irish — yet often overlooked — activities listed by the app" www.irishfireside.com
Ecoescape: Ireland
Researched and written by Catherine Mack, and published by Green Guides in June 2008, as part of a series for Ecoescape. This is a consumer guidebook to fifty Ecoescapes throughout the island of Ireland, North and South. From hostels to four star hotels, cottages to community-run enterprises, it takes you to corners of Ireland you often won't find in the traditional guidebooks. Also featuring a Slow Travel section, it provides details of ferry and train travel to Ireland, as well as how to access each featured place using public transport.
Here are some kind words about it:
"Catherine Mack captures the soul of slow travel in Ireland. Her book is an excellent port of call for green travellers." Richard Hammond, founder of www.greentraveller.co.uk and co-author of Rough Guides' Clean Breaks
"Extremely informative and amusing. Catherine sensitively conveys the dreams and commitment of Ireland's tourism providers who are doing their bit to make a difference. These are not just ecoescapes, they are great escapes." Miriam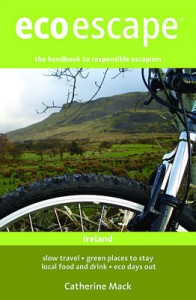 Donohoe, Travel Editor,  The Irish Times
"Thorough and well-researched, this book has unearthed some real gems and is a useful starting point for anyone looking to go green on the Emerald Isle." Joanne O'Connor, Travel Editor, The Observer
"For anyone looking for eco-friendly travel ideas, Ecoescape:Ireland is a full-colour 192 page travel guide to the greenest places in Ireland. This informative and fun book has uncovered some gems, personally reviewed by author Catherine Mack. Each of the 50 Ecoescapes includes inspiring photographyand details of how to get there using eco-friendly transport."  Healthy and Organic Living – July 08
"An ecoescape needn't be dull and worthy, and it can be extremely indulgent, as this guide to Irish eco-travel proves… and her ability to be sceptical of places is one of the book's strong points. The places she visits have to prove to her that they're giving more than just lip-service to the notion of eco travel and being green….the author gives more than just lip-service to her write-ups of the places she visits. The main choices receive two or three full pages in the book, and they are all enjoyably readable. The writer seems to treat each entry as a piece of journalism, to inform and entertain, and doesn't provide the usual kind of superficial guidebook write-up. Catherine Mack is no mean photographer too, and provides most of the images used in the book, like the one on the cover of a bicycle parked with Ben Bulben in the distance".  Suite 101.com– Mike Gerrard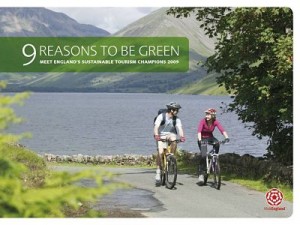 9 Reasons to be Green
Researched and written by Catherine Mack, commissioned by VisitEngland in April 2009.  VisitEngland sought out beacon sustainable tourism businesses in all its nine regions. This booklet aims to highlight the excellent work of these businesses, using interviews with their managers, founders and pioneers, as they talk about what inspired them to be green. The booklet is used as a tool for encouraging other English tourism businesses to follow suit. Each of the featured businesses was a regional winner of the Enjoy England Award for Excellence in Sustainable Tourism.
Ecotourism Handbook for Ireland
Researched and written by Catherine Mack, the Ecotourism Handbook for Ireland was co-commissioned by The Irish Tourism Board, Failte Ireland, and Greenbox. Published in April 2009, it is a detailed 70 page handbook written for the Irish tourism trade, as a tool to help them get to grips with the changes they can make in order to become a more ethical business. It has been well received within the industry, covering everything from funding, business plans, accreditation and marketing for ecotourism businesses. The book can be downloaded from their website here and is currently being updated for publication in 2012.