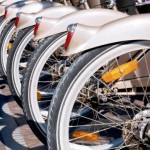 I know that Paris for Valentines is a cliché, but it is so easy to fall in love there. As an ethical traveler, I am also in love with Paris. Living in London I am spoilt, as I can take a train to get there, with no better start to a trip to Paris than on the Eurostar. Quick glass of bubbly at the champagne bar in the magnificent Kings Cross St. Pancras International station, and three hours later you can do the same thing in the centre of Paris . If you haven't done it yet, it's worth a trip to London just to experience it.
For eco-friendly accommodation, stay in a wooden lodge surrounded by forest in Versailles, only twenty minutes by train from central Paris . It's run by my favourite eco-campsite Huttopia (www.huttopia.com), and for €105 per night, you can watch the sun come up in the morning from your wooden decking, and zap in on the train to watch the Eiffel Tower light up in the evening. Then back to the warmth of the lodge's wood-burning stove.
If you prefer hotels to 'huts' then one hotel chain to check out is Accor. It won a French Responsible Tourism Award in 2008 for its sustainability practices. Its beacon hotel is the Novotel Gare de Montparnasse, the first Parisien hotel to be given the High Quality Environment label, ensuring better insulation, energy-efficient lighting, good waste management, low water and energy consumption, and ecological materials such as carpets, wood and paints (www.accorhotels.com). For a less pricey (and less central) option, the Accor Group's Ibis Hotel in Porte de Clichy has installed solar panels to take the edge of its energy consumption.
For green travel, Paris je t'aime. Hire bikes at Huttopia to explore Versailles and the surrounding forests, or make the most of the city's exemplary new cycling venture, Velib. This enables you to hire one of  200 000 bikes dispersed over 1450 terminals just using your credit card, with the first half hour free of charge (www.velib.paris.fr). The 'Paris Respire' ( Paris breathes) scheme has closed some of the city's main arteries to motorised traffic on Sundays and public holidays, such as sections of the left and right bank along the Seine. This is people watching heaven by the way, with an eclectic mix of Parisiens showing us how to saunter in style.  For more details on these and other cycle routes see www.paris.fr.
Non-cyclists can cuddle up in the back of a Cyclobulle, an electric chauffeur–driven tricycle company based in Rue de Cléry in the 2nd arondissment. Travel from one central location to another, or pay €19 for a thirty minute guided tour (www.cyclobulle.com). Ask them to drop you at one of the city's organic farmers' markets ('bio' in French), such as Boulevard Raspail on a Sunday morning, or Boulevard Batignolles on Saturdays. The Saturday morning market in Saint Honore in the 1st arondissement is small but very central and does usually have a few organic stalls.
Taste the real thing ready made at one of several good restaurants specializing in local and organic produce. You can shop and  snack at Biotifull Place, on the first floor of the Printemps store on Boulevard Haussmann or, if you are heading for Notre Dame check out Le Grenier de Notre-Dame. Le Potager du Marais is good if you are exploring the area's famous boutiques or, in the Oberkampf district, Alter Mundi's Fairtrade and organic deli and café is the foodie bit of its ethical shopping chain (www.altermundi.com). Bioboa is a good veggie-healthy watering hole after walking the streets of the Opera district. For details of these and more (and markets) see www.nouveauxrobinson.fr. It all just gets your juices flowing, really. But that's Paris for you.
(First published in The Irish Times, 7 February 2009)