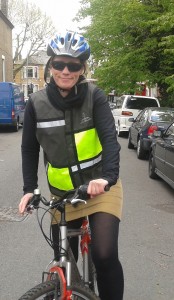 We Irish have to live with the rain. We cycle through it, walk through it, canoe through it and party through it. That is not to say that we don't get miserable about it too, sometimes. We do. So the more people out there who help us catch a glimpse of that rainbow just bursting to come out from behind those clouds, the better. And Georgia Scott is one of those. She has designed a quirky range of rain gear, mostly for cycling, but they are so cool, you could wear them most places really.
I opted for the D1 high visibility vest, as I my current one that looks like I just stepped off a building site just doesn't really do anything for my middle aged crisis. Nor, it would seem for my ten year old's who hates wearing his high vis vest, as he says it looks like ' a kid on a school trip'. So, he's now pinching my new vest which is according to him,  'totally sick and cool' ('sick' is a compliment from anyone under about 21 these days by the way) and, according to me, based on a Mondrian design with olive green and bright green squares, intercut with silver 'light up in the dark' stripes.
The high vis vest is called the D1 after the Dublin postcode, which lies just north of the river. This is just many areas which boast Georgian architecture that Dublin is famous for and so, rather cleverly, Georgia has named her company Georgia in Dublin. Simply stylish and cool, just like her range. Most of their products are designed to have at least two functions. The Dorothy Cover protects the contents of your bike basket from rain, wind, and stuff hopping out as you go over bumps  while also doubling as a drawstring bag to put your other rain wear, lights, hats, gloves etc. in. Similarly the Rainwrap can be worn over skirts and trousers keeping your legs dry while cycling and walking and it also doubles as a picnic blanket .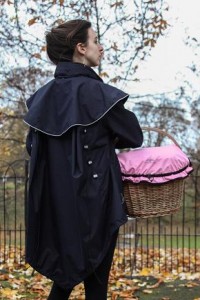 Georgia, who launched this company with her mother in 2009, told me that "We envisaged a range of clothing that women could wear both cycling and walking to work or to the theatre,  wherever, whatever the weather. We wanted to help elevate and celebrate the bike as a means of transport for women as well as men".
All of Georgia's products are designed and the prototypes made by them in Dublin. Sustainability is important to them and they use good quality cloth and collect used inner tubes from bike shops to make fasteners for the Dublette, the stunning, expandable waterproof jacket and soles for the Leggits, which are like something out of a theatrical costumier's studio. But if you can't be theatrical in Dublin, where can you be? Except Paris, New York, London, Milan, Berlin….the list goes on, and this Georgian show will travel, I have no doubt. The Leggits have already won an  iF International Design Award for design innovation and production quality at Eurobike 2011 and they won a Brand New Award at the Munich Bike Expo in 2011 for the Georgia in Dublin range. So, instead of letting it rain on your parade, check out Georgia, who will have you singing your way through it, and singing in style.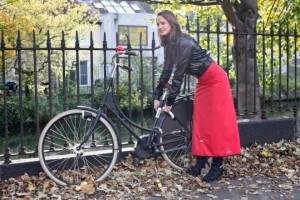 www.georgiaindublin.com – They also ship  internationally by the way!