Wild Swimming France is full of warnings about health and safety, and how wild swimming must be treated with caution and care. However, what it did not warn me about was the extreme pain I was going to get when reading it, caused by an acute case of resentment that I wasn't jumping off  the white dolomite rocks of the Mercantour National Park into the turquoise pools beneath, or letting the River Dordogne carry me downstream on my back, as I float under fern adorned rock arches. Or, I admit it, that I wasn't married to the guy who wrote it.
As I lay in bed leafing through every river, lake and gorge, in a Sunday morning lazy lie in sort of a way, groaning each time I looked at an even more seductive wild swimming location my (equally wonderful of course) husband became rightly curious about the fantasy land the book was taking me into, as he listened on from the kitchen making coffee.  My greatest 'When Harry met Sally' moment had to be in The Var, however, where Daniel Start, the author, slides down slot canyons into concealed plunge pools using  waterfalls as modes of transport from one pool to another. This is extreme wild swimming, however, and he rightly advises readers to only attempt this with canyoning experts. The majority of the swimming locations (and there are over four hundred of them) are more accessible, all inland, and mostly in the southern part of France.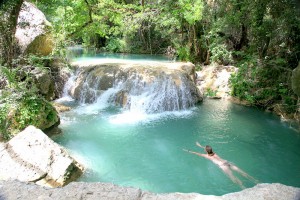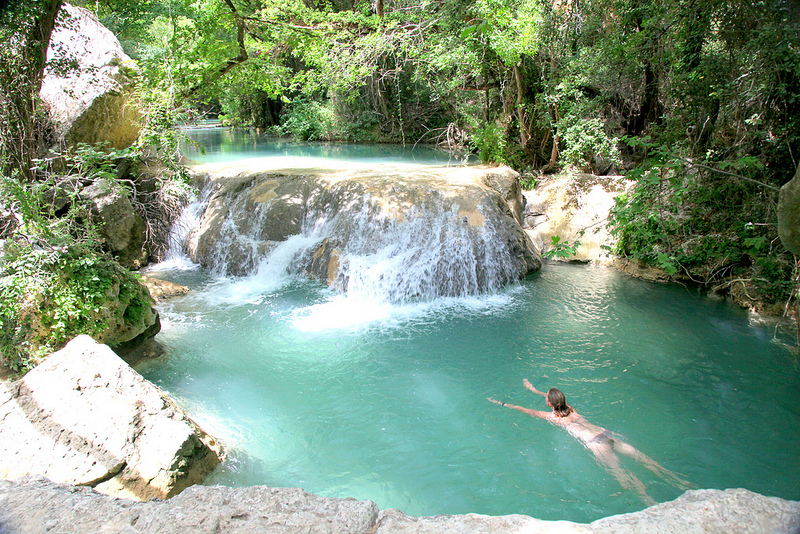 The book is a brilliant guide to France too, especially if hiking is your thing, offering  the perfect introduction to the French pastime of 'aqua-randonnée' , where you scramble your way along rocks and through water wearing good aqua shoes and a waterproof back pack. Divided into regions, with excellent maps, and more detailed latitude and longitude readings, as well as details on how difficult a walk it is to access the swim point, Wild Swimming France will make you want to explore parts of  France you may never even know existed before. More groans.
Another handy breakdown in the index is the 'themed' swimming points, so if you love waterfalls you can check out all of Daniel's G-ushing spots in one go. Or if freestyling past a chateau, such as the glorious Chenonceaux in Normandy which sits on the River Cher is your scene, then you can find several such bourgeois bathing points. There is also a great collection of locations suitable for families, as well as some with small camping facilities nearby, such as the riverside tipis at Les Cournoulises on the banks of the River Lot.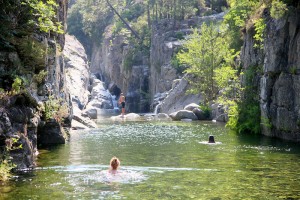 I love the fact that this book isn't all health and safety obsessed either, although it does warn you about the dangers of wild swimming, of course. For example, there is a useful explanation of how many of France's river levels are controlled by the EDF (Electricité de France) due their being an important source of hydropower. The book points out that there are EDF signs on many of the rivers to warn that water levels can suddenly increase due to dam release, and that care should be taken at these times.
However, Daniel does turn a blind eye to rules and regulations in the book sometimes, making the book even more readable, of course.  For example, at the magnificent waterfall Sillans-la-Cascade in the Haut Var region, where the main pool is closed to swimmers due to a freak rockfall,  Daniel tells us most local people ignore the signs, and there is a photo of someone, possibly the author himself, diving into its stunning waters.  And although wild camping is illegal in France, he isn't afraid to admit that he, like many others, do partake of it, albeit responsibly, and reminds us to ensure that wild campers should arrive late and leave early, should not light fires, and must absolutely leave no trace.
So, buy the book as a gift to yourself or any other water loving Francophile you know, or just to drool over on a Sunday morning, if that is your thing. Daniel has also written Wild Swimming (UK) and Wild Swimming Coast and there is also an app for these. He is one Smart guy. But not as smart as the woman who married him.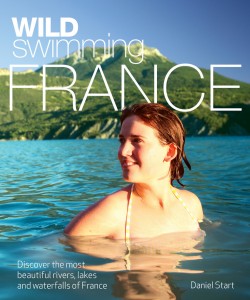 www.wildswimming.co.uk/wild-swimming-france