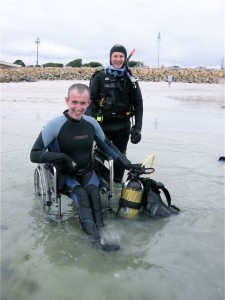 An edited version of this article was published in The Irish Times 19 November 2011
I have been wary of tackling the subject of disability for some time. I admit it, I was afraid of getting it wrong, using politically incorrect terminology or causing offence, and so, to my shame, I am only now starting to try and understand some of the real issues. It would appear, however, that I am not alone, with many other people working in tourism nervous of 'getting it wrong' and turning a blind eye (there you go, an inappropriate pun already). And with over 100,000 people working in accommodation and food services in Ireland alone, that's a lot of people who are afraid to say 'Can I help you?'.
There are a lot of myths around disabilities and tourism, according to a prestigious panel of speakers at last week's World Travel Market in London, the ones who finally made me sit up and take notice of the fact that we in the tourism industry have not only failed millions of disabled people, but that we are also missing out on a potentially huge market. There are 12 million disabled people just across the water in the UK, over five million of whom are over state pension age.
Most accommodation websites offer information to families, walkers, cyclists, honeymooners, anglers and so on. If, however, you are blind, autistic, deaf, have arthritis or are a wheelchair user, then you'll be surfing from dawn 'til dusk to find an Irish cottage online with all the details you need.  If  you have a disability and go to discoverireland.com, you have to then go to the tab 'Plan your Visit', then click 'Facts for Visitors' and then finally (if you aren't feeling marginalised enough already) to a  section marked 'Disabled Travellers'. And at this point you are told to write to (not even a link) The National Rehabilitation Board for a fact sheet.
According to Jenifer Littman, CEO of Tourism for All, a UK charity dedicated to accessible tourism, "120 million people in Europe say they would travel more if they had facilities". The problem is not always the lack of facilities, however, according to  Craig Grimes, founder of Experience Community (experiencecommunity.co.uk) who makes  accessibility videos of popular destinations in UK, and has also created an exciting new website called Accessible Travel, which looks at the accessibility of hotels in various popular destinations. One of the greatest difficulties is in the lack of information available before booking.  but in the lack of information available before booking. For example, can you get there by public transport, how far is it from the car park to reception,  is there is an induction loop, menus in Braille, do you have full measurements of doorways? Is there a bath and/or a shower, are there single beds for carers, allergenic bed linen, a proper fridge instead of minibar for storing medication? And if you can back it up with photos and video, even better.
Ross Calladine, Accessbility Manager at VisitEngland says that the potential market for tourists with disabilities coming to England has been quantified at £2 billion sterling. The reality is that money often creates change, but some will also act because they see it as common sense and good customer service, such as leading hotel chains Scandic in Scandinavia and Thistle in UK which have impressively detailed descriptions and photos of all their accessible facilities.  Also worth checking out is website openbritain.net, which not only provides a wealth of information but is also launching a travel app in January.
It is up to all of us working in tourism to provide the information people need to make their holidays memorable and accessible. Take a peek at VisitEngland (visitengland.org), a site which not only has good accessibility information for tourists, but also has excellent guidelines  on how to create an access statement. Put 'access' into their search box for a library full of resources.
I will start to get my own act together by putting this article here on my blog, and linking to any Irish tourism business doing more than the statutory minimum. Such as Saoirse-ar-an-uisce, a fully accessible boat trip on the Grand Canal (kildare.ie/community/easysiteswp/saoirse-ar-an-uisce), Wheelyboats (wheelyboats.org) an accessible fishing boat in Waterford, The Galway Dive School (divegalway.com) which teaches diving to people with various disabilities or Loughrea Riding Centre in Co. Galway, which offers riding breaks for disabled people, using specially constructed carriages (horsetrailsireland.com). Bet I can get the info up there quicker than you can write 'Dear Sir – please can you post me a factsheet…'
Note from author: I had very positive responses to this article which included the following information:
Pioneering website for independent travellers, Tripbod, has since announced that it is embracing accessible tourism into its business model, and inviting Tripbods from all around the world who have knowledge of accessibility in their area to sign up and share their knowledge. See article giving more details on this.
Inclusive London, an app for iphones and Android was launched in December 2011.  This free app aims to give greater freedom to people with specific access requirements who are planning a trip to the capital. Linked to the Greater London Authority's (GLA) InclusiveLondon.com website, the app provides a range of information to people with access needs, including those with disabilities, older people and parents with young children and buggies.
One Irish Times reader, Sean O'Kelly, who is also a wheelchair user, wrote to me with details of two websites which may be of interest. One is disabilityawareness.yolasite.com, which was set up by Sean himself, promoting disability awareness in Irish secondary schools through workshops. The other website he uses for his own travels is  disabledgo.com.
Another reader directed me to a very useful map resource which has public access so that we can all upload our favourite places with good accessibility. It is called Wheelmap (http://wheelmap.org) and it uses technology which already exists to pinpoint places of  interest on maps (like Wikipedia but for maps), but this version adds accessibility details. Start adding your favourite places in your chosen destinations and get the wheels rolling on this one.  There is also an app available, more details of which can be found here. Wheelmap also recommends the use of apps  iLOE and Mapzen POI collector to tag places, going to 'Leisure' to find out about the wheelchair accessible status of places around you.
One reader, Jean Dolan sums up the views of so many tourists who have access issues. I have posted them in a separate post so do please take the time to read them. She expressed her concerns to the businesses in question, and they never replied, so here is a chance for her to voice some of her well founded frustrations.
Thanks to the Brothers of Charity in Kilkee, County Clare, and two local women who ran a marathon to raise funds, there is now a beach accessible wheelchair on this stunning Blue Flag beach, available for use from July until end August
The Irish Wheelchair Association's  initiative in Dunamon, Co Roscommon, where several extra-wide pontoon jetties have been built out over the River Suck to facilitate wheelchair-users who want to go fishing.
Fantastic new surfing company Long Line Surf in Benone, Co. Derry is very happy to help people with disabilities learn to surf. In their own words, "Down here at Long Line we feel that everyone should be given the opportunity to try it at least once and so we have created a lesson programme for people with disabilities, whether you have a physical disability or you have Down's syndrome or Asperger's Syndrome we are more than happy to take you out". Great company led by a switched to sustainability, Dan Lavery
And check this out from Disabled Divers International, whose website also has a load of great accessible diving centres listed on it.