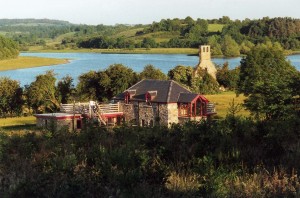 No one is going to choose a place to stay simply because it has solar panels or a compost loo. Although I must admit, I have a bizarre interest in the pros, cons, and inner workings of the latter, which amuses my children no end. However, when you visit a place and realise that the owner has, often against the odds, created an eco-dream, and wants nothing more than for you to lie back and enjoy its natural wonders (and I don't just mean the loo), then they are worth shouting about. Which his why I am starting to feature some personal favourites in this column, and introduce you to some of the people responsible for giving us great green getaways.
A weekend break in County Cavan is not usually in the top ten of tourist trails. But, with all the attention Cork has been getting from Lonely Planet recently, I thought it was time this lowly Ethical Traveller gave County Cavan its moment in the limelight. If you are lucky enough to stay at Trinity Island Lodge, in Killeshandra, County Cavan, make it more than a moment though. As this is pure, peaceful eco-escapism and worth a few days of your well earned time away.
Up until recently this converted barn, on its own forested island just seconds' walk from the shores of Lough Oughter, was a fisherman's haven. And hardly surprising, as you can almost fall out of bed into your boat in the morning. But the owner, Tom O'Dowd, has always been a committed conservationist and environmentally aware, and he is keen to start sharing it with visitors who are interested in the other aspects of the ecosystem. Not just fish.
The remote Lodge has a windmill and solar panels to generate electricity, and Tom has replanted 200 acres with indigenous broadleaf Oaks, Ash and Larch. During a walking tour of the island, he tantalised all our senses. Whispering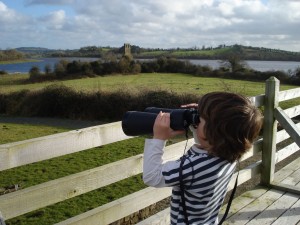 , he gently guided the children to badger sets; he then led us to scented corridors of wild garlic, and stopped us in our tracks to let the sounds of Teale and Widgeon out on the lake take centre stage. For my kids, however, Tom was the star of Trinity Island, as he showed them how to chop wood, paddle the Canadian canoe he provides for guests, and regaled them with legends of the monks who built the Island's ruined abbey in 1237, which Tom has lovingly protected from total collapse.
However, Tom will admit that it is The Lough which deserves all the praise here. The Lodge, albeit with slightly dated décor, is cleverly designed with the living area upstairs, leading out to balconies to allow maximum enjoyment of the views. Shopping by canoe has to be one of the highlights of the stay, just a five kilometre paddle into Killeshandra for supplies. Or for a daytrip, take the five hour canoe trip into Belturbet, with a picnic stop-off at Lough Oughter castle. Tom, host extraordinaire, generously offers to collect visitors there after a hard day's canoeing and drive you back to base. Whatever waychoose to enjoy the Lough, we found plenty of excuses to warm up in the wood-burning sauna at the end of the day. So, for all those 'noughty' fishermen out there, who have been trying to keep this place to themselves, watch out, because the 'greeny teenies' are on the case, and moving in.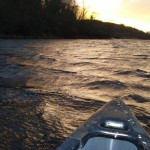 Go green: Take a bus to Cavan (hourly) and taxi 20km to Killeshandra, where Tom will meet you to take you to the Island. trinityisland.com
This article was first published in The Irish Times, 27 February 2010