Greeny holiday makers are grinning more than non-greenies, a recent holiday survey suggested. I am not sure what I'm meant to do with that information, except feel slightly smug about the fact that I might be contributing just a little to this holiday happiness factor.  It's all a load of nonsense of course, because a person's holiday experience is affected by so much more than their shower being heated by the sun, or their meals all being locally sourced. The simple fact is that the majority of people I have met who run green tourism businesses, are not only wholly committed to protecting the landscape they are trying to promote, and sustain their local community, but are also good people. Their passion is infectious, and they know how to live life.  They are also people who like to do things a little differently from the norm, and want to share some of that with visitors. And this is, for the most part, what lots of holiday makers are after. Something different from their everyday norm. What  philosophers call 'The Other'.
So if you are after that 'Other', you are spoilt for choice out there. There are grinning greenies sleeping in treetops, tipis, boats, railway carriages and mud huts in some of the most fantastic locations around the world. There are converted containers at Cove Park in Scotland (www.covepark.org), run by a charity offering residencies to artists. When they don't have residencies, they hire  their self-catering turf rooved 'Cubes', overlooking Gare Lough,  to people passing through this stunning, remote hideaway on the West coast's Rosneath peninsula.
Still in Scotland, you can join the Mountain Bothy Association (www.mountainbothyassociation.org.uk), a charity which looks after 100 remote stone shelters for hikers who want to lay their heads down for the night. They are totally basic, with no water, altough there is usually a fireplace, and a platform to lay out your sleeping bag. You don't book, you don't get a key, and just like the bears, you do it in the woods. Camping without the tent, really, and of course, you don't pay.
On to warmer climes,  check out the wonderful treehouse I stayed in Normandy last year (www.perchedansleperche). This is all mod-cons, and showering in a tree is something you must try sometime. The best bit is getting a picnic breakfast delivered to your door, so you can enjoy flaskfuls of hot coffee, homemade bread, and other local delights, with infinite views over the surrounding hills. Staying in Normandy, you won't get too chilly at the Earthship Perrine (www.earthship-france.com), a glasshouse attached to a mound of earth, heated by solar thermal dynamics.  The pile of earth conceals hundreds of tyres, bottles, reclaimed wood, Sounds weird, but it is brilliant, and one of those places that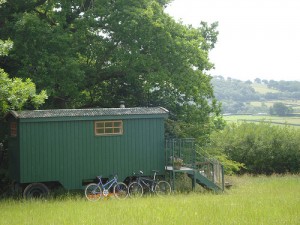 makes me think, 'How come we all can't live like this?'
If trains are your thing, check out the converted railway carriages from award-winning Welsh responsible tourism company, Under The Thatch. They did start putting people up 'under the thatch', and then developed the concept to a converted Edwardian railway carriage, a circus wagon, a romany caravan, and many more (www.underthethatch.co.uk).
My two favourites for green quirkiness, however, take me back to the silence of the woods. In Sweden, you can stay in a forest hut based on the structure of a traditional charcoal maker's hut. It looks like something children would construct in the woods, except they have fireplaces and a sleeping space, although the hardness of the 'bed' might not leave many greenies grinning in the morning (www.kolarbyn.se). On Vancouver Island, Canada, you will not be able to wipe the grin off yourself when you see the wooden spheres suspended in the canopy of Douglas firs in a private forest. This is arborial art at its finest and, even better, you can sleep in them. Aptly called Free Spirit Spheres, if you aren't going to free it here, you aren't going to do it anywhere (www.freespiritspheres.com)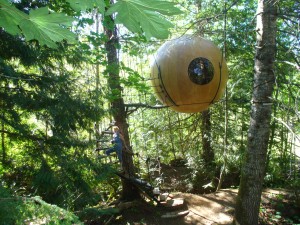 This article was first published in The Irish Times 22 August 2009. For more ideas on going in search of 'The Other', check out gorgeous book, Bed in a Tree, by Bettina Kowalewski,  published by DK Eyewitness Travel.