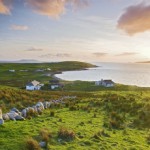 You couldn't make it up.  An Irish sixteenth century chieftain and pirate who headed a fleet of 200 ships, fought against Queen Elizabeth 1, and, oh yes, was a woman.  Luckily, for the producers of Riverdance, it's all true, with their swashbuckling rendition of The Pirate Queen about to open on Broadway.  The real Pirate Queen, Grace O'Malley, took refuge from a frenzy of foes and eventually died on Clare Island, County Mayo in 1603. I chose to forgo the Broadway treatment of Irish history and embarked on a journey to find out why this Island offered her the perfect hideaway.
Although Clare Island is only three miles from the coast, it feels like a world away from the rest of booming Ireland. My fellow passengers on the O'Malley family-owned passenger ferry, The Island Princess, leaving from Roonagh, twenty miles outside Westport, are two burly fisherman, a priest and a sheepdog.  Community camaraderie hits you the minute you step on board but, quick to include the stranger, they enquired about my visit.  I was just about to launch into my Pirate Queen story, when urbanity kicked me in the stomach.  Literally.  Discovering the parrot rather than the pirate within, I was immediately sick as one, and managed to repeatedly spray the Princess' deck. An O'Malley gent offered me tissues and water, saying "bit lumpy today isn't it?" – I looked down to inspect the damage and realised he was describing the swell of the sea not my stomach.  
Twenty minutes later, I was relieved to be met at Clare Island quay by the B&B owner, Mrs. O'Malley's daughter, who insisted on giving me a lift up the hill, although it is only a few minutes walk. We drove past the original O'Malley stronghold, now a derelict fort on a hill overlooking the harbour and sandy coves below.  We took one of the two Island roads, this one marked "To the lighthouse", and the other "all other routes", which should make for easy orienteering.  
If you haven't left all notions of traditional tourist trimmings behind on deck, then now is the time.  Mrs. O'Malley was out, the key was in the door, so I was to help myself to tea, sit by the peat fire and make myself at home. This is when it hits you.  You really are sharing someone's home.  To me, this Island is a hidden jewel of Ireland's natural and cultural heritage.  To the O'Malleys, and the other families who open their homes to curious explorers, this is home. The kids' toys lie around, and there is washing on the radiators, but there are always tea bags and soda bread for strangers. 
I struggled to leave the roaring fire and face the elements, continuing up the road to the lighthouse.  The three mile long road is tucked in at a safe enough distance from the rugged cliffs along the north coast of the Island, with views of the towering heights of Croagh Patrick on the mainland.  I passed only one car and a couple of cottages on this coastal walk and when it finally came into view I realised this is no ordinary lighthouse.  I had also heard it was vacant, and for sale, so I took a peak.  It houses two apartments, a main house and the original round tower. This architectural beauty has been used as a private home since it was decommissioned in 1965 and with its painted wooden floors, seven bedrooms and designer light fittings, I imagine it will make an amusing folly for one of Ireland's many millionaires. Every islander I meet after this visit talks with sadness about losing the lighthouse.  They desperately want to keep it in the hands of the Islanders, and convert it into a hotel or tourist centre.  Not enough money in the heritage pot, they are told.  I can't help wondering, where the plundering warrior is when they most need her.   
On my way back to the Quay I stop at Ballytoughey Loom, where Beth, the weaver, shows me her workshop and indeed, fruits of her loom. I want to buy everything.  The multicolour yarns donning the shelves of her cottage are spun so skilfully into scarves, bags, tablecloths, that I too am spun into some sort of Celtic craft overdrive.  This work would not be out of place in Liberty's, but mass production is of no interest to Beth. How right she is, and how smug am I, besporting new designer scarf.
Next door, Ciara runs residential yoga and cookery courses. I was welcomed into the beautiful environmentally friendly wooden house with a cup of nettle tea, proudly presented (and picked) by the vegetarian cookery course visitors.  The date and apricot biscuits were enough to sell the course for my next visit.  Darkness comes much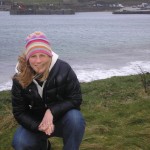 later in the west, and so I strolled back with a seven o'clock sunset and pondered the creative and entrepreneurial skills of these women.  The sixteenth century warrior has definitely left her feminist mark here.
Back at my O'Malley stronghold, Kathleen apologised for not having a hot dinner, but set out a salad big enough to feed an O'Malley fleet.  Washed down with tea, bread and butter, waves of nostalgia rushed over me.  It was only when the apple pie was presented that I realised I was reliving a weekend in my favourite auntie's house. I even dared to ask her if I could wash and dry my one pair of jeans, as they were still recovering from the lumpy conditions.  "I'll take care of that for you, no bother", she said, and they were washed, ironed and placed on my pillow at bedtime, along with a packet of Sealegs.  This must be the Clare Island answer to the chocolate on the pillow, I thought – and smile at this act of quiet unassuming kindness.  
After Auntie Kathleen's fuller than full Irish breakfast the next morning, I set out to explore "all other routes".  The starting point was Grace's fort down at the quay from where she commanded her private army and fleet of ships. It is hard to accept that this scene of feminist politics and battle tactics is now a neglected ruin. I walked for a few miles along the south coast's rugged undulating landscape which rises to heights of 400 metres along the inland ridge. I stuck to the lowland and aimed for the O'Malley shop before rain hit.  And boy, does it hit.  I reached the shop just in time, only to be told by a local farmer, "the shop only opens for ten minutes after mass on a Saturday".  I battled on to the medieval Abbey nearby, famous for Grace's tomb.  But this was locked, and the only sign of O'Malleys was on the numerous headstones all around.
It was time to leave the dead O'Malleys behind and realise that Clare Island is a living monument.  If there are no tourist facilities, this is the choice of these private people. It is enough that they choose to share their precious island and lives with visitors.  I returned to the B&B after a few hours' exhilarating walk through sunshine, wind, sleet, rain (and sun again) to find a note telling me to help myself to tea and a sandwich and that dinner would be about seven. There is no going hungry on this Island, that's for sure. 
The ferry O'Malleys phoned with bad and good news. "Storms coming in tomorrow, so not looking good for the crossing.  The good news is that you are invited to 'the party' later."  Kathleen handed me a torch, warning me to watch out for potholes if was taking to the roads after dark.   Strengthened by a roast dinner, and the party not starting until ten, I went in search of my own personal warrior within.  Back on the dark lighthouse road, it took a couple of miles for me to shed my city jumpiness, expecting hooded muggers to pop out from behind rocks any minute.   Finally I perched on a rock and switched off the torch.  The only noise was the wind, providing a cacophony of noise to underscore this scene of star studded perfection. Grace was right.  This is undoubtedly the perfect hideaway. 
Back at the quay, I was welcomed in to the warmth of 'the party', where almost a hundred people of all generations sang Happy Birthday to another O'Malley. Hot whisky in hand, I was told "Looks like the ferry might go after all". I accepted another whisky, prayed for storms and one more day in this rainy paradise.   But these warrior O'Malleys don't break their word, and we took on the rising swell at midday.  Any romantic notions about having found my own warrior within were shattered in minutes, as history repeated itself once more, all over the poor deck of the Island Princess. These white horses of Clew Bay might be wild, but they will never stop me from returning.
 Catherine flew to Knock airport with RyanAir and stayed at O'Malley's B&B. Contact Kathleen O'Malley +353 9825945 or +353 86845 0022 .Rooms from €30 pppn, including full Irish breakfast.
For ferries to Clare Island and details on transfers to ferry see www.omalleyferries.com. Return crossing €15 for adults and €5 for children. 
For more details on Clare Island and other Irish islands, see www.clareisland.org and www.discoverireland.com
For details of Ballytoughey Loom and weaving workshops see www.clareisland.info/loom.  For yoga retreats and related courses see www.yogaretreats.ie
(This article was first published in The Observer, 8 April 2007)