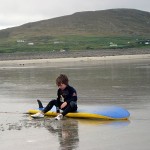 "Oh God, it's surfing today", I mumbled, looking at my detailed spreadsheet of activities and then out the window, at the incoming Connemara fog and rain. It's Day Four of a week at Delphi Mountain Resort, nestled in the hills between Killary Harbour in Leenane and Doo Lough on the road to Louisburgh. We have come for a week's family holiday, and in three days have already been high rope climbing, mountain biking, learned archery and climbed a sixty foot wall. It is a long time since I have been so active on holiday, but it works, because I can't ever remember being this chilled, bar student holidays in Ibiza, and that's too long ago to be a reality anyway. However, Day Four is my first 'wetsuit' day, and suddenly this hiking-biking-chilling Mum has turned chicken.
I send the family off to the restaurant for breakfast, while I mull things over a bit from the comfort of my bed, lapping up every bit of the room's four-star qualities, the main feature of which is the word 'suite'. I like that word. I can do 'suites', especially with two loud boys sleeping downstairs in a room which is bigger than our home, their own bathroom, and a lounge full of  sofas to bounce, wrestle, and collapse on.
So far, we have done everything here as a family. Day One we met our instructor Sean, who guided us all up the sixty feet climbing wall. Originally from Ballyfermot, Sean is now a devout worshipper of the "Real West Sa-eeed", as he showed some complicated 'W' sign to the boys with his fingers, in a surf dude bonding way that they seemed to get the hang of immediately. After explaining harnesses, carabiner clips, and safety tips (like don't let go of your partner's rope when they are hanging on to it thirty feet above your head) he gently directed us up the wall. The boys were boringly predictable in their monkey-like agility, and I equally predictable in my awkwardness, leading ever so non-gracefully to a fit of vertigo about halfway up. Legs turning to jelly, cold sweat breaking out, my children (one of them already about ten feet above me) shouted encouraging words. Sean calmly gave directions to me and my husband, the latter being connected to me by rope. He successfully obeyed that lesser known marriage vow, "Whatever you do, keep it taut!".  I got through the crisis moment and kept climbing, to the cheers of my family, finally absailing back down with an elated grin as if I had just conquered Everest. And yes, we did have a big family hug when I got back down. It was our Disney family moment, quickly shattered by Sean, however, who had us straight back up there again. Rock hard these Westsiders.
Doing all these things together, with the instructor riding a fine line between activity expert and family mediator, was genuinely fun. Not in a family reality TV show sort of a way, but just plain simple fun. . I wouldn't have dreamed of going into a wet forest in August, to don raingear, headgear (to protect you from midgies) all in the name of playing Robin Hood with my children. However, give me a young energetic archery instructor, with more enthusiasm, patience and sense of fun than I have in my little finger, and suddenly I am perfect parent personified. I decided archery might even be my thing, and might look out a club when I get home. 'Cause that's going to happen.
I am still mulling all this over from the warmth of my crispy white duvet, when the reality of wetsuits, surfboards, Atlantic waves and rain kicks in once again, and I shiver at the very thought.. Just then, the boys bound back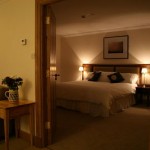 with a 'stolen' breakfast from the dining room (superb buffet of healthy cheeses, mueslis and yoghurts for the German wannabees, or Germans, and fried everything for us Paddies. Or wannabees. Bet the Muesli munchers don't have wetsuit worries, I thought, as I scoffed on a couple of fine Connemara sausages. Then comes the best news:  surfing's off this morning. Not due to lack of interest, of course, they don't do that at Delphi. Just due to bad weather. But they hope to make it out this afternoon. I feign disappointment, thank the Delphi gods, and down a bacon sandwich.
We end up spending the morning in the upstairs lounge of this stunning stone and wooden building, which has been recently restored (and saved from receivership) by Aileen and Rory Concannon. They have put every ounce of passion into this place and have pulled it off, bigtime. They joined us for coffee, chat and a round of Trivial Pursuit, checking in with all their other guests, most of whom had also put activities on hold. None of them looked too fed up about it. Indeed it is hard to be fed up in this lounge, with its view over the misty Delphi Valley, its endless waterfalls tumbling down the mountainsides. It is an ever-changing landscape of picture postcard Mayo .Having the whole morning just to lie back on sofas, play games, and watch the clouds go by, is just as much part of the scene at Delphi as climbing that same mountain when the mists have moved on.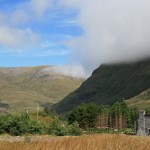 You don't have to 'go go go' round the clock here at all. Noone checks how many miles you have covered, calories you have spent, or how many family bonding activities you have done. You can come here and do absolutely nothing. In fact, they positively encourage it.
For an outdoor activity centre, Delphi still manages to exude tranquillity from every pore. Rory and Aileen pride themselves on the fact that the best things here are free. It is mobile-free, protected from signals by the mountains which enfold it, bedrooms are television-free (the kids got over that in 24 hours), activities motor-free, and the heating and hot water is carbon free. With two state-of -the-art wood burning boilers, the carbon emissions are neutralised by the replanting and sustainable management of their own 300 acres of forest.  Even the water is free, sourced from the local mountain spring.  If you travel by train, they meet you at the station, with free use of bikes when you get to Delphi.
The food is not free, however, and although a little pricey, it is worth every penny. You can eat Lobster Thermadore in the restaurant, or fish and chips in the bar, all freshly prepared by the same chef Gerard Reidy, who is a staunch supporter of the Slowfood movement, and ensures that everything is local, seasonal and organic when possible. It was also delicious, filling and child-friendly, ticking all necessary boxes. Half portions of main dishes were prepared for the children, none of your chicken nuggets and chips while you tuck into crab linguine.
What I love about Delphi Mountain Resort, is it's down to earthness. It is four star without being uptight about it. They can't be, when they are dealing with endless muddy boots, over-excited children, workaholics who are panicking because they have 'no signal' and telly addicts who are panicking because they have nothing to put their kids in front of. They deal with it all calmly, with military-like precision considering the logistics of everyone's itineraries, and with a warm Connemara welcome which is a slap in the face to cynics who say that this no longer exists in Ireland. Those on tighter budgets can opt for dormitory-style rooms, with basic bunks and bathroom, and still avail of the top breakfast, lounge facilities and all the rest. You can't tell a 'suite' person from a 'bunk' person once you're halfway up a climbing wall, or diving off a pier anyway. Or as Rory says, "everyone is welcome to the party.  Whether you're in the surf or on the sofa, it's just all about chilling here".
But Disney always has to have a happy ending. The credits roll, the mists lift, she dons her wetsuit, strolls bravely down the Connemara strand hand in hand with her sons, and dives straight in to the Atlantic waves. No icy pain, just fresh Celtic chills engulfing her as she watches both her children jump up on their boards first time, hands out like something from Baywatch. Oh to be eight again. Sean, our surfing instructor today, and newly adopted hero by our children, cheers them on, guiding them safely into shore.  In reality, I hadn't a hope in hell of getting up on my board, and knew when I was beat. But I kept trying, falling, laughing, and when eventually, the shivers set in, I marched proudly up that beach, a veritable wetsuit convert. "Can we go again tomorrow morning, Mum?" the boys asked in unison, "Pleeeese". 'Sure' I replied confidently, knowing that I was booked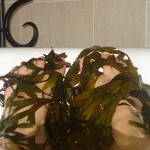 in for a morning's seaweed bath, massage and hydrotherapy session in their state of the art spa. You don't have to do everything as a family, after all. That's just in the movies, and you can give me Delphi over Disney any day.
 Prices from €40-€300 per night including breakfast. See their website for special offers, including Spring mid-week and weekend breaks from €99 per person per night, including luxury double room, breakfast and half day activity. 
For more information see www.delphimountainresort.com , Tel, +353 (0) 95 42208.
(This article was first published in The Irish Times, 24 January 2009)