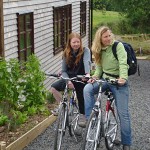 Often it is the people not just the place who inspire us to travel. You meet someone at a party, and they bubble over with excitement about a place they have just visited. Or you  might be lucky enough to have a friend with a holiday home in some hideaway heaven, and you get the keys.  One person to put my feet firmly on the road to ethical travel was Laura Burgess, the founder of EcoEscape. Three years ago Laura decided to write a green travel guidebook to the UK. At a time when Rough Guides and Lonely Planet were taking over the bookshelves, and budget airlines the runways, 'eco' was still associated with warriors and washing up liquid.  Laura worked for an English regional tourist board, and had become familiar with a variation of tourist 'products', some of which she liked, and others she definitely didn't.
Keen to tell the world about the places she did like, Laura left her job and went in search of funding and (still only 24 at the time), received a young person's Lottery grant to self-publish  EcoEscape UK. This was one of the first green guides to the UK, representing fifty EcoEscapes, all shining examples of her own personal travel philosophy. That travel should be as ethical as any other consumer product out there and, at the same time, still be a great thing to do with our time off.
I loved Laura's first publication of EcoEscape UK so much, I approached her to write an Irish version, and I am glad to say she agreed, and it was published last year. However, Laura continues to inspire me to travel, through her new enterprise EcoEscape Tours, an online booking service for the sorts of trips she likes to feature in her books. She says that "Every EcoEscape I've taken has been a memorable experience. From kayaking, coasteering, and fishing at sea to wildlife watching, cycling, eating great food or simply taking time to escape from everyday life. It's exciting to think that travel in the UK and Ireland can leave such a wild and wonderful impression. I like to think that EcoEscape Tours is a complement to the books, and a celebration of some of my favourites".
At the moment her list is modest, but as someone who prides herself on meeting everyone she represents, and experiencing what they have to offer, she will build her business slowly, surely and without doubt, ethically. To date, you can choose from kayaking off the Welsh coast, wildlife watching in northern Scotland, food foraging in woodlands and cycle touring beside Loch Ness. Accommodation ranges from cosy wood cabins and eco-lodges to luxury locally-owned B&Bs. Irish tours are to follow in the near future, with new tours being added to her bag of eco-delights all the time.
When I asked Laura what sort of people she liked to represent she told me "I like meeting people who really know how to create a wonderful place to stay – I'm not just talking plump pillows and polite conversation. I mean those who fell in love with where they live and work, and want nothing more than to pass on a bit of that sparkle to their guests". And if anyone knows about passing on that sparkle, Laura should. It's what led me to get up and go around Ireland, after all, and meet some of these wonderful people she talks about. So, if you are looking for a good eco-tour, just do what I did. Talk to Laura.


For more information on EcoEscape Tours, see www.ecoescape.org/tours
(First published in The Irish Times, 21 February 2009)