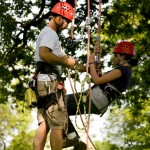 (first published in the column, My Life in Travel, The Observer, 8 March 2009)
Interview with Paul McCathie, recreational tree climber, Goodleaf Tree Climbing Adventures, Isle of Wight
 I started climbing trees after a gap year travelling.  I came home to my native New Zealand in search of a 'real job', saw an advert for a tree surgery course, and went for that. Very quickly I realised that I liked climbing the trees a lot more than I liked cutting them down. That took me to Georgia in the US to train with Treeclimbers International, learning the techniques of recreational treeclimbing, and here I am. Climbing trees for a living, and sharing their virtues with other people is about as real a job as it gets in my book. .  
Most people think that treeclimbing is about high ropes courses, and corporate days out. But this is not our thing at Goodleaf. I work with only one tree, a sixty feet high ancient Oak. Over a period of two and a half hours I teach people how to use harnesses, carabiners, ropes and knots, as well as climbing and abseiling techniques. I also teach them a little about the history of the tree itself, and about tree conservation issues, before guiding them into its canopy at their own pace. They climb higher and higher as they gain confidence and strength. It is a personal, one to one, calm experience. The final abseil is down to a picnic rug laid out with well-deserved local goodies.
I love the Isle of Wight because it has the same laid back attitude and green outlook as back home in New Zealand. It has great beaches, fine woodland, and most importantly, my wife Abigail is an Islander. So lovely people, of course. When people visit the island, they leave some of their stresses behind on the mainland, which is a great way to start a holiday too. And an even better way for them to start a day of treeclimbing too.
If someone gets vertigo I talk to them a lot. There is usually a specific reason why they don't like heights, so we can talk it through. They are harnessed and connected to the rope at all times, and I can reach them quickly and easily, talking all the time. The field we work in is very tranquil, so that helps calm people down too. Then I help them come down to a height they are comfortable with.
I turn from calm to cranky if people do not follow my instructions. I am not a control freak, but people need to be aware of the risks involved in tree climbing, and pay attention to all the details.
My hardest day as a treeclimber ended up being one of my best. I was working with a family whose young son had severe learning difficulties. He spent the first hour hiding under our picnic blanket, terrified to come out. One by one, I led his family members up the tree, and slowly but surely he peered out. Finally he donned his helmet and harness, pushed past his fear, and lifted himself up into the canopy. He absolutely loved it in the end. It was one of the most rewarding experiences I've had.
The best thing I have seen from the top of a climb is the vast array of indigenous trees which make up New Zealand's Coromandel Forest. I spent half a day walking through this semi-tropical forest to find the right tree, a Kauri. This is a colossal tree, a conifer about 35 metres high. After scaling this beauty, I looked down into a valley filled with other Kauris, Kahikateas and other native species, all poking their heads through the lower canopy, the Coromandel coastline sparkling in the distance. 
A treeclimber's five year plan is to 'branch out' (sorry). Ideally run Goodleaf on the Isle of Wight in summer, and head south to run Goodleaf New Zealand during the 'winter' months.
The best thing I've heard up a tree was "look at those Great Tits". I wasn't really allowed to laugh because one of our climbers really had spotted a nestful of them, with babies just learning to fly. Great quote though.
To book a treeclimbing session with Paul McCathie on the Isle of Wight, see his company's website,

www.goodleaf.co.uk

. Climbing season starts 1st April 2009