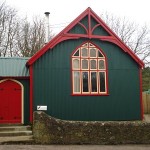 The founders of the Blackgang Mission on the Isle of Wight would not have approved of me. Within seconds of being in this recently converted hall, I had broken one of the Ten Commandments. Thou shall not covet. I was green with jealousy, wanting it not just for the weekend, but for my own home.
Vintage Vacations have pulled it off again.  On the island, they have already restored ten airstream caravans, a beach shack, and now this 1890's corrugated iron Mission Hall, on the south coast near Chale. It was built to provide spiritual 'care in the community' and did so right up to the 1990's. When it closed, the beneficiaries made the right decision, allowing Helen Carey and Frazer Cunningham of Vintage Vacations to take it over. With its new open plan design, revealing all the original wood-panelled walls, pitched ceiling and stained glass windows, you can feel the open, warm tradition of this building as soon as you enter.
Helen and Frazer have added their own 'religious' touches. As worshippers of all things kitsch and post-modern, this project must have been heaven. A huge white floor-to- ceiling cube is set into the centre of the hall, with narrow stairs leading up to two suspended double bedrooms. Each has a glass balcony, allowing you to take in the beauty of the hall, as well as all its natural light.  For anyone worried about privacy, this might not be the place for them, but I loved the sense of openness and transparency.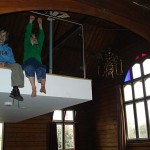 There are two private rooms, however. One children's room with bunks, quilted blankets, soft stripy sheets, and 50's storybooks on the pillows. Another double room beside it, like all the bedrooms, is decorated with a collection of lovingly sought out vintage blankets, cushions and twee ornaments.
Fun is always at the heart of Vintage Vacation's projects, and this is no exception, yet they still maintain the integrity of the building.  The original owners would have loved the giant wood-burning stove, a perfect focal point under the chandelier and stained glass window, as we lounged around on art deco red velour swivel chairs and black leather sofas. An old shop counter has drawers full of games, maps, CD's (The Mission soundtrack of course) and DVD's. Fluffiness is also a core theme here, with a vast white furry rug, feather boa wreathes, and a propensity for poodle paintings.
The spacious kitchen still has a church hall feel to it, with old wooden table and chairs, cream metal 30's units full of china tea sets, pink glassware and funky coffee pots. Modern luxuries of a dishwasher and washing machine have thankfully been snuck in. They have also gone to town on the bathrooms, which are state-of-the-art five star gorgeousness. The sunken bath in place of the original baptismal font might not have made the preachers smile, but it worked for me.  
The Mission has a great pub and some of the country's best coastal walks on the doorstep. I took an early morning walk up to the nearby St. Catherine's oratory, to take in magnificent seascapes. An ancient place of prayer for those in danger at sea, it is still an extraordinarily peaceful place.  
Back at the hall, my hero husband had made Sunday breakfast. He too had found his spiritual home, with a breakfast hamper full of local sausages, bacon, eggs, home-made bread and jams, pre-ordered from The Real Island Food Company. Just as we sat down, snow started to fall. "Do you think we might be snowed in, Mum?" my son asked. I suggested we could try praying, but sadly my prayers weren't answered and the ferry was bang on time. That's what you get for breaking Commandments.  
(This article was first published in The Observer, 1st March 2009)
Vintage Vacations, Isle of Wight, www. vintagevacations.co.uk
Weekend stays from £395 and weekly stays between £700 and £1600 – for more photos click here

Getting there: SouthWest Trains to Southampton (southwesttrains.co.uk), and Red Funnel ferry to Cowes (redfunnel.co.uk). Taxi or bus to The Mission.
To order great quality local food to be in the fridge on arrival, see realislandfood.co.uk