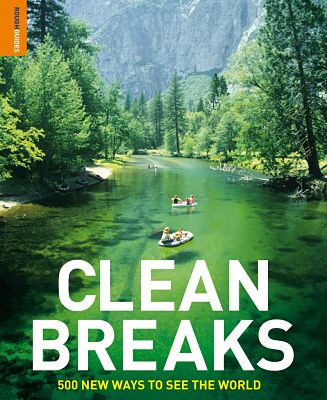 Snow-shoeing in the Pyrenees, learning to dance in Rio, chilling in a Provençal treehouse, clubbing in Rotterdam or London… these are just a few of the  'Clean Breaks' featured in this stunning new book from Rough Guides, which was launched 1st August 2009 – It is a comprehensive guide to unusual, alternative and incredible experiences that make a real difference to the local people and to the planet.
Travel and environment writers Richard Hammond and Jeremy Smith have hand-picked the world's best hotels, tours, and activities run by people who are passionate about what they do, in an environmentally and socially responsible manner.
Whether you fancy diving, trekking, mountain-biking, staying in a gorgeous cottage or watching wildlife from a jungle lodge, taking a Clean Break doesn't mean sacrificing style, adventure or quality.
As Richard and Jeremy explain, "In the same way that many of the world's best chefs are those that use local, seasonal ingredients, it stands to reason that the most rewarding holidays are provided by those who really care for their local environment, its people, how their food is grown and the wildlife that surrounds them. These people make the best hosts and guides. Which is why Clean Breaks make the most fantastic holidays".
Clean Breaks is organised by geographical region and includes suggestions for all pockets, from budget to luxury. Although you won't fit it in your pocket, as it is pretty hefty, and more for the side of the bed, as you fall asleep dreaming of Scottish bothies, whale watching off the coast of West Cork, swimming in a Finnish lake, or crossing the Namibian desert. There is more than one for every night of the year, as they have given us a generous 500 places to see and things to do. Fab book, brilliantly researched, and makes me very green….with envy, that I didn't write it, of course.
 For more information on Richard Hammond's work, see his website www.greentraveller.co.uk
Clean Breaks: 500 New Ways To See The World
By Richard Hammond and Jeremy Smith
 ISBN 978-184836-0471, £18.99