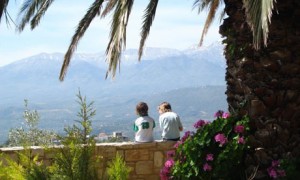 "The water isn't salty Mum", my five year old son shouts joyfully as we swim back to the deserted white soft sands of Kiani Akti, He is right because the water which flows into this section of Souda Bay, on the North West corner of Crete, is from one of the mountain rivers, which gathers speed as it gushes past hillside olive and orange groves, culminating in a tumultuous surge at this tiny beach. The effect is not only the addition of yet one more shade to this already burgeoning palette of turquoise blues, but a rush of ice-cold mountain water into the otherwise temperate tide.
This mixture of currents, temperature and taste provides the perfect metaphor for our first trip to Crete, which I had always resisted for fears of the ravages of mass tourism. Until we found our little village in the mountains, Megala Chorafia, where pure mountain Cretan life fights successfully for a place among the rapids and dangerous undercurrents of concrete and plastic tourism, found elsewhere on the island.
We are staying at a villa owned by villager, Stelios Botonakis. He rents it out through Pure Crete which has a responsible tourism policy to support small rural villages, offering accommodation in traditional Cretan villas owned by local people Stelios, whose smile is as big as his generous spirit, built this house himself. A beautifully crafted white stone house, overlooking the snow-capped White Mountains and endless olive groves, is minimally furnished except for elegant simple beds, chairs and tables, all of which look like precious family heirlooms. Dark wooden shutters, beams and floorboards contrast perfectly with the white-washed walls, and Cretan hand-woven rugs and cushions throw dashes of reds and orange around the rooms.
The Botonakis family lives next door and quickly makes us feel at home, while giving us plenty of holiday 'space'. We aren't really 'space' people, however, and when Stelios arrives with a gift of his homemade wine, we invite the family in that night to help us drink it. Lucky for us it is May Day, so the whole family is around to take us up on our invitation, each arriving with a gift. Wine, cake, cheese or a traditional flower garland. We had seen many families gathering wildflowers that morning, a May Day tradition, which they make into garlands to hang on doors or on the front of their cars. With a mountain chill in the air, we light the fire in the vast stone fireplace and swap life stories, our new friends putting us to shame with their good English. Our children are in their element as they are passed from lap to lap in that genuinely affectionate way that is so endearing in Mediterranean countries. The evening reaches a touching finale when Stelios thanks us for our hospitality through music. His solo rendition of a traditional Cretan song raises the hairs on the back of my neck. Our boys immediately want to sing too, this time with a rendition of the somewhat less traditional Irish rugby anthem, proudly exalting their Celtic roots. This evening will be the long-abiding memory of this wonderful holiday. Of course we will never forget the beautiful beaches, ancient monuments, sunshine, tavernas and mountain gorges. But evenings like this are not in the guidebooks, nor can they really be captured in our photo albums.
The Pure Crete rep offers some suggestions of outings although, unlike some companies, there is no hard sell. We spend one evening at Malaxa, another mountain village, where Demitris Vamvounakis has revived his local community by creating a cooperative to produce organic food, now thriving with two shops in nearby Chania. . Dimitris has rebuilt one of the village's stone houses into something that would have Kevin McCloud lost for words. Into this beautifully crafted contemporary home, built into the mountainside, he has incorporated two adjoining reception rooms for entertaining people in Cretan cultural evenings. Over the course of the evening, about fourteen of us drink fine local wine, eat plate after plate of superb organic traditional food, prepared by Demitris' wife, Katerina, as they both talk about all aspects of Cretan culture.Crete, ending in 1898, when the local population was forced to add these letters, meaning 'little' to the end of their names. Although, at the time, this diminutive was intended as an insult, it is now a form of patriotism, allowing Cretans to spot one of their fellow islanders wherever they might meet in the world. The chat goes on late into the evening, and we feel as if we are privileged guests at the best dinner party on the island.
The evening starts gently with our very knowledgeable, charming and amusing hosts talking about local food, language, flora and fauna, and festivals. But as the local Raki kicks in, we all gain the confidence to broach heavier issues such as the still prevalent arranged marriages, dowries, macho gun culture and politics. The kids are open-mouthed hearing about the ongoing tradition of men firing endless rounds of ammunition into the air at daughters' weddings as a sign of prosperity and pride. They also explain the origin of most Cretan names ending with "akis". It comes from the Turkish 250-year occupation of
One of our other best trips is to Taverna Lemonia, a twenty minute drive along the twisting roads leading up into the White Mountains. This taverna has not only stunning views, but is also home to Leonidas, one of a handful of olive farmers still using traditional olive presses. We take a tour of the small olive factory in his back garden, where he uses a donkey to turn the massive stone wheels which crush the olives. We learn about the harvesting process, see how the traditional machinery works, all of which Leonidas constructed himself. This is cold-pressed olive oil, now a rarity in Crete, as heating olives allows for faster pressing, but as our purchased bottle was to prove, a less intense flavour. Our tour doesn't finish there though, because Leonidas is also a
master craftsman, and shows us his workshop full of traditional stringed instruments which he makes, bespoke, for local musicians. We are invited into the family house for coffee and kaltsounia (traditional cheese pies), made from their own mizithra (a soft goat's cheese) and horta, a spinach-type grass growing all over the island. As we tuck in, Leonidas casually picks up one of his lyres and plays for us and once again, music breaks down any language barrier between our two very different cultures.
One week is really not enough to take in all the heartfelt warmth extended to us in Crete. There should be more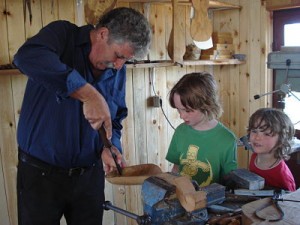 companies out there like this one, which aim to not only support the local economy but also to preserve Cretan culture. Not in a way that enshrines it, but by simply keeping it alive, contemporising it. I hope the Greek government learns from other countries' mistakes, and puts some urgent restrictions on the building of holiday rentals and second homes. Billboards, posters and shop windows advertising houses for sale are all in English. One enticed us to 'build your new life' but, personally, we were happy to support the lives of those who live there all year round, many of whom rely on tourism for income during the charter season.
In The Odyssey, Homer wrote, "Out in the dark blue sea there lies an island called Crete, a rich and lovely land, washed by the waves on every side, densely peopled and boasting ninety cities". Let's hope that it stays rich and lovely, but that it isn't heading for another era of ninety concrete cities. But those undercurrents can be very strong.
Getting there
Catherine travelled with Pure Crete. Holiday costs from £540 per person, including accommodation and flight, with £100 discount for children. See purecrete.com for details. They also offer a variety of activity holidays such as walking, history and conservation breaks.
(Edited versions of this  article were  published in The Observer 8 June 2008  and The Irish Times 6 November 2009.  For more photos of this trip click here)