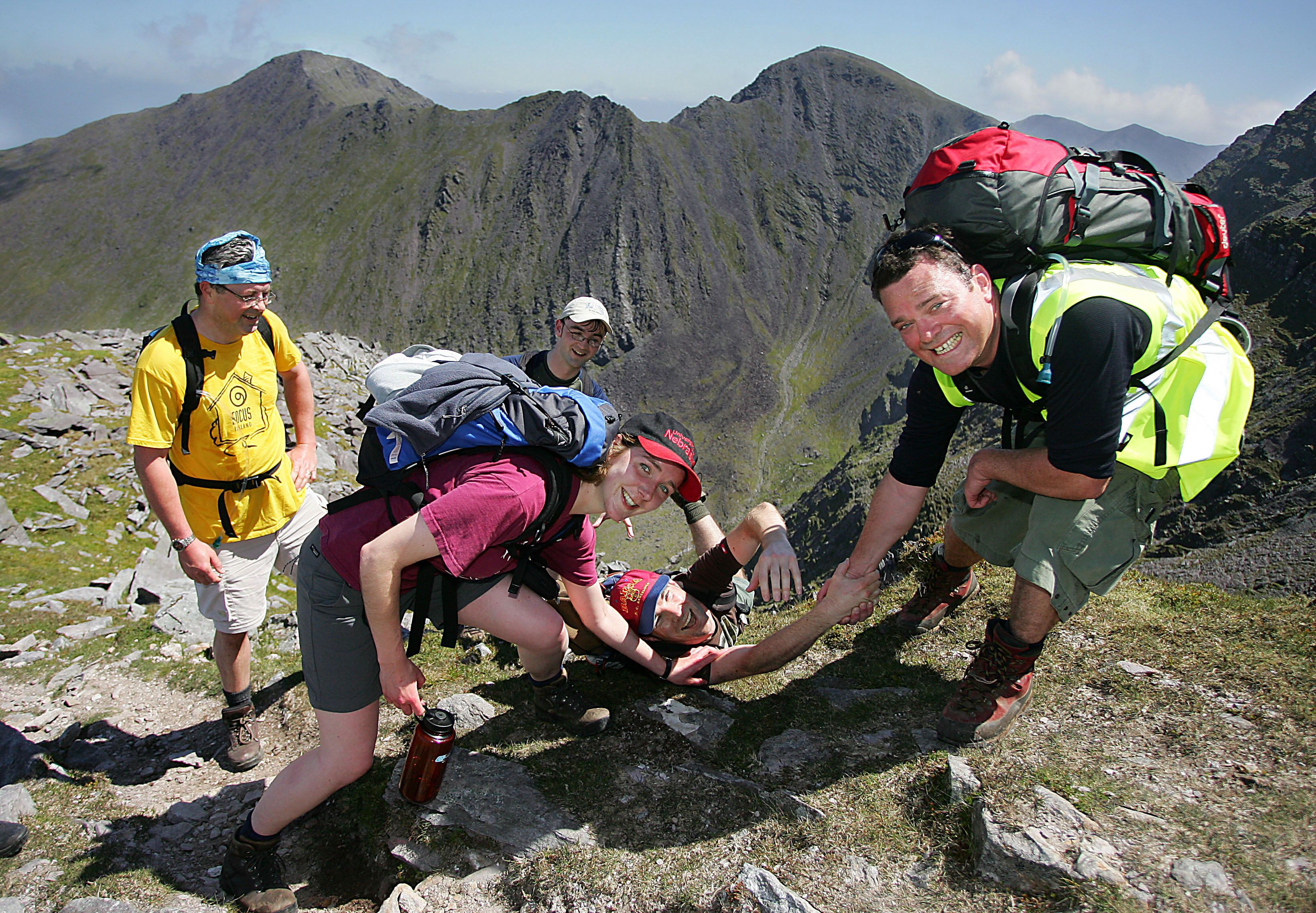 I had two emails from people last week asking me to sponsor them on charity climbs. Because this is the beginning of 'peak' season, when people scale the heights to raise much needed funds for charities. However, this fundraising phenomenen is growing at such a rate, that it starting to throw up many other challenges.
Unlike some of Ireland's most well known, such as Focus Ireland's Four Peaks Challenge, which takes place only once a year, the UK's National Three Peaks Challenge, for example, sends at least 30,000 people up Ben Nevis, Scafell Pike and Snowden through three seasons. I say 'at least' because the challenge is ungoverned, and you are not obliged to sign up with an event organiser to take them on. Some conservationists estimate closer to 60,000.
The John Muir Trust, founded in 1983 to protect against the development of the UK's wild lands, owns Ben Nevis' summit. "I've seen organised parties of 800 on the Ben in one day" saysTrust Chairman John Hutchison, adding, "Access to the Ben should always be free but we would expect people who generate income from organising these events to put something back."
Consequently, the Trust is working closely with The Institute of Fundraising (IoF) to create a Code of Practice. Louise Richards, IoF's Director of Policy and Campaigns states, "This Code needs to be followed by fundraisers…An important part of promoting best practice also involves exposing bad practice." So if you are looking at a UK event, make sure you do so with an event organiser and one which supports the IoF.
Many people are also now looking for challenges abroad, but do shop around to see which organisers have ethical policies. One event organiser states on its website,"At least 60% of the money you raise goes directly to charity – the balance is the cost of the Challenge, such as flights and accommodation." No mention of substantial social and environmental costs to the hosts. I don't doubt their impressive fundraising records, but none of these charities would want to take destinations for granted either. Some argue that the hosts benefit financially, but not if everyone drives into town at dawn, climbs a mountain and leaves at dusk. In contrast, the organisation Charity Challenge (charitychallenge.com), which also offers worldwide challenges, has a detailed responsible tourism policy committing to, among many ethical steps, a donation of $500 per group (max. 20 people) to a community project.
Mountaineering Ireland's Chief Officer Karl Boyle (mountaineering.ie) is also concerned about this unsustainable growth: "Mountaineering Ireland supports Challenge Walks and Charity Climbs, once the event promotes Leave No Trace principles and is managed in a sustainable manner."  Indeed, many do work with Leave No Trace, a network of organisations and individuals advising on everything from waste disposal to low impact walking(leavenotraceireland.org). Events such as The Beast of Ballyhoura, Gael Force West as well as those organised by ACARA, have all taken a positive lead in this area, says Beverley Pierson, Leave No Trace Project Officer: "Each event creates its own impacts and each impact can be devastating to the environment. More and more event organisers are now starting to show their concern and thinking about ways to reduce these effects".
Regarding sustainability, Focus Ireland's Fundraising Director, Mark Mellett, assured that they wouldn't respond to the surge in demand for challenges by developing countless more climbs, but favours one-off events saying, "We are conscious of the fact and respect that we mustn't overuse the mountains." If charities like this continue to keep an eye on their potential impacts, not just their income, then they can have my sponsorship money again and again.
This article was first published in The Irish Times 13 February 2010