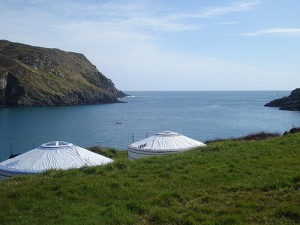 It is the beginning of April, and I'm sitting outside a small island cafe, sipping frothy coffee, overlooking a peacock blue harbour, before returning up the hill to a Mongolian yurt. For those who aren't yet familiar with yurts, they are large round tents, built around a wooden trellis structure, with canvas stretched over the top, and a (covered) star-viewing hole in the roof. As we walk back towards our one, and admire its beauty from afar, located majestically on a clifftop, my younger son says that the view is "like one of those posters saying, Come To Portugal." However, this is not Portugal, but Ireland's own Cape Clear island, County Cork, and as close to paradise as I have been recently.
Chléire Haven, is a small campsite with yurts and tipis, set up by Sally Davies and Dave Calvert, and the only yurt campsite I have come across in Ireland. And boy, did they pick the right site. Yurts are camping heaven, ideal for those who dread the canvas experience but know that their kids would adore it.  They are set on a raised wooden floor, spacious, high, have real beds (a double and fold out sofa bed), a cooker, kitchen equipment and, joy of all joys, wood burning stoves. The stoves are not yet connected as we arrive on their first open weekend of the year, but nearly ready to go. We have no need for them anyway, as the weather's idyllic and yurts have great natural insulation. Although the comfy duvets and blankets help.
Sally and Dave are very committed to ethical practices, with solar powered shower rooms, recycling, good advice on restricting water (a major island issue), and maintain the site in an ecologically sound way. You can't get a much greener holiday than this anyway. There are no cars allowed on the ferry, 45 minutes' crossing from Baltimore (cailinoir.com). So take the bus to Baltimore and leave the car at home altogether. You can get everything you need on the island. The island's Bus Chléire meets the ferry and drops you and your bags wherever you want, for €2.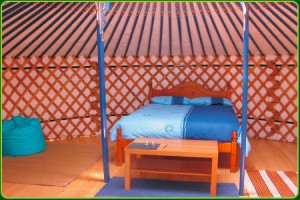 We walk everywhere and, despite the island being just under 6k long and 1.5k wide, there is plenty to see. The landscape is hilly and varied, with heritage highlights such as megalithic standing stones, a 5000 year old passage grave, a 12th Century church ruin and a 14th Century castle. There's plenty of living culture too at the café/shop in the harbour, An Siopa Beag, where local people and tourists gather for cappuchinos, ice creams, great homemade food, or just to watch boats come and go . We sit there 'til dusk, wolfing excellent pizzas, and then stroll all of fifty metres to the welcoming Cotters Pub, for a hot whisky before bed.
We stay for two nights, and wish we had come for a week. There is something so magical about sleeping in a yurt, with its cocoon like cosiness. One of the most striking things about Cléire, however, is the genuine openness of its people, everyone with a smile and a story to tell, and keen to hear ours.  Which is perhaps why Cléire's International Storytelling Festival in September has become a world renowned event. But you can come and swap stories here anytime, and no better place to start than in a warm, felt-lined yurt, with the soundtrack of the Atlantic in the distance, and natural lighting from the moon and stars. Failte Ireland should look no further for its next photo shoot. This one's a diamond in its emerald crown.