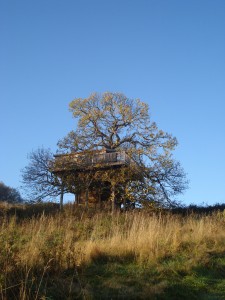 People find solace in different ways. Some escape to islands, others to mountains. But I have always had a thing about trees. High up in the branches of an ancient Chestnut tree was my favourite getaway as a young child at boarding school. Leaves or no leaves, it was always a place to hide or take stock of the world rushing around below me. But I have never gone as far as hugging one, never mind sleeping in one. Until I discovered a perch extraordinaire. Far from the Belfast branches of my distant past, this old Chestnut was hidden away in a Monet-esque meadow in the Orne region of Normandy.
Marching across the evening's dewy grass, we had no idea what to expect. I was a bit nervous, as it was a fit of momentary madness which had jolted me out of my state of autumn cabin fever, to the middle of a French field in November. To a cabin.  But the jaw-dropping moment was the one which we all hope for when we arrive in a new place. The red cedar of this vast treehouse, nestled in the most majestic of Chestnut trees, glowed in the last of the day's sunshine. Suspended on four mammoth wooden stilts, and built organically around its magnificent natural infrastructure, this was not only my idea of getting closer to holiday heaven, but also immediately transported me back to my happiest childhood memories. I could almost have hugged it.
I resisted the temptation to climb up first, and let my children race up the wooden steps, ducking at the top to avoid one of the vast branches, which guarded the balcony and entrance like something from The Hobbit. The views of the surrounding area were superb and, blessed with blue skies, we were able to see the endless undulating pastures and forests all around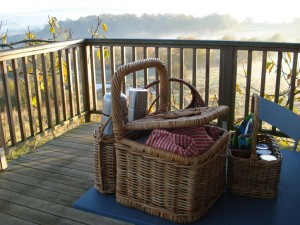 On our first night we had a superb dinner at the local creperie, Les Secrets de Jeanne, in St. Germain de la Coudre. It is in a restored barn with vast log fire and every wall covered with antique toys, books, and French bric a brac. Being apple season, and the centre of the apple-producing region, we sampled an array of local ciders with our savoury crepes, and finished off the meal with caramelised apples ones, lathered with ice cream and chocolate sauce.  When in France, and all that.
Back at the treehouse, Claire, the English woman who dreamt up her arborial work of art with French husband Ivan, gave us a torch to lead us back across the field from her farmhouse. Not that we really needed it that night. I am not just being a romantic when I say the stars almost lit our way, because they really did. There are no big towns in this area, and consequently little artificial light. Which is why this region is extremely popular with star gazers and amateur astronomers. Tucked up in our beds, the rustling leaves sounded deceptively like rain, but luckily we were spared any downpours. There was no obvious creaking of branches as the wind picked up through the night either and we slept, of course, like logs.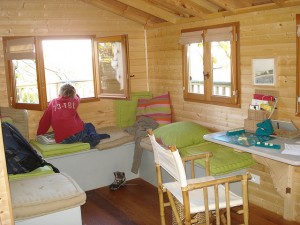 Being winter, the birds weren't quite as omnipresent, but the dawn chorus must be verging on philharmonic in the height of summer. The only noise to waken us was a gentle tapping on the door by Claire who, like a little wood nymph, had crept up our stairs to leave a basketful of breakfast goodies on the balcony. Flasks of hot chocolate, coffee, warm bread from the local organic farm, yoghurts, fresh seasonal fruit, and homemade jams like only the French seem to be able to do. We wrapped up in some of the blankets kindly provided, and sat out on the terrace, watching the mist lift off the hills of this, thankfully, protected landscape, also known as Le Perche Natural Park. We were literally perched over Le Perche and that was definitely worth raising our glasses of homemade apple juice to.
 Le Perche traditionally meant 'Old tree', according to our guide at the NaturalPark's centre, Le Manoir de Courboyer, as this area has always been heavily forested and, luckily, still is. As well as having a fine 15th Century manor house as its centrepiece, Le Manoir is the place to learn about all the natural heritage of this area. It also has a restaurant brimming with fine local and seasonal foods, and a shop with all the ciders, juices, jams, and natural local produce that you could hope for. You won't find one Made in China souvenir here. Tackiness is forbidden. This place lives and breathes pride in its region, and rightly so.
This passion for Le Perche stretches beyond the normal French pride in one's region. There is an abundance of 'natural' producers here. L'Hermitiere is one of several traditional cider producers in the area and so, with the season that was in it, we couldn't miss out on that one. The doors of the barn were open when we arrived, revealing the floor to ceiling stockpile of red apples, all waiting to be washed and pressed. There are no machines to shake apples off the trees here. They just do it as it should be done. Wait for them to fall, and they are ready. The proof was in the tasting session in their shop. Superb, and if you don't like cider, you can always treat yourself to one of their fine bottles of Calvados.
It didn't take a glass of Calvados to fire up our final host. Michel Frenard was the personification of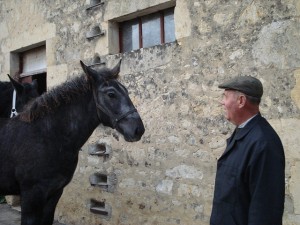 Percheron pride. He is a horesbreeder of the world famous Percheron, which is the region's icon, and has played a major role in its history. It is a huge stout working horse which, until recently, was in danger of disappearing. But now several impassioned breeders,  supported by the Park, have managed to put them back on the map again. With no agricultural funding to help them protect this fine example of equine elegance, these breeders are motivated by genuine passion to keep the breed alive and kicking. Monsieur Frenard taught us how to look for sadness or joy in a horse's eyes. That's what makes or breaks their chance of winning a medal at competitions, apparently.  I was hardpushed to see sadness in any of his fine horse's eyes, as this man's passion for life, and protection of all the natural resources in his region, seemed to infect everyone around him. I asked him if he had ever travelled to Ireland, another land of horselovers. "I admit I have never travelled far beyond Le Perche. I have no need. I wake up every day and my local landscape brings me joy. As long as I can earn a living from it, I have no need for anything else in life. Le Perche brings me all the happiness I need". I hope my translation does his passion justice, but we didn't need to understand it all anyway. We could see it in his eyes. The tears in my sons' eyes when it was time to leave our precious perch in Le Perche, pretty much said it all too.
A seven-night stay at La Renardiere treehouse, costs €120 pppn including treetop breakfast or  from €

775 for two persons  for seven nights Weekend stays of minimum two nights cost €250 for two persons.

 

(00 – 33 2 33 25 57 96

or

www.perchedansleperche.com

).
Catherine and her family travelled to

France

overland from

London

with Eurostar and SNCF. For the greener way to travel, contact Irish Rail's

European Rail Reservations (01) 703 1885, or for those outside ROI, see RailEurope, www.raileurope.co.uk.
For more information on this region contact the Orne tourist office at www.normandy-travel.co.uk

.