I remember challenging a friend of mine when she put a post on Facebook a few years ago about how proud she was that her twin 16 year old boys were going to help build an orphanage in Uganda for a month during their school holidays. They were trying to fundraise for the trip, thus the Facebook post, the target amount being £4000. Or £8000 for twins. With photos of Ugandan children being hugged by 17 year old Londoners just to get the message to really hit home, at first glance I thought they were raising money to help fund the orphanage. But it didn't take long to realise that they were actually fundraising to pay for a holiday. A four week holiday in Uganda, ten days of which was to be spent helping paint a wall or two, giving an English class and playing football with local  children,  the rest was on safari, with six beach "chill out" days and, if we wanted to 'fund raise' for the optional extras, getting their PADI course and  summiting Mount Kenya. So, I chose not to 'like' and, in addition, made that ultimate faux pas of questioning it. Which, needless to say, didn't go down well with the mum.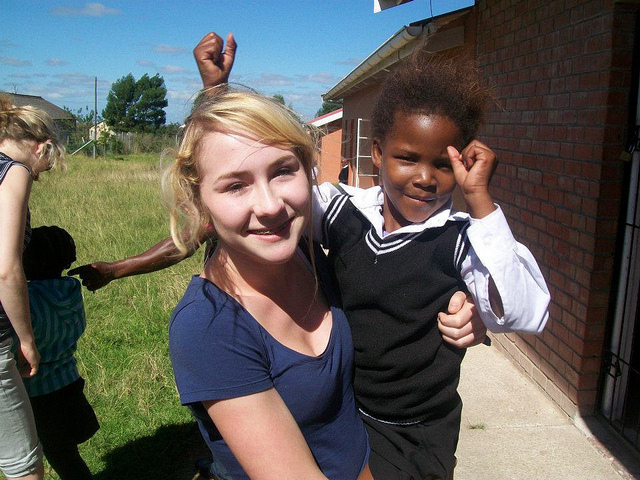 My challenges
My friend's main argument was, at the end of the day, this was a fantastic experience for her boys. I couldn't argue with that one.  And that the trip would, according to the travel company that sold the holiday through the school, get them 70 UCAS points (Universities and Colleges Admissions Service) for their university applications. I bit my lip, until recently, as my own son's year group is about to be sold the same shenanigans. I am glad to say that he is old enough to agree with my challenges, as below, which still remain the same. If you agree with them, I ask that you spread the word to geography, science or heads of year teachers who are somehow buying into the notion that these are ethical holidays that make a difference to those on the ground, but also to other parents who might be considering handing over thousands of pounds. The choice is theirs of course, but perhaps just think outside the box a little before starting the cake sales:
How can it possibly benefit a small community in Uganda (or many other places that have projects waiting for 17 year olds to fix) having school children paint their walls, play football with the children and so on, when there are expert NGO's there already working round the clock to break the poverty cycle?  As well as, in many cases, expert local and international adultwho are qualified to do the job. Or could be trained by experts to do so.
Would you want a group of unknown seventeen year olds coming into town to take over your children's education and building projects without any sort of vetting or professional expertise? And then be hugged by them to be spread all over Instagram, #volunteer #love #awesome
Why are young people put under huge pressure to 'fundraise' for something that isn't a charity? These are profit making holiday companies that throw a bit of community work into the package because 'doing good' sells.
Why would UCAS favour young people who have paid £4000 for some UCAS points? (see more below, but quick answer is – they don't)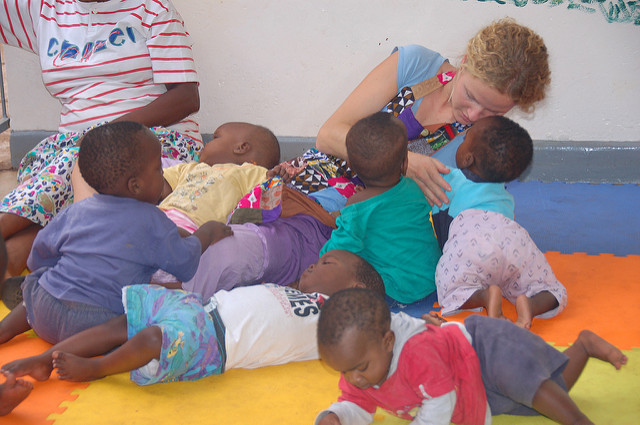 Mis-sold, mis-treated and mis-informed
What stands out for me, however, in the case of volunteering holidays that are being targeted at school children is that young people are being mis-sold, mis-treated and mis-informed. Mis-sold because the reality is that these aren't 'do good' volunteering trips that are all about charity. They are holidays. With companies making a lot of profit out of them. Give even half of your fundraising directly to a grass roots charity on the ground, and see what they can do with it. They would build a lot more than a wall, or paint a classroom. Mis-treated, because education is competitive enough at 17, without young people being pressurized to raise £4000 to keep up with their friends. And mis-informed because these trips do NOT guarantee extra points towards university. In fact, having just embarked on our UCAS journey and university open days ourselves, not one of them said 'you know what, go and build a wall in Africa for £4000, and the deal is sealed.' What they do suggest, is get involved in your own local community, political or social justice groups – now that would be interesting. Oh, and study.
The UCAS point of view
To clarify, I spoke with UCAS about this issue of volunteering holidays being a way to gain university points. Ben Jordan, Senior Policy Executive at UCAS:
"Volunteering holidays in themselves do not attract UCAS Tariff points.  However, some volunteering programmes may offer an accredited qualification as part of it.  For example the ASDAN award is an accredited Level 3 qualification that can be delivered through such programmes. But, far away volunteering breaks aren't the only way to achieve such a qualification and they can be delivered more locally.  It's important to remember that although the above qualifications are recognised in skills development by some, not all universities will accept them as suitable for entry and not all institutions use the UCAS Tariff points system. Therefore it's vital that students research the claims of such programmes properly and look into the requirements of the universities and courses they're interested in.
What anyone applying to study should be aware of, is that universities take a wide range of factors into consideration when recruiting students. This includes grades, relevant experiences relating to their chosen course and their personal statement. Universities are also aware that it won't be possible for all people to engage with such volunteering programmes, therefore no learner would be disadvantaged by not attending."
The children who don't have a choice
Most importantly, however, in this debate is that children being sold these holidays have a choice whether to go or not. The children who don't have a choice are those in the destinations where our seventeen year olds are going to spend time. And this is where the companies that promote themselves as selling ethical school expeditions must really be held to account. Do they adhere to strict responsible tourism guidelines when it comes to working with young school children abroad? What child protection policies do they have in place? Do they seek qualifications or at least some experience from those people paying to volunteer if they are going to be teaching or caring for young people abroad? I contacted various expedition companies that target pre university young people to get their feedback on this subject, and to get more details on their ethical policies.  One example is Frontier – One of their projects is to work in a Cambodian orphanage, where on a two week volunteering holiday kids can "help take care of them (orphans) and give them the vital education they need for a better future.", the highlights of the trip being, "Teach and care for fun-loving, orphaned children, earn your TEFL certificate absolutely free and assist in the operational running of the orphanage centre." At date of publication, I had no reply or feedback from Frontier.  I am not a lone voice in this belief, however, with a lot of experts trying to get the message across about how volunteering in orphanages can actually have a damaging impact on children and their communities – despite whatever good intentions are involved. See Save the Children's  excellent advice on the subject as well as responsibletravel.com.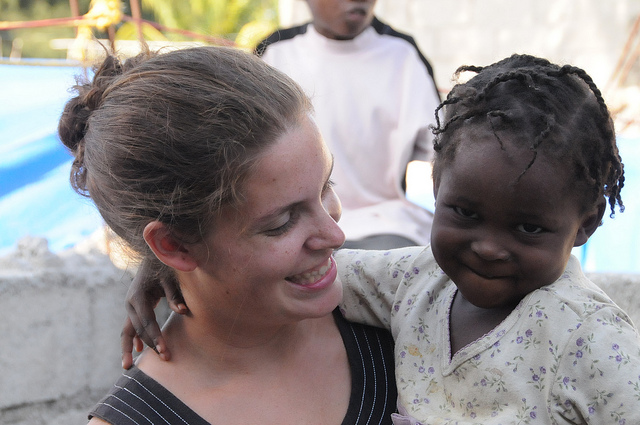 Ethical volunteering guidelines are a must
For a truly ethical volunteering holiday, ethical guidelines must be followed. You can see examples of these here on responsibletravel.com. In my view, a truly ethical volunteering holiday will place the needs of a community first. And although I know my seventeen year old would do his bit if he went to Uganda, I also know that he will not be making real difference to a child's life there. Nor will he make a big difference to his university application.
My main hope with this blog is to spread the word among schools and school parents. Please question these £4000 trips. Demand transparency when you go to the sales talks. How much profit is being made from these trips? Can schools really justify this concept of 'fund raising' which is no more than a profit making exercise? Teachers and parents should question if they would want unqualified, unvetted people coming into their children's school when they were four years old. They should ask the volunteering holiday companies about the details of their projects. How many walls are being built? When was the last wall built? Are there no builders that can be employed in Uganda or Peru? And, most importantly, and controversially, will the company vet and police check their children before going out there? Oh, and please post this on Facebook.
What can you do to help?
1)   Please share this article with your friends, family, teachers and colleagues on the hashtag  and, in particular with regards to the orphanages issue, use #StopOrphanTrips.
2)    Sign the Avaaz petition calling for travel operators to remove orphanage volunteering placements from their websites by the next Responsible Tourism day at WTM in London in November 2016. Don't forget to share it and include the hashtag #StopOrphanTrips too
3)     If you're a volunteer tourism operator who is happy to #StopOrphanTrips, then please contact volunteering@bettercarenetwork.org  – we'd love to highlight your support of the campaign.
Photo Credits: top to bottom, from Flickr Creative Commons , FrontierOfficial, Dylan Walters and International Disaster Volunteers