Lido love is a summer romance for most people in London. A fling with urban adventure when the heat is on. Then you have the die hards who swim all year round in ten degrees of heart stopping H20, because the majority of London's lidos, which hark back to Victorian times, are minimally heated. But thankfully there are exceptions for water wimps like me who fall between these two stools and for whom breaking the ice is never nice. Whose hearts soar at the sight of beckoning blue tiles and shimmering waters, who love to swim outdoors, the elements always assured to elevate the spirits.  And, most importantly, who crave Celcius readings over the 25 degree mark, no matter what the season. And for those of us who love to travel, finding this on a winter city break turns the fling into a lifelong affair.
I live in London, but decided to create a crawl of London's lidos in winter for me and a few out of town girlfriends, and likeminded warm water wanderlusters. Given that I was sharing my London lido love with women, however, I decided to throw Hampstead Ladies' Pond into the mix. Not strictly lido, and strictly not heated, this spring fed lake has been a swimming haven for women for centuries, concealed behind trees from male onlookers. It is another world, and somewhere I have had summer flings with for the last thirty years. Open all year, the water temperature averages at 13 degrees in autumn, so wetsuits were packed for this one.
The four London lidos
We aimed to do four swims in the day, the heated lidos in London being Charlton (50m) near Greenwich, The Oasis (27m) near Covent Garden, London Fields (50m) in Hackney, finishing with our polar plunge in Hampstead. But due to autumn opening times and travel logistics, we gave Charlton a miss this time. But, as it is actually my local and much loved lido, I recommend it hand on heart. All of these lidos are managed by Better Leisure Centres, cost between £4.80 – £6 to get in, and have excellent facilities, hot showers and good lane swimming.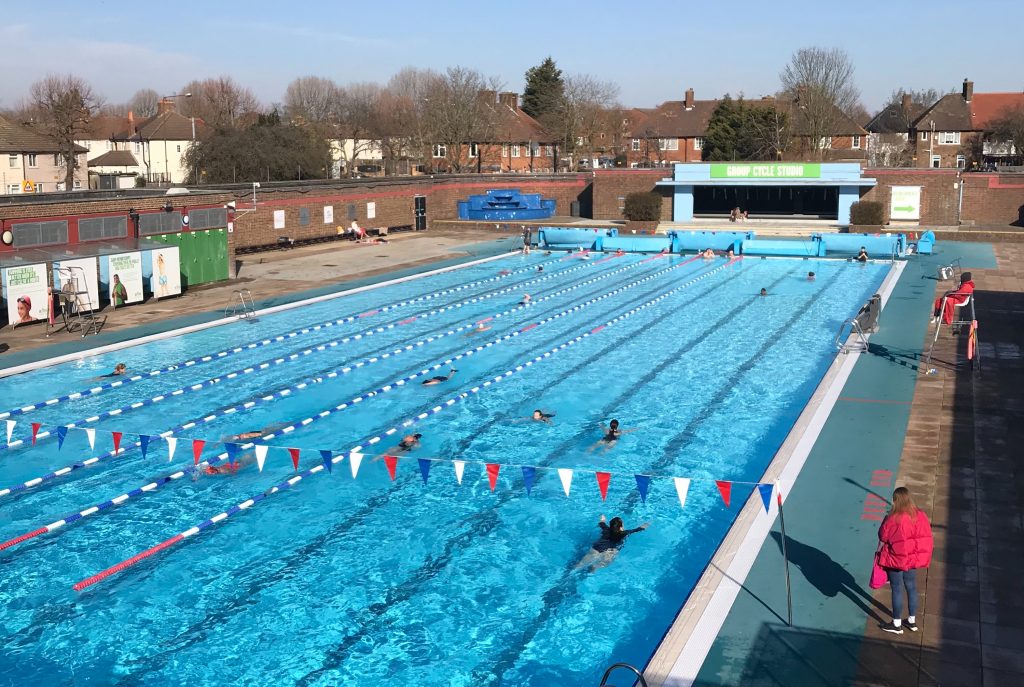 Meeting in central London at the Oasis, just five minutes' walk from Holborn tube was our starting point. In the heart of the West End most Londoners don't even know about this open air oasis tucked behind theatre land. Sadly there is no café here anymore, so bring snacks. Or the Pain Quotidienne next door is a great spot for coffee and cakes afterwards. As is the Hoxton Hotel, by the way, if you want to stay in one of the coolest hotels in London, or just pop in for a full breakfast after an athletic swim. I wish. Back to snacks, I was in show off mood, with my home made energy bars, which went down a treat. See the fool proof, no bake recipe here.
Using my brilliant, but brilliant Citymapper app to get between London's lidos, we connected with the nearby 55 bus on Bloomsbury way (Museum Street stop) which took us almost directly to London Fields lido, another blue haven in the middle of one of London's many green field areas, London Fields Park. Sitting upstairs on the bus, like kids on a school trip, the app also showed how many stops to travel and then gave me a friendly little ding just in time for me to do the same to alert the driver that we wanted to get off. Five minutes' stroll through elegant Victorian streets and there it was, centre stage in the park. Our next of London's lidos. London Fields. Busier than the Oasis, with the beautiful burghers of Hackney doing some very committed laps and limbers. After our acceptable 1 km swim, we soaked up the late seasonal sun on seats around the pool, before hitting the coffee shop, with falafel wraps and other feisty fodder on offer.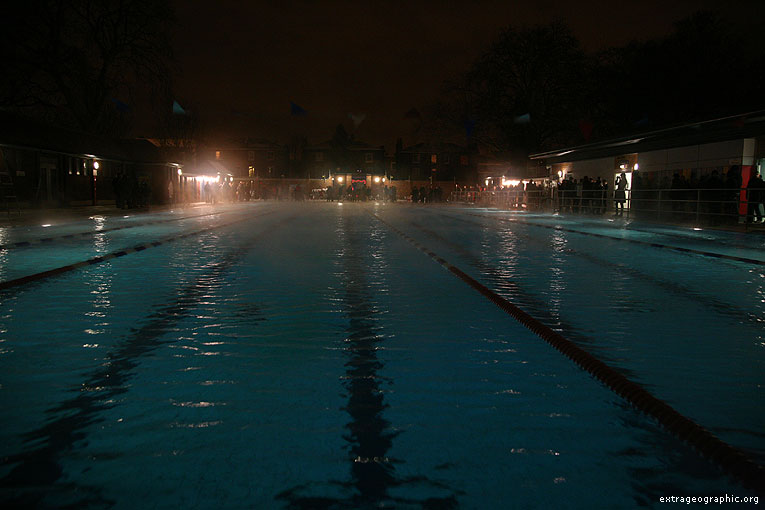 And so to Hampstead Heath, just in time to catch the pond closing at 4.45pm (after the end of October it closes at 2.30pm until the end of March, when the days stretch out again). Citymapper guided us to Gospel Oak station and from there it was a 20 minutes' walk over Hampstead Heath, walking straight past Parliament Hill lido in fact, which isn't heated and only open in the mornings in winter.
Note the Ladies' Pond is not marked on Google Maps but the mens' one is, just get there and ask someone. Hidden behind trees, this really is an urban paradise, albeit a perishing one. It has devoted lifeguards, who checked that we had cold water experience. She didn't seem impressed that we had spent the day in warm lidos, and was even less impressed by the fact that we had wetsuits. "We advise against them, because you can't read your body properly, or how cold you are getting". I wasn't going to dare to disagree, and slowly submerged myself into the soft water, glad that I had packed a rash vest and enough dry swimsuits. Taking my slow intakes of breath, as instructed by the same lifeguard, I soon adjusted to the temperature, managed one lap of honour making it as far as the ducks who dipped in and out among the willows on the far side. And then straight to the hot showers, beaming from ear to ear. And sort of glad that I had left the wetsuit dry, I must admit.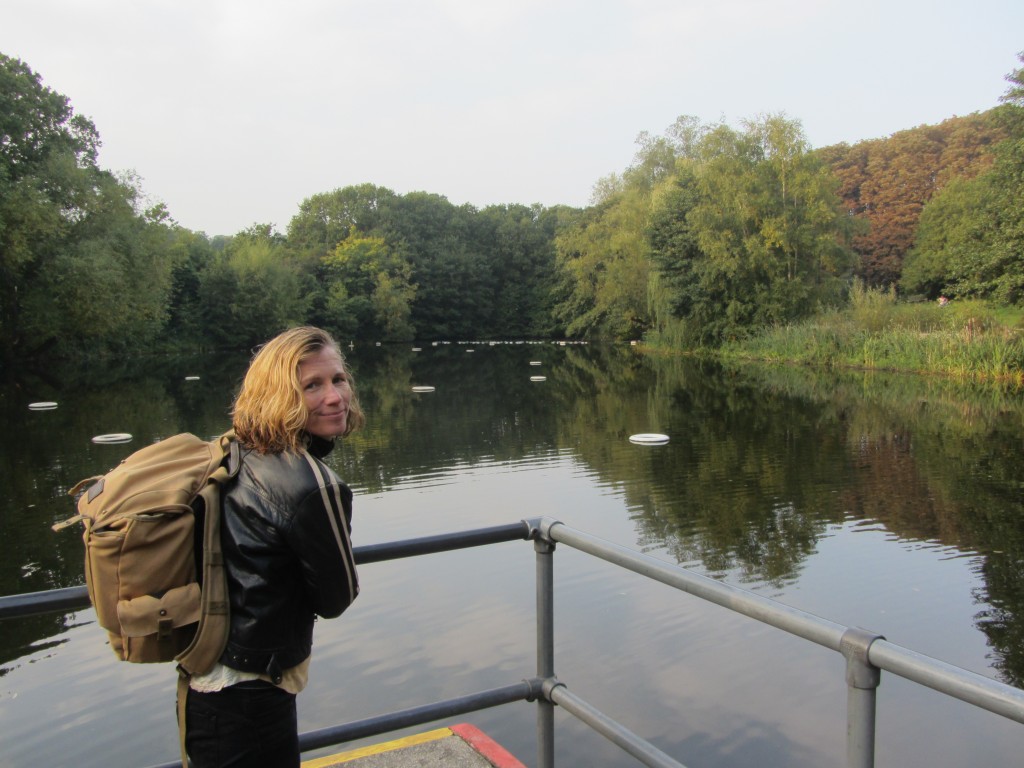 Walking back across Hampstead Heath for about fifteen minutes in the other direction to Hampstead village, into the warmth of The Wells Pub, our task was complete. We were dumbstruck by aqua amour, by London's capacity to surprise and by exhaustion. Good exhaustion. And in the silence I was struck by the fact that this pub must have been the poet John Keats' local, as he lived just around the corner. The man who wrote such wise and, today, such serendipitous ones as these:
"The point of diving into a lake is not immediately to swim to the shore, but to be in the lake, to luxuriate in the sensation of water. You do not work the lake out, it is an experience beyond thought".