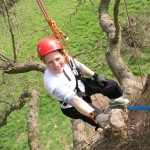 People find solace in different places. For some the sea provides the necessary force to sweep away the pressures of everyday life.  Others escape to the remoteness and anonymity of islands, where comforts are close, but reality is kept a boat ride away.  I find tranquillity in trees. I spent my childhood climbing up to secret hideouts high in the Oaks and Cedars of an Irish boarding school. I have planted them to mark births and deaths of loved ones.  I covet my seventies copy of The Observer Book on Trees but still fail to recognise an ash from an elm in situ.  But let's get one thing straight.  I have never, and will never, hug one. In fact, my relationship with trees is worryingly familiar. I love them but never quite understand them, I try to respect their space, not pull them down to my level, escape to their protective shelter at times of need and, and in the case of my kids, support them as they grow.  But I am just not huge on hugs.  Can you get tree counselling these days?  Maybe I just need a break.
Ten ways to branch out this summer:
This is tree climbing, Jim, but not as we know it.

 

For those who like island getaways and trees,

New Zealand

arborist Paul McCathie has set up Goodleaf Tree Climbing Adventures on the

Isle of Wight

.

 

He sends a shiver of arborial amour down my spine when he says things like "Trees are amazing and I love being able to spend time in them. Everyone tends to get more interested in trees when they're 20ft up in the foliage."  Fitted with harnesses and hats, you are guided to the top of an ancient sixty foot oak tree.

 

Goodleaf gives a 5% reduction to climbers who leave the car at home, and use public transport, walk or cycle there. It also supports a local conservation charity as well as a forestry charity, Trees for Life. They will even lay on a picnic or birthday champagne treats if you fancy something special.

 

See www.goodleaf.co.uk.

 

Climbing costs £25 (children) and £35 (adults) for two and a half hours. Definitely worth a day trip to the island or see www.greenislandtourism.org for great information on green accommodation.

Kadir's Tree House Hotel

in

Olympus

,

Turkey

, looks like a hurricane hit it. But that is its charm.

 

The wooden houses are perched up in the aromatic pines at the foot of the

Taurus Mountains

.

 

The rickety staircases have a 'thrown together by Grandad' feel about them, although this methodically constructed hang-out is run very much by the young.

 

It is one big tree party and with a veritable meze of activities from canoeing to rock-climbing, or a one mile forest walk to the sea, this is the perfect place to let out the tree lover within.

 

 

Prices from £8 pppn.

 

See www.

kadirstreehouses.com

for details

A coppicing weekend

sounds like and is a dirty weekend. Of sorts. Coppicing is more about separation aimed at survival.

 

Without getting heavy about it, coppice management is the cutting back of young trees, often hazel, in order to speed up their re-growth. The coppiced wood is then used to create woodland products such as charcoal or thatch.

 

It is a highly-skilled way of managing forests, and experienced coppicers are rare.

 

If you want to get down, dirty and coppice, you can book one of a variety of

UK

woodland management breaks with www.responsibletravel.com.

 

Prices start from £40 (2 days) to £250 (28 days) including food and accommodation.
I warned you – first you are hugging it and next thing you know you are sleeping with it.

  

The Mighty Oak Tree Climbing Company in St. Columb Major,

Cornwall

not only guides you skilfully up the tree, you then have the option of staying up there for the night. Tree camping involves the use of tree boats, especially-designed four cornered hammocks suspended very safely up in the tree. There is no danger of a rockabye baby scenario as you are tied in at all times by rope and harness.

 

An early morning breakfast is sent up to you as you swing serenely to the sound of the Cornish dawn chorus. Tree camping and guided climbing session from £140.

 

For green travellers, nearest train station is

Lostwithiel

. See www.mighty-oak.co.uk

How about a weekend bodging in

Bath

?

 

Leave the 21st century behind and escape to the peace and quiet of Cherry Wood, a sustainably managed woodland where its owner, experienced wood craftsman Tim Gatfield offers green woodcraft workshops. This refers to all of the traditional woodcrafts such as chair making, charcoal burning, and shelter building, which take us back hundreds of years. The main focus at Cherry Wood is bodging, or chair- making using 'green' or unseasoned wood, which has been cut only days before use.

 

From advanced green woodwork courses, to family woodland weekends, this is an opportunity to understand and enjoy wood and all its uses. You can camp on site, or there are a number of B&B's nearby if the compost loo and earth oven is getting too close to tree hugging territory.

 

Family woodland weekends cost £145 for adults and £70 for children including lunch, plus £3 a night to pitch your tent. See www.cherrywoodproject.co.uk for details

I watched a group of middle-

aged business men going ape once in a forest in

Norfolk

.

 

All those helmets and harnesses, swinging and beating chests – Maybe this growing chain of tree adventure hangouts, cleverly named Go Ape! should be called Treestosterzone, with its maze of tree canopy walks, zip slides and boisterous boys toys.

  

Bravado soon gives in to concentration and fear as they take in the 40 ft drop to the forest floor. Luckily these activities do no damage to the trees, as Go Ape works hand in hand with arborists, and all structures are designed to allow trees to grow unrestricted and oh, no, just when I thought I was safe, they tell me "

We even give them a cuddle from time to time". Although all a little more 'corporate' and mass produced than Goodleaf or Mighty Oak,

 

This is a great day out for young and old (minimum age is 10 and maximum weight 130kg) and costs £20 (10-17 year olds) and £25 +18 years). The GoApe website provides a list of accommodation in or near the forests where they are located.

 

See www.goape.co.uk.
You can support the important work of The Forestry Commission in the best way possible, by holidaying with them.

 

Hire a wooden cabin on the shores of Loch Lubnaig at the foot of Ben Ledi in

Scotland

's

Trossachs

National Park

and let yourself be engulfed by this dramatic landscape, so wonderfully preserved by your hosts. Forest rangers can guide you around or you can explore by foot, bike or horse. You can even listen to the night owls from your hot-tub. Cabins start from around £109 for a long weekend and £164 with hot-tub. You can also choose a cabin from other Forestry Commission sites in

Cornwall

or

North Yorkshire

.

 

See www.forestholidays.co.uk for more details
If the only French you can remember is "Le Singe est dans l'arbre", you might struggle here.

 

The Var region of the south of

France

, 70 per cent of which is forested with an immense range of species, is a tree lover's heaven with enough guided walks to keep you there for weeks.

  

You can walk for miles with experts in charcoal making, bark stripping, chestnuts, mushrooms and other edible foraged delights, as well as moonlight walks to gain a greater understanding of French poets and their relationships with….trees.

 

Only in

France

. The brochure, Le Var, Balades Nature Accompagnées can be downloaded from www.tourismevar.com.

Bewilderwood – A theme park with a difference in

Norfolk

. The theme is boggles and twiggles, characters from a book written by Tom Blofled, co-creator of this wonderful day out for children.

 

Set in ancient woodland on the family estate, this wooden play area takes children on a journey over suspended wooden bridges, through mazes constructed with reeds, and down giant slides accessed via rope ladders up to beautifully crafted tree houses.

 

Buy the book after your visit, and the memories of this magical day out stay with you all for ever. See www.bewilderwood.co.uk for details
The National Trust still evokes images of being dragged out on a Sunday for a walk round a stately home and a 'lovely bowl of soup, dear'.

 

But this year it celebrates forty years of working holidays, the first one being the restoration of the

Stratford-upon-Avon

Canal

towpath in 1967.

 

The National Trust offers working weekends to all ages and depending on your interests you don't even need to go near a stately home.

 

You might be glad of the soup though, after a day's work clearing felled trees from the steep-sided wooded valleys of Hardcastle Crags in

West Yorkshire

.

 

This is one of the vast array of short (and long) energising breaks, and costs £40 including food and basecamp accommodation. See www.nationaltrust.org.uk.
(This article was first published in Metro, 13 August 2007, click here for details)