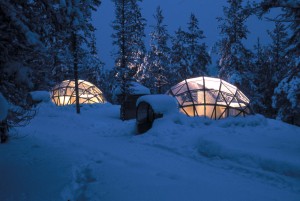 "Wil-der-nessssss!" is the protagonists' chosen cry of freedom as they lash through snow covered forests pulled by teams of huskies in Roddy Doyle's superb children's book called, aptly, Wilderness. Set in Finland on a family expedition it reveals a land of wild landscapes, ice covered lakes, remote forests, snow, snow and more snow.  As well as offering the usual Doylian jaw aching comedy juxtaposed with heart aching tragedy, this book captures the sheer exoticism of these remote places.  I am not a huge skiing fan, but this sort of winter wilderness is just what I seek in a winter holiday. So too is one new tour operator, Magnetic North Travel, founded by green travel writer and entrepreneur Laura Greenman (and no, her name is not made up).
I like companies that are based on a philosophy, and Magnetic North Travel was set up after Laura travelled extensively in Scandinavia, and discovered the Norwegian philosophy of Friluftsliv. Although this sounds more like something you might buy in Ikea, it actually translates as Free Air Living. And, unlike the Swedish indoor retail therapy, this philosophy is based on the idea that spending time outdoors, in nature, can really help us recuperate as individuals. This sounds like common sense, and it is, which begs the question-why is it more common for people to head to the plastic wilderness of Alpine ski resorts, cruise on massive liners around the fragile Fjords, or cram into Santa's myriad grottos in Lapland?
Friluftsliv is about learning from traditions and discovering nature by using these traditions. Magnetic North Travel's Autumn Bounty trip, for example, combines the traditional Northern Lights experience in Sweden with a day of foraging for wild berries, making and baking bread in traditional wood burning ovens, felt making, going on early morning wildlife safaris and sleeping in wilderness huts. All in the hands of an expert local guide.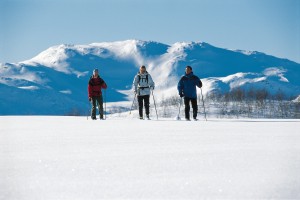 When the snow kicks in, you can head to Tromso in the North of Norway, not only to catch the Northern Lights, but stay in an ice hotel, go husky dog sledding, snow-shoeing and cross-country skiing. The joys of Magnetic North Travel is that it is small and sustainable, and they know their guides so well, that they can prepare a bespoke trip for you. Other options include saunas in the snowy wilderness, dips in an icy river, see the Northern Lights on horseback, in the snow of course,  ice fishing and wild ice skating. Or check out their Winter Solstice trip to Tromso in Norway, including all the aforementioned experiences being accompanied, as with all their trips, by guides for whom these activities have been at the core of life for generations. There is no set itinerary simply because, as Greenman states, ' we would like our guests to help set the pace from the start and to put the emphasis on being in nature rather than following timetables'.
You will find nothing but local food at one of Magnetic North Travel's greatest finds – a hotel in the trees, located on a farmstead in a forest in the Unesco World Heritage site of Geirangerfjord.  Here, you can overdose on friluftsliv in a glass room suspended in the trees, allowing you to enjoy nature's finest, day and night. Explore local environs on cross country skis, snowshoes, river rafts, or go climbing along dramatic ravines, salmon fishing and grouse hunting depending on the season.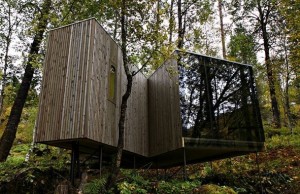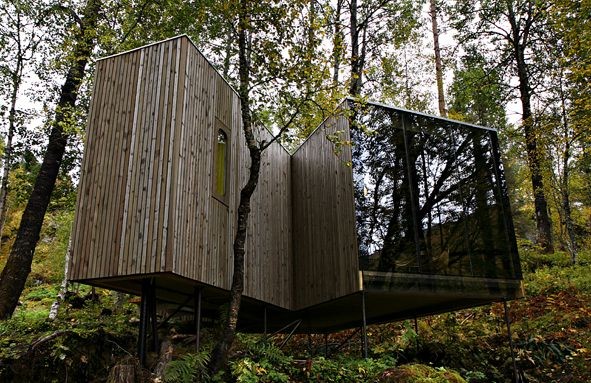 And for those of you who would love to discover the Fjords, but couldn't quite face those giant cruise ships, Magnetic North Travel has the ultimate in ecochic in the snow. An Arctic spa boat trip through the Fjords, where you can take in the views of the Lyngen Alps from the comfort of the onboard sauna. The boat sleeps up to twelve, so this trip can only be arranged for groups, but beats a corporate trip to a three star in the Trois Vallees, for sure. Here, you have an onboard chef serving local food, you can moor easily to have a day of skiing, with your personal guide taking you to the peaks and guiding you back to shore where you can freshen up in the deckside saltwater pool. You can also try a bit of Arctic fishing, a King Crab safari, reindeer sledding and whale watching on this trip. Friluftsliv is not just common sense cool, it is also one Scandinavian concept that is about as far from flatpack as you can possibly get.
An edited version of  this article was first published in The Irish Times