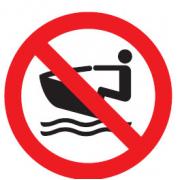 If you are a keen sea swimmer on holiday, there is always a list of dangers to look out for: unpredictable currents, jellyfish, sea urchins and, at worst, sharks.  But few people point out one of the greatest dangers. Jet skis. On my recent swimming holiday in Croatia (click here to read the article) there was one particular piece of coastline where we were told by our instructors to hug the shore, as jet skiers often broke all codes of conduct at this location. They watched us, and the water, like hawks, but luckily it was early in the tourist season and still free of jet skis. This was much to the relief of one of my fellow swimmers, who had recently witnessed the tragic death of a friend when a jet skier collided with her when she was swimming.  Of course, the majority of jet skiers are just out for a bit of fun. But the fact is, they are very powerful machines. And bizarrely, most of them have no braking mechanism. With the exception of very recent models, they just cruise to a stop when you release the throttle. Not ideal in an emergency situation. There are also many rogue traders who overlook safety guidelines, renting them to inexperienced, and often young, people with only a few minutes' training.
When riding a jet ski you are strongly advised to wear a wetsuit to prevent water impact on the body in the event of falling off at speed. Helmets are also recommended, and buoyancy aids are a must.  Most reputable companies recommend you go out with an instructor, using assigned lanes, and with the back up of a safety boat. You must also attach an engine stop lanyard to your wrist or buoyancy aid, a mechanism which shuts the engine off if you fall in.
If on holiday, you come across a jet ski hire company where such safety restrictions don't exist, stay clear. Even an inflatable banana boat ride can be lethal, if riders don't don helmets (to protect against head collisions when falling off at speed), or if the driver doesn't have the emergency engine switch-off facility. I can just see my children rolling their eyes, as I say no to banana boats without a helmet, but the European Child Safety Alliance states that,  "Inflatable riders (banana boats, water tubes) should wear helmets and personal flotation devices at all times".
The Irish Water Safety recommendations  reiterate most of this.  They also point out that "Wildlife may be vulnerable if disturbed", advising jet skiers to stay clear of sensitive areas. But which marine areas aren't sensitive? Nic Slocum, marine conservationist and founder of responsible whale watching company Whale Watch West Cork says,  "Given that sound travels faster and further in water, noise pollution represents an intrusive and, in some cases,  lethal addition to the range of challenges already faced by marine creatures, particularly those that use sound to communicate, find a mate and obtain food. Two of the most dangerous sources of noise pollution are high speed cruisers and jet skis." He also points out that "slow moving marine mammals are unable to react quickly enough to a craft travelling, sometimes in excess of, 40mph", which makes the risk of collision significant. Indeed, statistics show that the majority of jet ski fatalities are from collisions of one sort or another, not drowning. You can download the very useful  RNLI leaflet on jet ski safety here.
I am the first to protest against health and safety gone mad. But most of this is just common sense. So, when next on a beach holiday, I will obey those in the know and continue to swim close to the shoreline. n a recent day out on Mullaghmore, this is exactly what many of us swimmers were forced to do, as jet skiiers came far too close to comfort and ruined a lovely day out at the beach. So,  I don't mind saying that when the first opportunity comes to support a total ban of jet skis, I'll be right out there on the frontline, fighting for quieter, safer and cleaner waters.
This article was first published in The Irish Times 8 August 2009