They always say you should never go back to the same place twice on holiday. But the Yarde Orchard Bunkhouse on the Tarka Cycle Trail in North Devon won my heart so much, I have bunked up there twice since Easter. Read more about cycling and accommodation on the Tarka Trail.
As Easter was early this year, choosing a quick family break to shake off the winter cabin fever was tough. The children's bikes had been locked up since Santa brought them down the chimney, and it was time to blow off the cobwebs. We had already cycled on the Tarka Trail last summer while staying with friends, and loved this converted railway track following the old Braunton to Meath line, now 30 miles of traffic-free surfaced cycle and walking trail.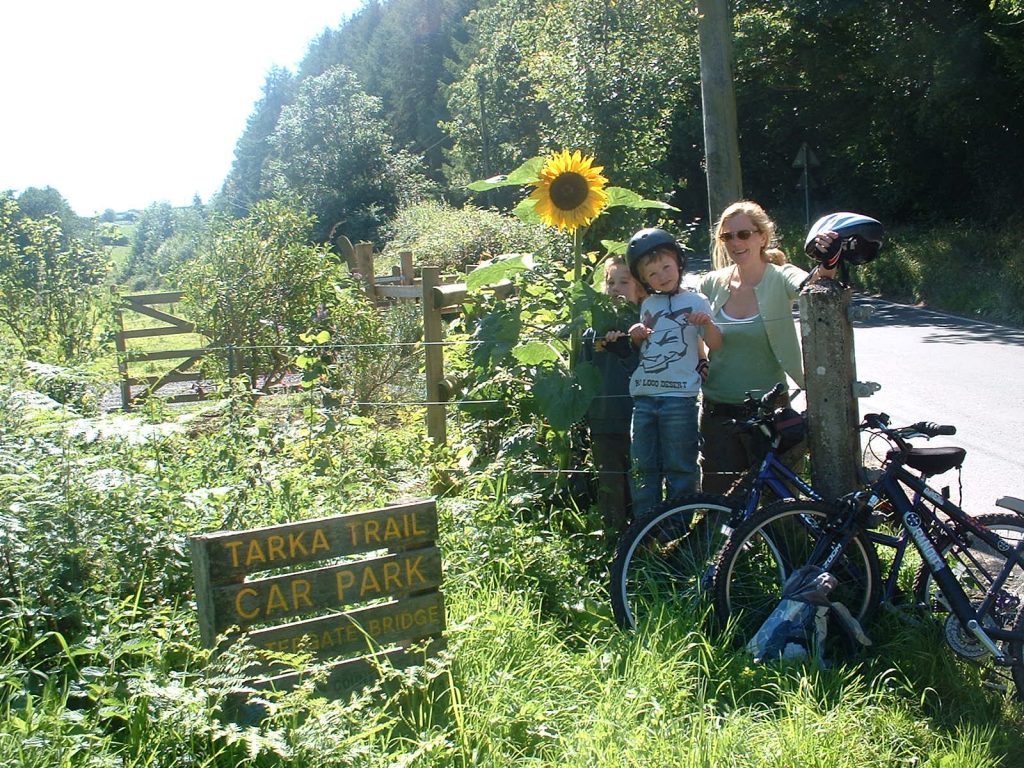 Yarde Orchard Cafe – perfect eatery on the Tarka Trail
My sons, five and nine, both keen cyclists, soared happily along the Trail with Hugo, the younger, tagged onto the back of my bike. During that trip we made it as far as East Yarde, where I chatted to David Job, owner of the Yarde Orchard Café. I enquired about the timber building he was constructing at the bottom of his vegetable garden, which turned out to be an eco-friendly bunkhouse (or independent hostel) with solar-powered hot water, wood-burning range and reed bed system to deal with water waste naturally. It was not due to open until the following year and, as this was to be the only accommodation right on the Trail, we promised to come back. Promises are promises and the Easter dilemma was quickly resolved.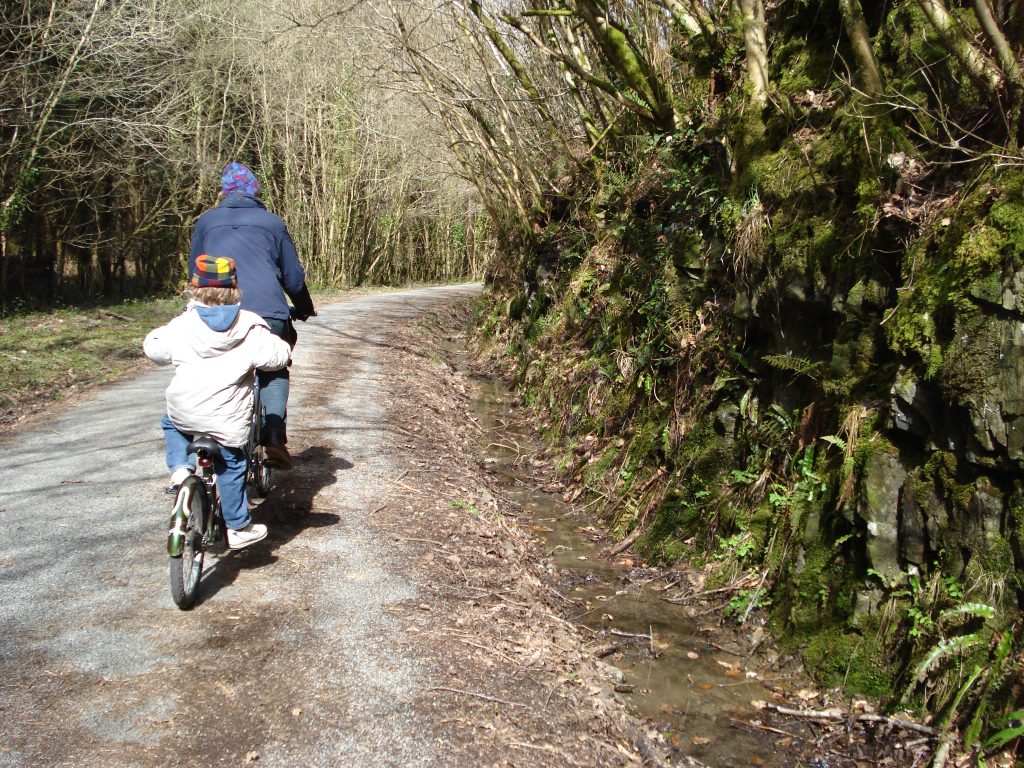 Although it is easily accessible by train I wimped out and drove, nervous of unpredictable weather. We arrived seven hours later, after several car sickness stops, and the inevitable ones to adjust the bike carrier. The ever-affable David greeted us like old friends, gleaming with pride in his eco-achievements. We had the whole building to ourselves, which was a luxury, the wood-burning range was packed with sweet-smelling apple wood, the hand-made bunkbeds awaited the test of boys' bouncing, and appetites were soon revived for David's homemade pizzas from the café. . This is clean simple hostel accommodation with two dorms, a small practical kitchen, and a family bedroom. We had a great first night's sleep, waking up early to add logs to the range, the only heat source in the hostel which was still awaiting radiators. It didn't matter at all and, donning extra cardies, we were perfectly cosy.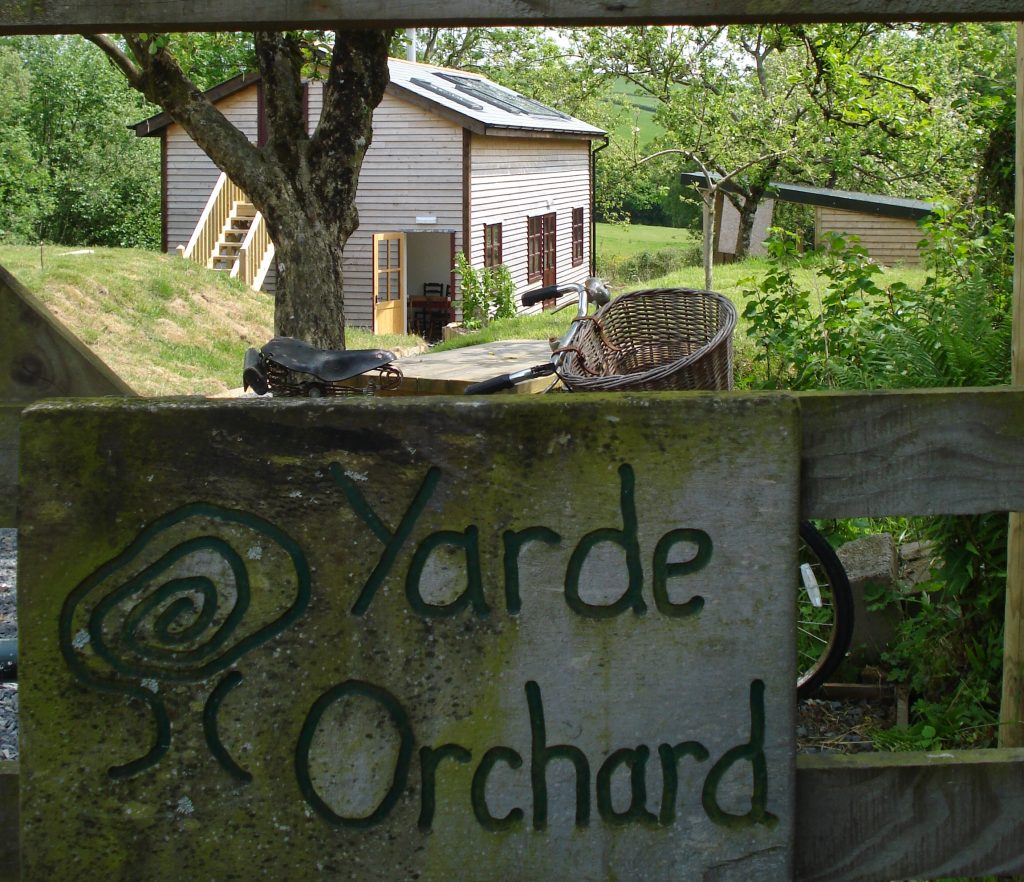 Accommodation on the Tarka Cycle Trail at Yarde Orchard
Our bedrooms looked out onto the wooded banks of the Tarka Trail which, even though it is part of the National Cycle Network's Coast to Coast Route from Plymouth to Ilfracombe, it is relatively quiet. This 30 mile off-road section is a bit too lightweight for the serious lycra-clad cyclists so it is perfect for families, walking or cycling. One group we weren't expecting to meet was the local Easter hunt, which had us screeching on our brakes as we headed towards huge hunters and their masters. Horns blew and hounds barked in the distance, and off they bounded, without a hint of embarrassment at having been caught red-handed using the Trail as one of their jumps, risking the reputation of those few riders who use it responsibly.
The otherwise peaceful Tarka Trail follows the River Torridge, the fictional birthplace of Henry Williamson's Tarka the Otter. Living in London, it was a delightful relief to watch my own little otters take off at speed, with a sense of freedom they never get in the city. The route was lined with wild primroses, narcissi as well as an eclectic collection of sculptures and, depending on which bits you tackle, it is sided by woodland or the sandy shores of the Torridge estuary.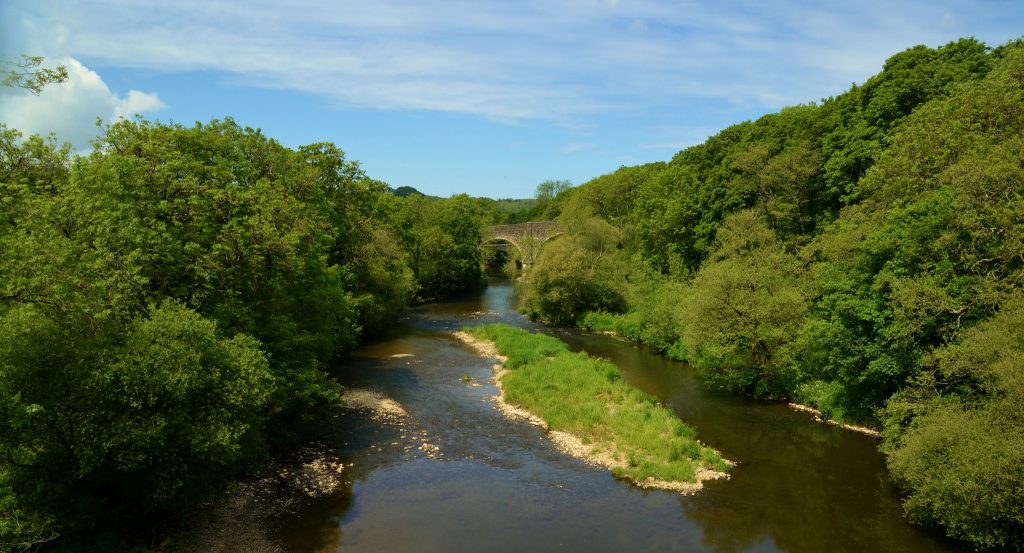 Food at Yarde Orchard Cafe
From a practical point of view this holiday is superb. No battles with bike racks before heading off every day, no picnic preparations, just get up, make breakfast, jump on the bikes and go. In the mornings, the children went up and down the Trail immediately outside the bunkhouse or played in its landscaped hilly garden as we sipped a second cappuccino from the café. David's café is brimming with good homemade food, all locally sourced. The bunkhouse is located at one of the highest points on the Trail, and so one incentive to get back up the long, gently sloping hill after an early-morning cycle to Torrington, was the promise of the Yarde Cyclist's breakfast; Cornwall smoked bacon, local sausages, free-range eggs and organic baked beans.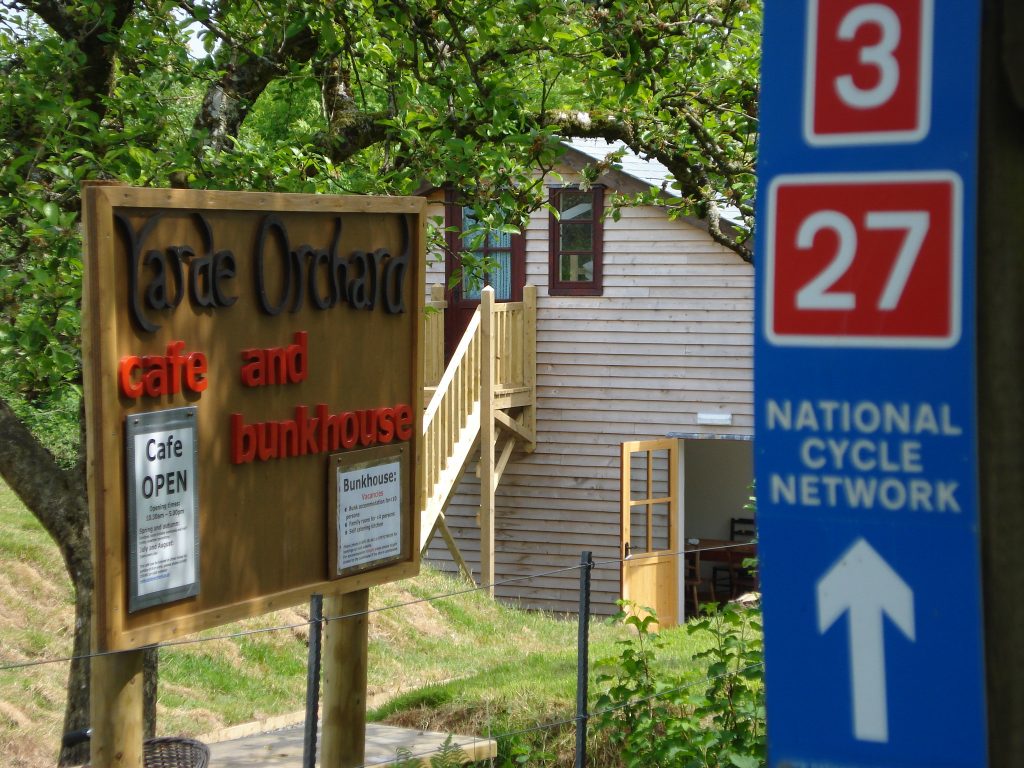 Things to do on the Tarka Trail
For other supplies the nearby thriving market town of Great Torrington is accessible by bike, car or bus. There seemed to be two of everything here. Two greengrocers, two butchers and two bakers. The Green Lantern, on the town square, a bakery with café, is a must. I felt as if I had stepped into a Hovis ad, with racks of iced buns, scones and enormous warm squidgy loaves being emptied from their baking tins onto the shelves.
We couldn't leave Devon without one trip to the beach, and twelve miles along the Trail took us to Instow, a small town on the sandy banks of the estuary where the Rivers Taw and Torridge meet, and ideal for paddling. It may sound like a long way, but it's amazing how many miles you cover on these mainly flat surfaces without even realising. The children couldn't believe it at bedtime when I told them "you cycled twenty-four miles today".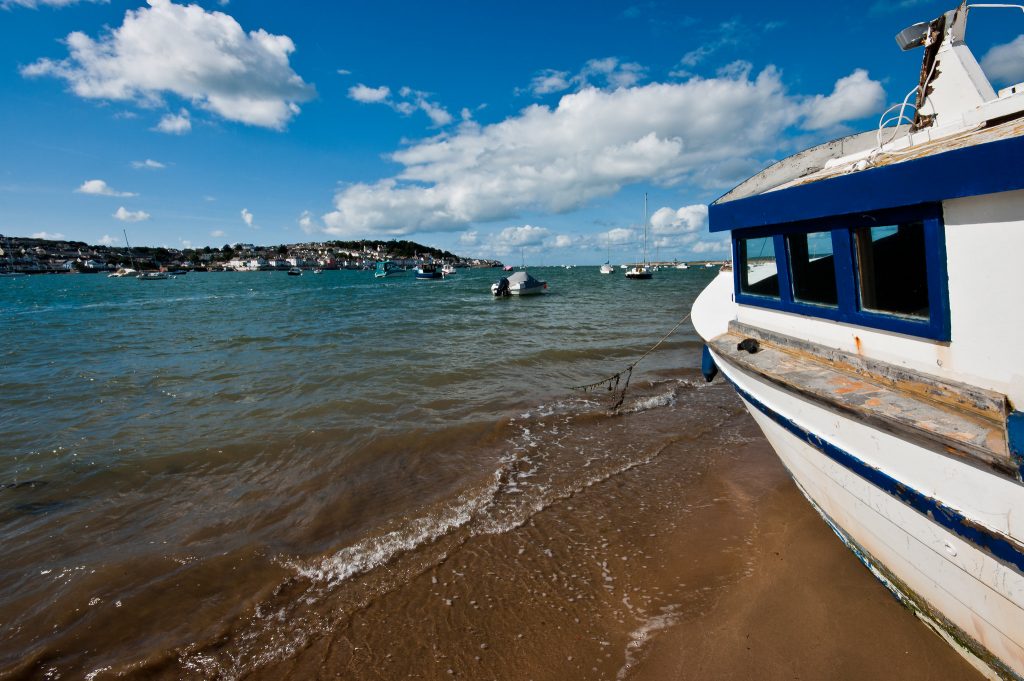 Getting to the Tarka Trail by train
Yarde Orchard is not only a welcoming place to stay, it is also great value, in a superb location and as friendly as it is eco-friendly. So a couple of months later, when a girlfriend and I decided we needed a mid-week break, no work, no kids, no hassle, I knew exactly where to head. This time by train, with First Great Western. We took the 09.04 from Paddington to Exeter, changed onto the Tarka Line train to Barnstaple, and walked straight into Tarka Trail Cycle Hire, conveniently located on the station platform and only metres from the Trail.
Equipped with shiny new bikes, we took a gentle three hour cycle along the Trail, arriving in through Yarde Orchard's gates in time for afternoon tea. With a couple of stops for snacks and shandies at some of the converted railway stations along the way. The Primroses had been swapped for wild orchids, the narcissi for an abundance of aromatic wild garlic, and the fields were full of lambs, foals and calves. Summer was in the air, and London was a world away.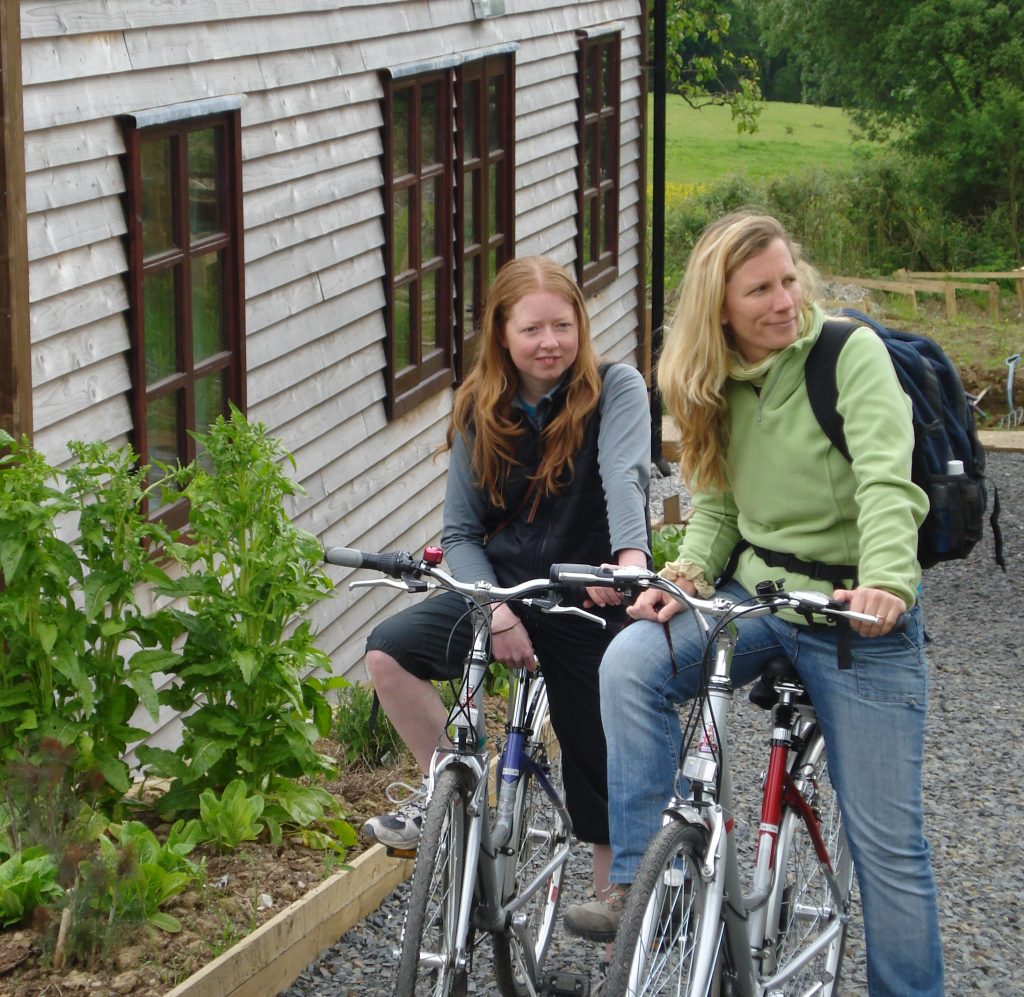 Please note: Since this blog was published, Yarde Orchard has been bought and managed by Simeon Day, who has been loyal to and indeed grown all the sustainability practices that David Job was dedicated to.
(This article was first published in The Observer)