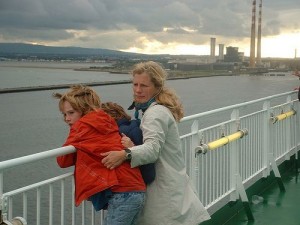 I had a call from a friend who was stuck in London during the worst of the snow, "You must know how to get me home without flying", she said. "I need to be back in Dublin tomorrow and every airport in Europe seems to be closed". Within minutes she was sorted. " Catch the 9am train from London Euston direct to Holyhead with Virgin Trains, arrives four hours later, then onto 2pm Irish Ferries crossing to Dublin port, arriving just after 5pm. Hop in a cab or shuttle bus, and home and dry in time for tea" I said.
She booked it immediately online via Virgin Trains and Irish Ferries, with last minute rates of £55 sterling for the single train journey and £25 sterling for the one way crossing. She had a lot of work to do on the way, so upgraded to first class on the train, (£97 sterling). This is the best train upgrade around, in my view, with free food and drink the whole way. Enjoy smoked salmon and scrambled eggs as you lash through the Shires, bagels on the border and a glass of something lovely to strengthen the sea legs as you follow the North Wales coastline. With free WI-Fi and generous reclining seats, you won't want to get off at all. Although to be honest, Virgin's latest speedy trains are so comfortable, economy feels like first class compared to any of my memories of what was the journey from hell all those years ago when 'budget' meant the 'bus'.
I got a text at 5.15pm from my friend – "just drifting past the South Wall. Best trip home ever. Will never fly again". This I doubt, but every snow cloud has a silver lining. It's hard to convince people about the joys of greener, slower travel, unless they actually experience it. You can bring as much luggage as you want, including bikes. You check it all in now, so no lugging it round the ship anymore. You don't have to hide your make-up bottles either. Even Holyhead terminal is better these days. On a recent trip, a Donegal man who makes the trip six times a year told me, "It breaks my heart.In the old days we begged them for a new terminal and now it's here, but it's empty. It used to be a cattle market, dirty and full of drunks". Sounds like a bad budget airline, I thought.
If you aren't making a last minute booking, book a Sail and Rail package. This is possible using various methods. If you are travelling out of the UK, go through booking agency Raileasy, and remember to put your home station first, not just Euston, as you can get a through ticket from any station in UK.  Do check if you are travelling direct to Dublin Port or Dun Laoghaire, as some services mean you have to change at Crewe or Chester stations. You can't get a first class ticket on this package, but book well in advance with Virgin Trains (virgintrains.co.uk), and you can get a First Class Single for approx. £50 sterling, with great food and drink served all the way through Wales and England. Note, however, that this is a mid-week deal, and there is no food at weekend, so you are just paying for a bigger seat if travelling Saturdays or Sundays.
If you are travelling from Ireland to UK and want to get a good SailRail package, do this at Irish Rail, either by phone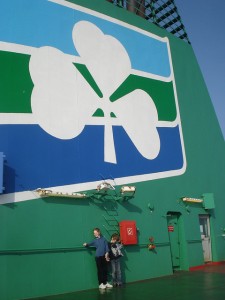 + 353 1 8366222 ( Mon to Fri 9-5),  email sailrail@irishrail.ie, or call in to one of the following Irish Rail stations: Athlone, Ballina, Cork, Drogheda, Claremorris, Dublin Connolly, Dundalk, Ennis, Galway, Killarney, Limerick, Limerick Junction, Longford, Mallow, Mullingar, Sligo, Thurles, Tralee, Tullamore, Waterford, Westport or Wexford.
Or you can do just as my friend did, and book online the night before, roll on, roll off, no bother. I'm not sure she really cares that her carbon footprint was at least half of flying, to be honest. But if she can see that travelling the greener way is a much better experience all round, then it's a win win. Any other converts can check out all European rail routes with details of journey lengths, transits, and overnight accommodation, as well as green places to stay nearby, at the newly launched www.greentraveller.co.uk
An edited version of this article was fist published in The Irish Times, 16 January 2010