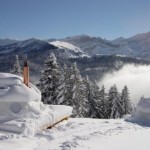 Copenhagen has, despite everything, planted seeds of change. As world leaders debate degrees and dollars, those of us who are trying to embrace sustainability into our everyday lives  can do so without feeling like we are 'do-gooders' anymore. Green is going mainstream, and ethical holidays are no longer seen as simply 'the right thing to do', but as fantastic experiences in their own right. So, at last, we can come out of the closet.
Green travel is no longer a fad. It is moving rapidly from niche to norm, with many Tourism Boards and leading tour operators realising that people who offer superb tourist experiences, without compromising their commitment to local environment, economy and culture, are onto a good thing.  This is great news for everyone, as these businesses are now being given the support they need by destinations that are on the ball about such things, helping to create even better holidays for all of us.
For example, in New Zealand, a tiny Maori community now runs one of the country's most prolific tourism businesses, a whale watching company (whalewatch.co.nz), which is totally community-run. This revival of people-led tourism rather than cold corporate 'products' is, thankfully, on the up. In Thailand, The Community Based Tourism Initiative has key players signed up as partners, listening to the needs, interests and passions of local people (cbt-i.org)  In Italy, they have not only kept tourism firmly in the hands of rural residents through their agritourism movement (en.agriturismo.it), but also as pioneers of the world-famous Slowfood ethos which aims to "counteract fast food and fast life, the disappearance of local food traditions and people's dwindling interest in the food they eat and where it comes from". In Ireland too,  Slowfood is rapidly becoming part of the food culture (slowfood ireland.com) and, consequently, part of tourism.
Cycling is no longer just for yellow shirt travellers either and, along with the recent addition of Dublin, many European cities have free or cheap bike hire schemes. Join the citizens on a saddle in  Paris, Barcelona, Seville, Frankfurt, Berlin, Cologne, Oslo, Lyon, Rennes, Seville, Cordoba, Giron, Brussels, Vienna , Oslo and of course, wonderful , wonderful Copenhagen. A decent green accommodation often has bikes available, or organises bike hire for them, as well as providing information on local cycling trails.
Travelling between these cities without stepping on a plane is a breeze now too, with European train travel on the up. Unfortunately that breeze turned to a Christmas snowstorm, when Eurostar came to a halt. Assuming it will get itself back on track eventually, and sort out what exactly went wrong, this link between London and Paris, Lille or Brussels is, usually, the most civilised way to cross the Channel. if you haven't experienced the 2 hour 15 minutes trip from London to Paris yet, then it's a must for 2010 (from €44 one way). Even better for Brussels at one hour 51 minutes door to door (eurostar.com). And with the opening of high speed lines between Brussels, Amsterdam and Cologne in December 2009, London to Amsterdam is do-able in four hours and 16 minutes.
However, as this feelgood wave is gathering speed, it also drags a load of rubbish along with it. Businesses which change their practices from dodgy to do-good overnight are often to be avoided. Some of the green policies which are being copied and pasted onto websites are laughable. 'Ecoresorts' with four swimming pools, a golf course and a spa equate 'eco' with planting a few trees, or giving books to a local school.   Look out for well certified businesses, with a proven track record in responsible tourism practices. Companies which say they are green, responsible, ethical or eco, (they all more or less amount to the same thing) are those which have had detailed visits from experts in the field, been certified accordingly or awarded accolades for their work. Similarly, if a place shouts about being green, but has no evidence of low carbon transport options, then you can often question its validity.
There are, however, many organisations, big and small, leading the way in ethical travel. Picking a few from the rich crop of the latest for 2010 was hard, but here are a few just to get those travel juices going.
You don't need to be heading off to an ecolodge in the rainforest to be ethical.

 

You could be camping on

Really Green Holiday Company, Isle of Wight. Photo: Catherine Mack

a farm, buying food at their farmshop, drinking at the local, cycling from beach to beach, and coming home by train and/or ferry. Glamorous camping, or 'glamping' as it has become known, allows you to leave your two man tent  in the shed, and discover the wonders of yurts, tipis, geodesic domes, circus tents and even nomadic bivouacs. The glampest site around is goglamping.net, also worth following on Twitter to keep up with regular updates of canvas creations around the globe (twitter.com/Glamping). Not listed on their site, but just reopened for this skiing season, is one that is so green it is pure white. Check out the jaw dropping beauty of Whitepod, hidden away in the Swiss Alps.  (www.whitepod.com).


 
Travelling ethically on a landmass as vast as the Indian subcontinent has been made so much easier with the recent creation of The Green Circuit (thegreencircuit.net). It is the baby of five local tour operators spread throughout

India

and

Nepal

, all specialising in deep rooted community-based responsible tourism initiatives. Unlike many tour operators, which compete fiercely against each other, the companies on this

Yak Safari in Himalayas, Photo: The Green Circuit

eco-circuit, such as The Blue Yonder in Kerala (theblueyonder.com), or SocialTours in

Nepal (socialtours.com) have collaborated to provide a wide range of natural and cultural heritage trips. Experiences vary greatly, including a yak safari into the trans-Himalayan deserts, monitoring elephant migration corridors in East Himalaya, and learning traditional drumming with villagers living along Kerala's River Nila. Watch the roots of this exemplary circuit grow and grow into the next decade.


In

Ireland

, one of many dynamic green hostel devotees, The Wicklow Hostel, re-opens its doors just in time for the Tinahely Walking Festival 17th April, after a long process of sustainable building renovations to get this converted schoolhouse up to top notch green spec. From traditional hemp and lime plastering to a new cedar clad timber- framed extension with geothermal heating, this will soon take pride of place on Ireland's green map. Located on the

Wicklow Way

, the

The Wicklow Hostel, Ireland

opening will coincide with three new looped walks making the hostel, and the town itself, a hikers' hub. It's not just about boots and backpacks here though, with planned courses in cookery, literature, creative writing, fly fishing, stone sculpture and wood turning. It is already taking bookings, so get in quick. With such impressive eco-credentials the Hostel will get huge international attention, and much deserved too (wicklowhostel.ie). For details of other innovative Irish hostels, check out my book, Ecoescape

Ireland (ecoescape.org).



Moving from

Ireland

to

Wales

will be much easier in 2010, with the return of the

Cork

to

Swansea

ferry on 1 March, operated by Fastnet Line (

www.fastnetline.com

). It will carry foot passengers, so you can leave the car at home, and discover the wonders of walking in

Wales

, for example. One of the most quirky, ethical accommodation providers, awarded many accolades for its commitment to restoration and heritage, is Under the Thatch. Browse through some of its heavenly hideaways at

underthethatch.co.uk

.

 

One other exciting development is the spring launch of a 50 minute high-speed ferry link across the

Bristol Channel

from

Swansea

to Ilfracombe,

North Devon

(at least four hours by car). This opens up a whole world of cream teas and uncrammed beaches, superb coastline and moorland cycling, and cyclists are welcome on board (severnlink.com). For green places to stay in this area see greentraveller.co.uk.


Many African countries are dependent on tourism for vital income, and

 

Rainbow Tours is one of the most respected and well established ethical tour operators to take you there (rainbowtours.co.uk). One of its most exciting trips for 2010 is to

Mozambique

's

Gorongosa

National Park

, recently rescued from the

Yellow billed storks, Gorongosa. Photo: Rainbow Tours

ravages of civil war, and now safe in the hands of conservationists. The dying populations of lions, oribi, reedbuck and waterbuck, to name but a few, are being re-stocked – in 1992, when the war ended, only 50 of 14 000 buffalo remained, and nine of its 3500 zebra. Rainbow Tours have access to a bushcamp on the banks of the

Musicudzi River, run by the first safari operator licensed to work inside the Park. After two decades of war, the flora and fauna are returning, and so too can the tourists. 
An edited version of this article was published in The Irish Times, 
 2 January 2010