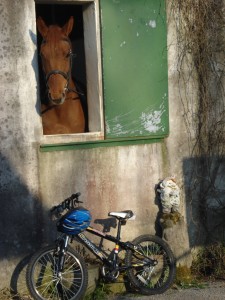 I never dared go on a horseriding holiday before. The reasons?  Not good enough, not brave enough and not rich enough. However, all horsy hang-ups were dispelled on a recent family break in County Galway, at the Slieve Aughty Riding Centre . I met the owner, Esther Zyderlaan, at an ecotourism conference earlier in the year. She talked about her eco and family-friendly business which, on paper, was the perfect eco-case study. When I got there I could see that, in practice, this truly is a gold (and green) cup winner.
Esther greeted us in a floral apron and wellies, picking lettuce from her organic kitchen garden, while directing a beaming brigade of children, just back from a woodland hack, to the stables overlooking the fecund gardens. Slieve Aughty is organic in the real sense of the word. It has grown not only as a riding centre, but a place to eat fine home-cooked  food, go hillwalking, discover cycling trails and stay at locally owned cottages.
Although we stayed at a self-catering cottage (a lovingly restored thatched one), Esther's ethos is full board. The dining room is the Centre's hub where at breakfast, for example, we have home-made scones, local cheeses, compotes, eggs, yoghurt, great coffee and hot chocolate. Suppers are smorgasbords of smoked salmon, stews and salads straight out of a Ballymaloe photo shoot. Over meals we chat about our plans for the day ahead, or adventures had at the close.
Each day started with a mini adventure, taking a forty minute walk from our cottage to the Centre through woodland, accompanied by a couple of Esther's donkeys, which we tied up in the cottage's field the night before. We cycled, we walked, we ate. However, I had to get the bit between my teeth and dare to ride a horse. There are no bits for many of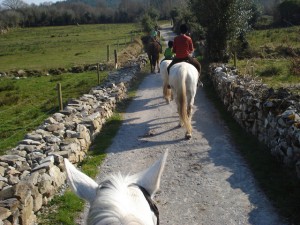 the horses here, with bit-free bridles, part of their natural riding ethos. I was also nervous for the kids, as their previous riding experience was with a strict, cranky woman who made them (and me) feel stupid for not knowing how to hold the reins or tighten the saddles.
The Aughty team could not be more different. Esther gently introduces us to our horses, telling us to look them in the eyes, and just talk to them. She leads by example, talking as gently and lovingly to the animals as she does to us.  Our hack leader, Gerry Daniels, is everything you could want in a teacher. He watches the children carefully, encourages them gently, and talks to us all humorously and warmly. He leads our younger son on a rein at the start, and judges perfectly when to let him ride independently, through luscious woodland, over streams and up over hills. Our children were converts, and I too  had fallen back into my childhood dream of owning my own horse once again.
Esther makes ethical look easy. It felt like we were staying at a favourite aunt's farm for the weekend, with stables full of beauties, and a larder full of goodies. She even has a workshop full of arts materials, boxes of beads, glittery things,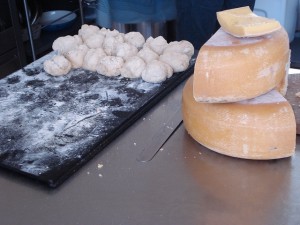 paints and rainy day stuff. The Centre's buildings are all simple, low carbon eco-designs, many of them built out of timber from her original family house, which she knocked down when her children left home. She is waiting for funding to connect the heating system fuelled by dry horse manure, and wood from her 35 acres. The banks may not have their green light switched on yet, but Esther had hers switched on long before most of us knew what being green actually meant. She is a lesson to us all.
This article was first published in The Irish Times 22 May 2010