I always secretly wanted to be Julie Andrews. Leading children merrily across Alpine pastures, with songs to fix every dilemma, and Christopher Plummer hanging on my every note. So, walking in the Alps in late May, (albeit French, not Austrian), with my husband and two sons, the snow-capped peaks glistening in the distance, and Edelweiss-covered meadows underfoot, I was, at last, given the chance to become a veritable Von Trapp.
However, these hills were alive with the sound of a rather different sort of music that week. That of our faithful companion and protector – a donkey. His job was to carry our bags from 'gite' to 'gite', and ours was simply to follow a map, and walk. Before we left, my younger son, Hugo, aged six, was horrified at the very idea of it all. We are not regular ramblers. Camping, cycling and a walk in the country, yes, but walking in the Alps for a week, no. This was new territory for us and, as I packed blister plasters over beach towels, and hiking socks over sexy sarongs, I did wonder if a week of nothing but walking and talking was going to make or break us.
The company which organises this hiking holiday is Itinerance-Trekking, based in Villeplane, in the 'Alpes Maritimes' region of France. Our instructions were to find our way to Entrevaux, about 60kms North of Nice, which we did very easily by taking the quaintest of rural trains from Nice itself. We followed the River Var up through its valley of untouched mountain villages, giving us time to get off and take photos as the train driver had a fag break. On board there were peal people, not the botoxed babes we had just left behind on the Promenade des Anglais. Farmers going home after shopping in the city, students studying, and a few tourists thrown into the mix. As we gasped in awe at the Alpine landscape, poor Hugo looked down longingly at the turquoise Mediterranean disappearing into a mere puddle far below, where we had managed to grab a swim on arrival earlier that morning. Just to torture the poor child even more.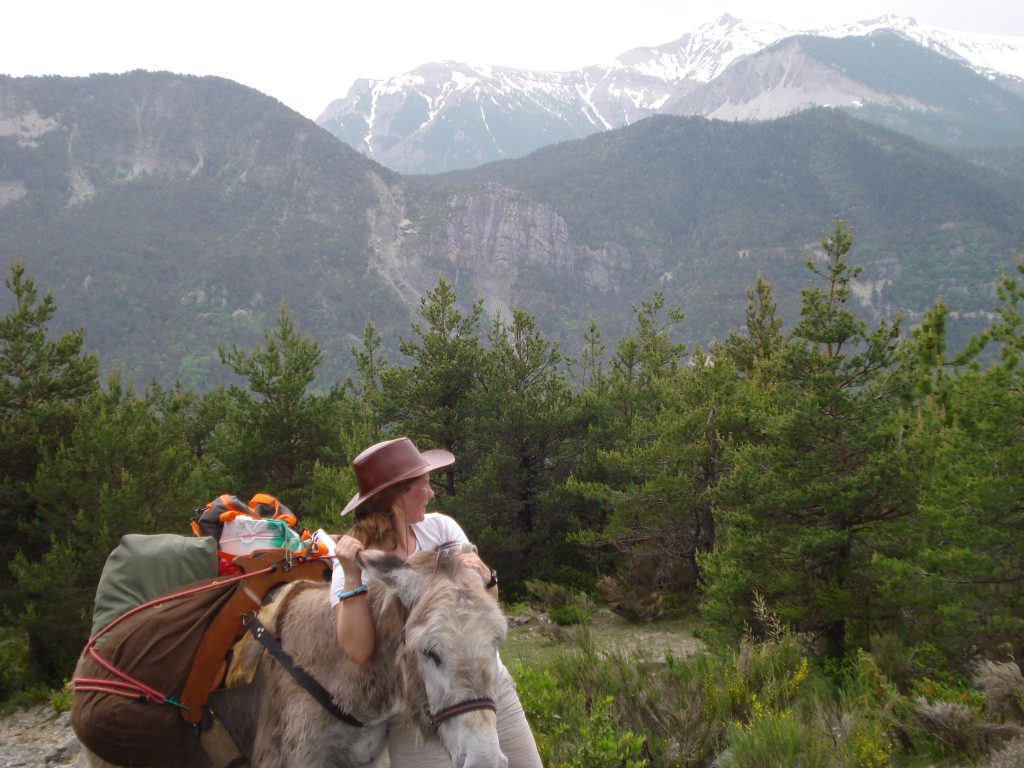 Christine Kieffer, who co-owns the hiking company, met us at Entrevaux, a stunning medieval town, with drawbridge over the Var, with a maze of tiny overlapping streets, leading either up to the ancient citadel, or down to the river, which was gushing past at a fair old speed. Christine explained that it was still snow-covered here just ten days previously, and so the river was carrying the full force of the thaw. As we sat sweltering in a café overlooking the river, it was hard to imagine the winter had just passed.
Villeplane was about forty minutes drive away, giving us plenty of time to take in the dramatic gorges of red rock and tumbling waterfalls. This was to become our home for the next few days, but first we had to meet our donkey. One of about fifty owned by Christine, her husband Gerard, and their sons who all work together as a family. Not only do they breed donkeys, but they are also expert mountain guides, conservationists, chefs, and most of all, hosts extraordinaire.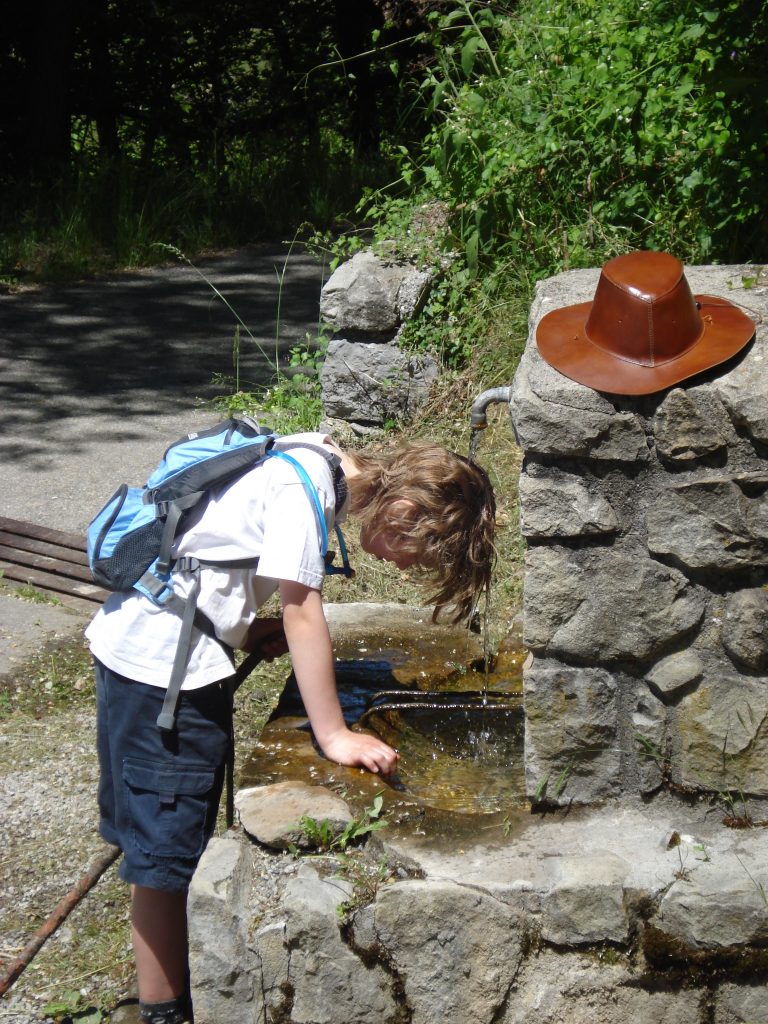 As we drove up the dusty path to her stone and wooden farmhouse, Christine pointed out our home for the first night – a splendid yurt in the middle of a shady field. Shade was already becoming an issue, as we had arrived just in time for a heatwave, with temperatures matching those of August. The yurt was genuine Mongolian, painted in bright traditional colours, and was the most divine way to start our week's adventure. Responsible tourism is a high priority here too, with compost loo, outdoor showers, chemical-free products, and a huge respect for the natural heritage which towered around us on all sides.
All the food is provided and, judging by the extraordinary meal laid on for us that night, we were not going to go hungry. Using locally-sourced ingredients, and showing off the regional cuisine is a priority for the Kieffers. Villeplane was setting a high standard, starting with an amazing aperitif fortified with some of their home-made marmalade which hadn't set properly. "Nothing goes to waste in the mountains," said Jeremie, one of Christine and Gerard's charming sons, who had prepared a refreshing radish leaf soup, lasagne like I could only dream of making, four local cheeses, and a fruit salad with sprigs of mint (which he popped down to pick in the garden below). The boys wolfed it all, and we downed a delicious 'digestif', this time fortified with thyme.
After all that fortifying, and a fine sleep, we got to work early the next morning. Christine showed us maps and talked us through our walking routes, explaining that most of the time we were following the GR52 route, one of several GR walking paths which traverse Europe. Following it is easy, as there are red and white markers along every route, as well as corresponding numbered signposts. Along with our maps and detailed instructions of every twist and turn, we felt in safe hands. The GR's wind their way mostly across France, Spain, Portugal, Belgium and The Netherlands, and in a wonderful pan-European way manage to work in most languages: Grande Randonnée (French), Grote Routepaden (Dutch), Grande Rota (Portuguese) and Gran Recorrido (Spanish). In France alone, the trails cover approximately 60,000 km. This suddenly made our little bit from village to village seem relatively easy.
Our allocated donkey was a Provencale breed, called Iznogoud, named after a famous French cartoon character, and pronounced as in English, Isnogood. He looked very good to us, however, as he calmly let us prepare him for the journey under Gerard's careful instruction. We were shown how to brush him, wipe Juniper oil on all his tender parts (yes, all) to keep the flies off and, finally, put his blankets and beautiful handmade saddle on. Both Christine and Gerard were careful to include the children in all the instructions, pointing out that if the donkey got even one little stone caught under his saddle, he would be in great pain, so keeping him smooth and clean was very important. The boys were hanging on their every word by the end, particularly Louis, our ten year old, who vowed to look after him until our return. "Get to know him", Gerard said, "when you walk he mustn't eat, he must work. But when you stop, give him all the cuddles he deserves."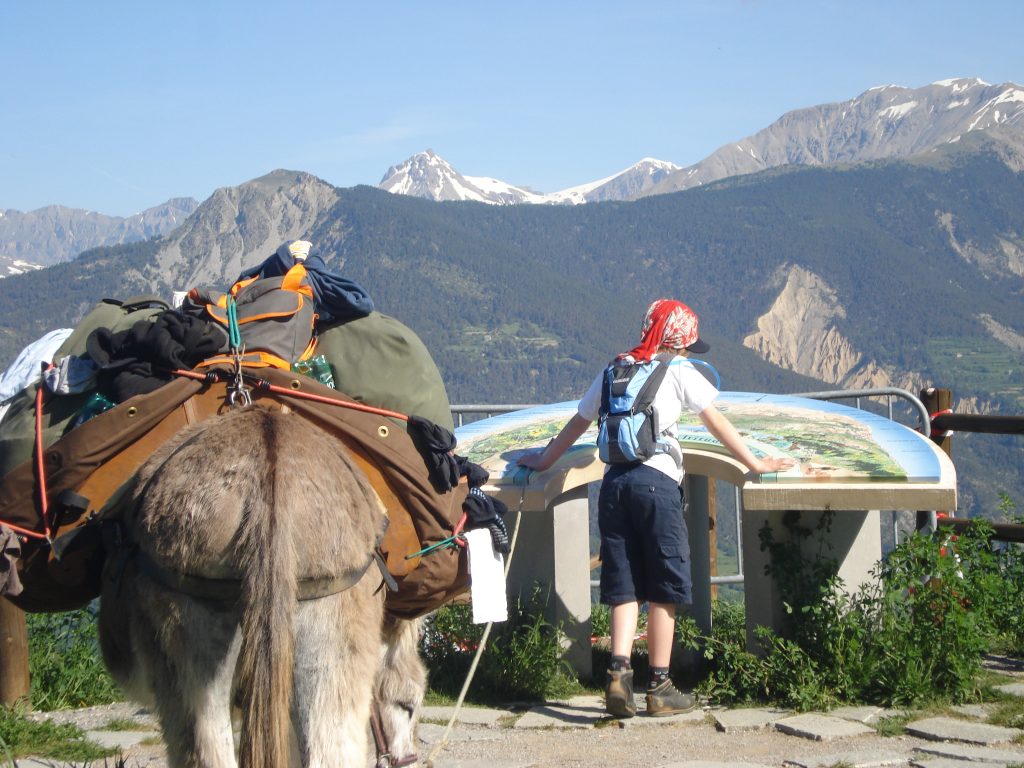 We had transferred our luggage into two military style bags the night before, which were then placed either side of the donkey, having been weighed first to make sure he was never lopsided. Last but not least, Christine gave us our picnic, which we tied on top, and off we headed, the children taking turns to lead Isnogoud down the country lane to find our first marker of the day. "Vous etes une belle famille!", Gerard shouted down to us, giving one final wave before we headed off-road into shady oak woodland, where we began to find our pace.
We were only taking on 8 kms that day although, as Christine had rightly warned us, "We never talk in kilometres in the mountains, only ups and downs". We tackled our first 'down' almost immediately, descending the woody slopes of the Cante Valley. These footpaths are extraordinary creations, using the natural formation of the landscape, with tree roots, rock, or compressed layers of oak leaves creating a new path every few hundred metres.
A couple of hours later the 'belle famille' hit its first major obstacle at the bottom, where we stopped by the voracious Var, following instructions to unload the donkey, give him water, and eat copious amounts of delicious picnic. The river was terrifyingly fast, so the children were under strict instructions to paddle in a tiny pool while we did the donkey work. One of them decided to put some of the water bottles in the river to cool them, only to watch them be swept away immediately into the torrents. The bottles, that is, not my sons. But the potential dangers made me see red, and a screaming match which must have echoed all the way back to Villeplane began. I knew then that this holiday was going to test us in ways that we hadn't imagined.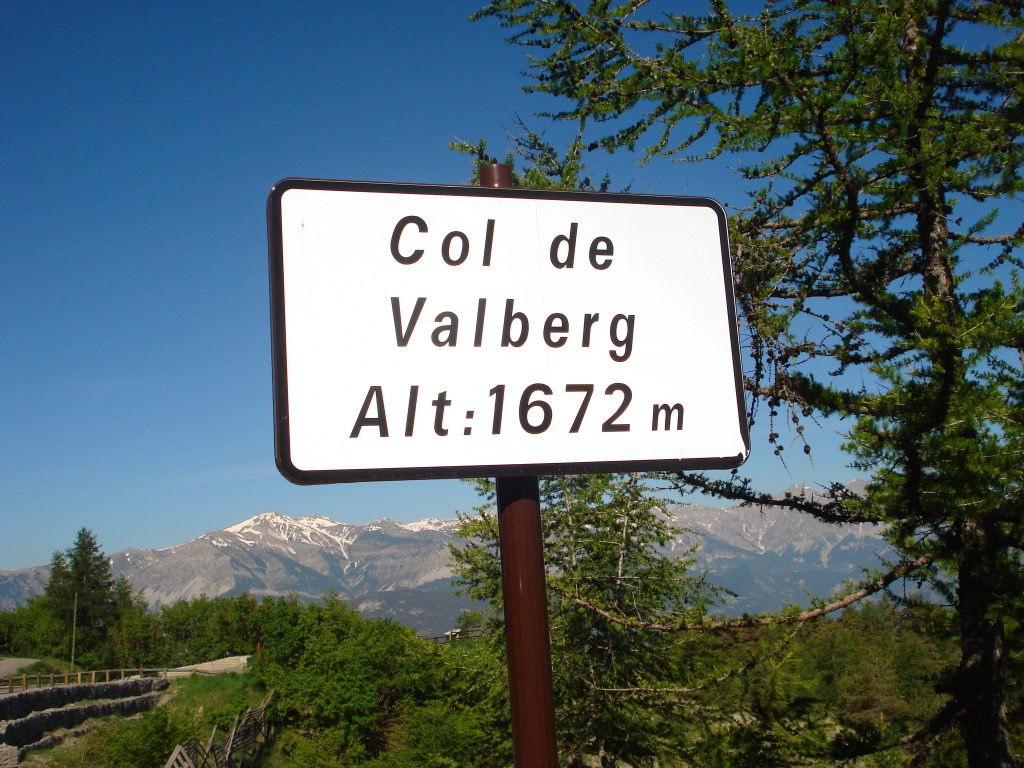 However, French food, sunshine, and a good rest heals all, and there was plenty of that in supply. Hugging Iznogoud did the trick too, who went on to lead our reunited team of mountaineers up over the steepest climb of the trip, along stoney paths of wild thyme, gorse, and Alpine flowers galore. As the wooden signpost for Sauze, our bed for the night, came into sight two hours later, we all cheered and, in a tiny hamlet, we found the confidence to knock on a door and beg for more water. A lovely couple saved the day, and also soaked the boys' t-shirts so that they had a cool last couple of kilometres up country roads to Sauze, where there was room at the inn.
Arriving into Sauze we met our host, Bernadette, who runs the village 'auberge'. She showed us the donkey's field for the night, where to store all the bags, saddle and so on, and took our picnic basket from us, saying she would have it replenished for us in the morning. Then we were taken to our room, a simple, clean, family room in this village auberge, (a small hostel) showered, and came down for aperitifs and dinner by seven. This was to be our evening routine for the week.
One of the most striking things about this holiday was one of the most unexpected. The food. Being villages, I naively assumed it would be bistro style 'steak et frites'. I couldn't have been more wrong, as we were presented with a huge plate of charcuterie, followed by baked rabbit, and homemade ravioli (stuffed with wild spinach), followed by a vat of crepes. The highlight was the vast array of homemade coulis and sauces, all Bernadette's specialities based on traditional recipes: Dandelion flower syrup, elderberry jam, and even pumpkin jam. Again the kids ate everything, too tired and hungry to be picky.
We continued at this pace for the next few days, following Christine's carefully planned itinerary. Some days were tougher than others. From Sauze we walked across two valleys to Bouchanières, during which the terrain seemed to change every twenty minutes. For some stretches it felt as if we were in lush Irish meadows, and then suddenly the path changed direction into sprawling Larch-filled woodland. It sometimes felt as if our moods varied as much as the landscape. When it was dry, hot and dusty we tended to fall into a silent determination, concentrating on pushing ahead. Then we would be soothed by shady forest, with a soft pine-needle floor, which brought the spring back into our steps. When the children needed motivating, we did quizzes, sang songs, and gave ourselves little targets. "When we get to that rock at the top of the hill, we'll have a sweet and feet break". And there were lots of those. A giant bag of sweets is a must for this trip.
Every evening we collapsed into the arms of different families. Such as at the lovely elderly Jeanne-Marie and Andreas' gite in Bouchanières, who made the best hot chocolate in the world according to Hugo. We, however, will never forget the fine local veal, the best pasta salad ever for our picnic the next day, and the warmest welcome you could ever imagine from a couple who genuinely love sharing their magnificent views and lifestyle with blow-in's on a donkey.
Further on at the village of Péone, another mad maze of medieval architecture perching delicately on the side of a cliff, we stayed at the very laid-back, family-run gite, Col de Crous. The next day was a shorter walk so that we could spend the morning looking round the village. However, the nomadic influence must have been starting to take effect, because we all seemed keen to hit the hills again, and retreat back into our newfound peaceful wanderlust.
This holiday confounded all expectations for me. It was much tougher than we had expected, and yet we all rose to the occasion in our own ways, and pushed ourselves beyond limits we had never really set ourselves before. As Hugo approached one of the final numbered signposts on the last day, he said "This holiday was like a treasure hunt without the treasure." "There's our treasure," I shouted, pointing out our beloved yurt peaking through the trees on the other side of the gorge. He smiled and shouted, "Allez, Iznogoud!", while I basked in pride at what we had achieved as a family, and took in one last exhilarating view of the majestic mountains we had climbed together. We arrived back into Villeplane, hot, filthy, exhausted and totally exhilarated. We chose the Irish rugby anthem to announce our arrival, which echoed rather beautifully around the valley. The hills really were alive with the sound of music now and I, at last, had got my Von Trapp moment.
Where to stay
All accommodation, food, donkey and walking itinerary organised by Itinerance-Trekking. 7 days and nights, €675 adults and €575 for Children (under 12), not including flights or rail fares.
Novotel Nice (00-33-4-93133093) with rooftop pool, the perfect reward after a week's walking. Family rooms with no room or breakfast charge for children. Rooms from €129 and late check out for families at 5pm.
Getting there
Catherine and family travelled to France overland from London with Eurostar and SNCF.
From Nice take the mountain train to Entrevaux from the Chemins de Fer de Provence station (www.trainprovence.com). €18 adults, €9 children, one way.