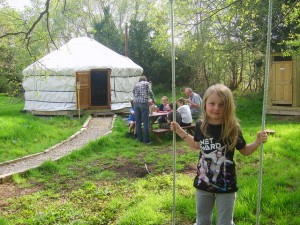 While the rest of Europe has gone 'glamping' crazy,Ireland is still playing catch up.  In some ways this is a good thing, with the UK and France offering such a plethora of posh pitches now, it almost has me pining for my old four man Vango. But then I step inside the comforting cocoon of a yurt and, fickle and weak, I'm hooked again. And they don't get much lovelier than Leitrim's latest offering.
Although Teapot Lane Luxury Yurt Camp looks a bit 'yummy mummy' on its website, with its spotty wellies, teapots and pamper pages, don't judge a book. This carefully thought out eco-venture, run by Derval McGovern, has managed to encapsulate so many aspects of a truly responsible tourism business, it can fly its green flag as high as its gobsmackingly gorgeous one. Thanks to Teapot Lane, Leitrim just got lovelier.
Teapot Lane has achieved in a year what other European glamp camps have only managed to pull off after ten. It's more like a mini festival of green outdoor living, with plenty of indoor space to cater for Irish weather too. As well as three luxury yurts all equipped with wood burning stoves, cast iron beds with top of the range bed linen, fairy lights and lanterns, there is a thatched self-catering cottage, and a private bathroom with roll top bath in case you just can't do compost loos and outdoor showers. When the self-catering cottage is vacant, this bathroom is available for yurt users too. The yurts' showers are powered by gas, are tankless, need no electric supply and use a combination of mains and rainwater from the roof, and both showers and toilets are concealed in sensitively designed wooden huts alongside each yurt.
When we arrived at Teapot Lane, there was homemade vegetable soup and bread to welcome people after their journey, all laid out in the well equipped chalet kitchen with its two big tables, crockery, board games, books, cupboards full of ready made salad dressings, olive oils, spices, herbs and everything you might need to do the perfect camping cook-in.
There is never a big crowd cooking here either, as Derval has committed to keeping her remote woodland site restricted to small numbers.  It is ideal, therefore, for coming with a gang of friends or a few families taking over the whole camp, bagsying every tree swing, hammock, and campfire stool for a week of chilling in comfort. And at €100 per night for a yurt sleeping 4-6, this is fair and square sustainable tourism.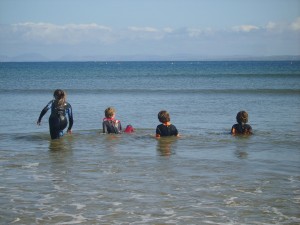 The location is 'tri-licious' too, sitting pretty on the borders of three counties. Donegal's beaches of Bundoran and Tullan Strand are both under 13 kms from the camp, Sligo's stunning Mullaghmore Strand a perfect cycle down quiet roads just 8kms away, and Leitrim's famous hillwalks around the Dartry Mountains are within about 5kms. You can even bring your dog for some serious walking, as Teapot Lane welcomes responsible dog owners too.
Teapot Lane has good links with local activity providers, organising surfing or riding lessons, fishing or foraging trips and guided walks. Or follow the nearby North West Cycle Trail along endless, pretty backroads, hiring a bike from Hire and Sell in Bundoran, Tel: 071 98 41526.
Blessed with good weather, we took advantage of the excellent surfing instructors at the Donegal Adventure Centre in Bundoran and spent an exhilarating few hours on Tullan Strand. I followed this up with a heavenly hour of aromatherapy massage back at the camp in Derval's treatment room, while the rest of the gang headed off to raid PJ O'Reilly's fish van in Bundoran of its daily catch to throw on the barbecue.
But it's at night that Teapot Lane really started to shine for me. This is the time of day when glamping turns back to camping, when the stars come out, the campfire comes to life, lanterns are lit, the yurts glow, wood burners smoke and children cuddle in hammocks among the silhouetted trees. When the rain kicks in, you can just head to your circle of canvas, warmed up in minutes by the wood burner, and just watch the rain from your king size bed. Sorry, Vango, you'll just have to wait for next year.
www.teapotlaneluxurycamp.com   An edited version of this article was first published in The Irish Times in June 2011