A reader of my column Ethical Traveller in The Irish Times, Jean Callanan, wrote to  me about this place in Bali, which she fell upon by chance. She wanted me to share it with fellow traveller – it will be a while before I can get there, I'm afraid, but perhaps those of you seeking a sustainable stay might be able to. Over to Jean….
"Bali has long been known as  the Island of the Gods – it is a glorious place.  Since mid 2009 it's got a new little bit of Heaven in the

Munduk Moding Plantation

a small intimate resort and boutique hotel. It's located in lush green countryside near Munduk in the center of Bali (about an hour and a half from Denpasar) high up in the mountains. It's a beautiful area with relatively little tourism despite its reputation for being a wonderful place for walkers. Munduk Moding Plantation is a wonderful example of sustainable and responsible tourism. We were fortunate that we were there at the same time as the main owners – Gert Jan and Irene, a Dutch couple. Four years ago on a visit to Munduck they met a young Balinese guide, Gede Uliadnyana, who showed them his home area of Munduk, and talked about his vision of creating a sustainable  tourist resort that would create employment (unemployment in this area runs at 40%+), integrate and benefit the local community and sustain the beautiful local environment.
On their return home to Europe the couple – parents of teenage girls, both with demanding jobs decided that they would like to invest in bringing this vision to fruition. It's very much a work of love for them as they only gets to spend about two weeks in Bali a year given their jobs and family commitments. Gert spends one day of every weekend working by email and Skype supporting the Gede and the team in Bali.  Irene commented that when she gets frustrated by the time her husband spends on this away from his family, she consoles herself by thinking of the twenty five plus families in Bali whose lives have been transformed by the employment provided by this project.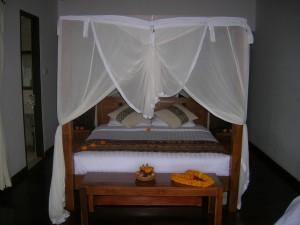 Munduk Moding Plantation is a working Coffee plantation with four luxury villas and two suites, designed in keeping with the local area by award-winning Bali architect, Popo Danes. From our suite we had a spectacular view – with Java visible in the distance. It also has one of the most stunningly located infinity pools I have ever seen.
We loved this place. From the big four poster bed in our suite we had a glorious view of the sky… we felt as if we were in heaven. The nature is stunning, with coffee, cloves and vanilla growing all around the grounds of the plantation. There are opportunities to do amazing things with the local community – like attend the celebration at a neighbouring family's house where a three month old baby put its feet on the ground for the first time. The staff will also arrange for you to have a consultation with the local healer or Shaman.
The staff couldn't have been more friendly or attentive to our needs. Food is great (all coffee served is grown on the plantation (you can go and watch it being roasted and ground by hand and help if you wish). Order the Balinese reistaffel and have it served by candlelight in the pavilion under the stars. All visitors are brought on a complimentary tour of the plantation, and for a small fee staff will accompany you on treks to visit nearby waterfalls and villages. They also have horses and bicycles available for exploring the stunning countryside.There is lots to do for a three to five day visit, but it is not the best place to use as a base for sightseeing around Bali – it may be in the centre, but it's reached by narrow windy roads which I for one would not wish to be going up and down every day. We met several people with children staying there – and the families were having a ball.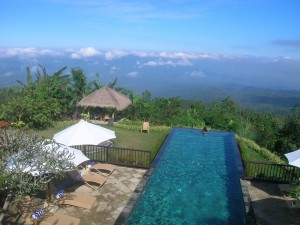 The development on the plantation continues – this year they planted five hundred trees and have been donating seedlings to every household so that every villager will be able to plant five trees. Two more villas are due to become available this year. We loved this place and will be back. We spent three days here which we felt wasn't enough – next time it will be longer".
We spent three days as part of a Munduk Moding Plantation 15 days visit to Bali where we also stayed in Lovina (in the Damai Lovina. www.damai.com – beautifully located, but we found the dinners extremely expensive), and Ubud (in the Kajane Ubud www.kajane.com; great location and lovely staff – if you are booking a shared  bungalow make sure you specify the upstairs as the downstairs ones can be rather dark.)