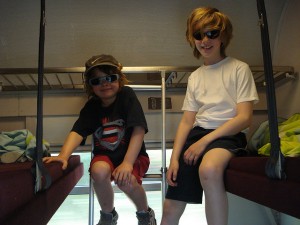 When you tell someone you are travelling on a sleeper train, they always have the same reaction. A smile. Despite all the advances in technology and transport, it is still the snail trail which many people crave.
I have been lucky enough to experience three overnight train journeys in Europe, each spectacular it its own way. Firstly, the Caledonian Sleeper, which leaves London's Euston station at around 9pm , the train separating en route as people head to final destinations of Aberdeen, Inverness or, for my most recent expedition, Fort William. When you get on board, there is just enough time to sample a single malt in the lounge bar, sit back and watch the city disperse into suburbs and, finally, into a late summer, rural sunset. Check out my son's video below of this trip, his first bit of travel journalism.
The clientele on board this train is curiously mixed, with businessmen and women who are still winding up their day of meetings on iphones and laptops, sitting cheek by jowl with hikers and bikers perusing their OS maps. One half of the carriage is an ad for Hugo Boss, the other for Patagonia. We fell into the latter, heading off on a wonderful mum-son canoeing and camping trip along the Great Glen Way with the award winning responsible tourism company Wilderness Scotland.
You have a choice of one or two bed berths, with double berths cheaper, and if you are travelling alone, you may have to share with a stranger of your own sex. They do make an effort to give you your own berth if you are travelling alone, however, with each carriage hosted by a steward who is more than helpful in ensuring you have a comfortable journey. If you are travelling as a family, they will open connecting doors too.
This really is a gem of an experience for children, as they explore the bunks, cleverly concealed sink, fold away table and, most of all, just enjoy the experience of being rocked to sleep, tightly tucked in between crisp, white cotton sheets, waking up to tumbling waterfalls and mist covered Bens. My son, Louis, slept like a baby, whereas I was woken in the middle of the night by the clanking noise of carriages being detached and others being attached. A packet of earplugs would have made the journey perfect.
We arrived at Fort William just before 10am, our steward gently knocking on our door at 9am, with complimentary tea and a hot chocolate for Louis. You can pre-order croissants in London, but we had missed our moment, and so made do with the free shortbread. So, if breakfast is your thing, make sure you book before you berth. Fort William isn't the most picturesque of towns, and a bit of a shock after all the idyllic country stations we passed through during the last leg of our journey, such as Corrour, which had nothing but a hostel engulfed by heather and hills.  But Fort William is the gateway to Ben Nevis and the Great Glen Way, so it is a busy hub. For a more idyllic end point, I would recommend Pitlochry, where I have disembarked in the past at 6.30am, the mist still concealing this pretty town, as I headed off on a two day cycling break across the Highlands, pedalling from one gorgeous hotel to another. (www.velodays.com). Leading train website, Loco2, also has a great article on how to book one of the bargain berth tickets for The Caledonian Sleeper. Check it out here.

Taking the Caledonian sleeper from London to Fort William from catherine mack on Vimeo.
My first ever sleeper journey was Paris to Madrid about three years ago. The Elipsos trainhotel 'Francisco de Goya' leaves Gare D'Austerlitz daily at 19.45, where they take your dinner booking and passports on arrival, the former so you don't miss out on the superb food on offer, and the latter so that you aren't disturbed as you sleep it all off across the border in the middle of the night. Being new to sleeper ethos at this time, I remember being a little anxious as I went in search of my cabin which, being tourist class, meant I was not going to be alone: Would my roommates snore? Should I undress in the dark? I was greeted by two jolly Argentinian women with smiles and copious amounts of food to share and realised I was in safe hands.
I had heard that the train food was not to be missed, however, so I went in search of the restaurant car. This was a Narnia moment, stepping from a sleepy world into a fiesta of food and wine, with  everyone from families to besuited businessmen all celebrating what seemed to be, quite simply, the end of the day.  It's like train theatre, the chef throwing fresh sea bream on the griddle with one hand, while creating an exquisite Greek salad with the other, onlookers cheering as another cork popped. And all for less than a bad sandwich and a coffee on a budget airline.
Lights were out when I returned from the party and my room-mates were asleep but dressed. I threw caution to the wind and donned my pyjamas, brushed my teeth in the tiny sink and, after negotiating the ladder to top bunk, fell into the arms of Morpheus, helped along by the offerings of Bacchus and of course, the rocking skills of Elipsos.
My third sleeper experience was with the whole family, en route from Paris to Nice to go hiking in the Mercantour National Park in the lower Alps. On the Train Bleu you can choose between four and six berth couchettes, and so you might end up in the comfort of strangers for a night, male or female. But you can request women-only berth if you are a solo female traveller. The highlight of this trip was arriving on the Riviera as the sun rises, the train clinging to the shoreline, allowing you to see straight into the world of luxury villas and yachts. Still a bit sleepy and unshowered when we got off in Nice, we dropped our bags in left luggage, and headed straight for a wake up swim in the Mediterranean.
Still smiling? Then check out the best train website in the world, award-winning The Man in Seat 61 (www.seat61.com) , telling you how to devise a rail journey to just about anywhere in the world,  with details on how soft the beds are, what is on the dinner menu,  how best to find a bargain berth, photos and videos, and  links to all the best booking sites. Next on my wishlist is the sleeper train from Rome to Sicily, where they shunt the train onto the ferry (www.trenitalia.com ) and the Riviera Sleeper from London to Penzance in Cornwall.  Other leading websites bursting with train tips and info are greentraveller, Loco2.com and Trains on the Brain.  I have gathered some of their top tips in my article 'Can international train travel ever be good value?'. If you are reading this in Ireland, where this article was originally published,  you can also book international rail travel through Irish Rail by phone on 1850 366 222 and let me know how you get on when you tell them you want to get from Laois to Laos by train!
An edited version of this article was first published in The Southern Star newspaper, Ireland.