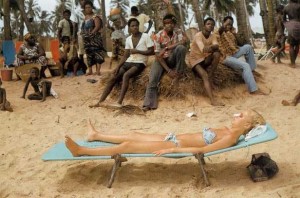 Since leading holiday company, First Choice decided to make 100 per cent of its holidays 'all inclusive' packages this year, it has grabbed the headlines. An all inclusive holiday is one where flights, accommodation, food, drink and entertainment are paid for in advance of the holiday so that customers can, more or less, leave their wallets at home. Demand for such holidays has been increasing over the last few years (a third of all package holidays booked in the UK are all inclusive now)  and so First Choice says that this switch over is merely a response to customer demand. In spite of the fact that the company has a responsible tourism plan which is crammed as full as an all inclusive buffet. A veritable smorgasbord of sustainability, in fact, which proudly states that, "We in the travel industry often get to meet those who are most affected by the big social and environmental issues of today. So perhaps this gives us a greater chance to create a better world through the way we operate". So, is the all inclusive holiday the way to a better world?
I pick First Choice merely because it calls itself the 'The home of the all inclusive', but of course there are many other companies offering similar packages. First Choice even has an all inclusive calculator on its website, where you can work out just how much you are saving,  compared with staying at the local villager's apartment, buying fruit and vegetables at his mother's market stall, eating at his uncle's restaurant, renting canoes from his neighbour, and buying ice cream from his best mate. Don't do that, First Choice says, because you can get it all in their resort and at half the cost.
"We are just doing what our clients want us to do', emphasised First Choice's representative at a recent debate on the sustainability of all inclusives, as if to suggest, it's nothing to do with us, we just have a duty to uphold.  So, imagine this. A region such as West Cork in Ireland, the Isle of Wight in England, or the Pembrokeshire in Wales,  is suddenly marketed as THE next destination for, say, Russian tourists. The Russian tourists want casinos, golf courses and all day buffets, all within the resort gates, with no access to local people, except to come and clean the rooms and serve the food. The use of locally produced food is not guaranteed, no one needs to use local cottages, canoes, walking guides, car hire, bikes, markets, tourist offices, gift shops, bakeries, pubs,  etc. Looking at the 'I want therefore I get' school of commerce, it's not hard to imagine what the reaction of the host nations would be.
The 'pro' argument for all inclusives is always that local people should be happy because they offer 'employment'. At a recent conference on responsible tourism, when one international hotel chain which was boasting its ethical practices in the Caribbean, because it was now buying all its jam from an island producer, I challenged them: "Why stop at jam?" I suggested, "Surely there are so many other products you could source locally?" to which the response was, "Have you any idea what that would do to our profit margins? And anyway, we employ hundreds of people here every year, which is more than they had before we arrived."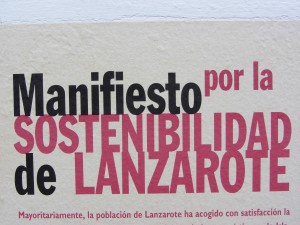 In a BBC television interview last week, where Nick Longman, Distribution Director at First Choice defended the decision to move to a 100 % all inclusive model, he said "Businesses have to be innovative in how they get to customers and I would also suggest they would want to work with our hotels", adding that First Choice is "developing dine-around programmes, where we may give people the opportunity to go out into the town to eat and drink in bars that we have relationships with". This suggestion that, for example,  traditional cafés selling cafes con leche and cervezas were just not innovative enough or, indeed, commercially minded, is beyond patronising.
I also asked a representative from the Spanish Tourist Board recently, who was agreeing that all inclusives were not a positive model for the Spanish economy, why they just didn't go out on a limb and ban them. "We can't do that, it is a free economy, they can do what they want".
Until the customer starts to say no, that is. Especially if it is, as suggested, solely customer desire which drives boardroom decisions. Many customers are capable of calculating the real costs of costa del consumerism, especially if they know that only 10% of tourist spend in Turkey makes its way into the local economy due to the all inclusives, for example. Or that in Kenya, 87% of tourists go on all inclusive holidays, and yet over half of local people live on less than $1 a day.  These statistics are from recent research from Tourism Concern, the leading UK charity campaigning against the exploitation of human rights in tourism, which is currently leading a campaign highlighting the destructive impacts of all inclusives in destinations all around the world. Check out their online questionnaire on the subject, to give much appreciated feedback on these issues.
Jost Krippendorf, author of a superb book The Holiday Makers (Butterworth-Heinemann) put it perfectly in his detailed study of the impacts of international tourism:  "Why has the loss of local autonomy – certainly the most negative long-term effect of tourism- been totally ignored? Why does the local population tolerate it?…the determining factor is perhaps the very nature of the process: it creeps in, moving on soft soles and one only becomes fully aware of it when it has reached an advance stage. Tourism is a kind of friendly conquest, which takes place not only with the acquiescence of the conquered, but at their explicit invitation" and that eventually, "foreign infiltration it total". He concludes that "it is a new and devious form of colonialism, because it creates, in a butter-wouldn't-melt-in-its-mouth way, a new dependence and exploits people and resources".
The fact is that all inclusive resorts are not always the cheaper option. I used the First Choice all inclusive 'calculator' to see just how much a saving they say I would make if I buy an all inclusive holiday in Lanzarote, compared with a self-catering one. For a week in July, with two adults and two children, they offer a deal of £2768 (Sterling) all inclusive, and claim that a similar holiday on a non inclusive basis would cost £4349. Although the calculator is not an exact quote, described as merely an 'entertaining tool' , I thought it would be equally entertaining to compare the cost of staying at a wonderful eco-friendly glamping resort which I wrote about earlier in the year, Lanzarote Retreats. Here are the approximate costs for a family of four in Sterling: Flights £800 (quote from 29 April 2012), accommodation, £700, airport transfers £100, day trip to water park £100, day trip to local island £122. Total:  £1822. If I were to add on £946 for food and drink for the week, that would bring me up to the same cost as First Choice's all inclusive deal, as opposed to the £4349 they were suggesting. And even eating out a couple of times, buying fish from the local fishmonger, shopping at the local markets, buying the finest Lanzarote wine at €10 a bottle,  I can make a grand a week spread a long way and have an wonderful and truly sustainable holiday. So, you can consume and care, without it costing you or your hosts a fortune. But at the end of the day, the real choice is yours.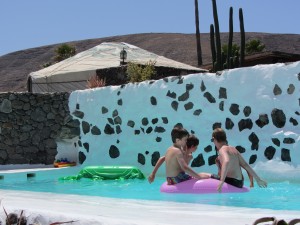 (An edited version of this article was first published in The Southern Star newspaper, Ireland)