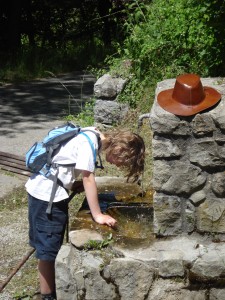 I was recently asked to contribute to an article on 'Dangerous Places to Visit'. I politely declined, as warzone voyeurism or 'extreme' excursions are not really my thing. I did ask them if they would like an article on my skating across Sweden's frozen lakes, which is about as dangerous as my world gets really, but that was so not on the danger meter compared with what some people like to put themselves through on holiday.
A slow paced walking holiday is my ideal really. However, with temperatures rising there are now growing concerns about the safety of walkers. Just a few weeks ago, a tragedy occurred when a 78 year old British hiker died from a heart attack, after struggling with the extreme heat while she was walking on Gran Canaria. As temperatures hit 38 degress Celsius six other people, all in their sixties, were rescued that same weekend, suffering from problems relating to heat.
I, like so many others, read this with horror, knowing that even though these hikers were not new to long distance walks, they could be struck so suddenly by the heat in this way.  And even though they were in their more mature years, some of the fittest and most agile walkers I meet on my travels are twenty or thirty years my senior. And, I must admit, that I have hiked in extreme heat and never given it a second thought, as long as I had my usual water, sunscreen and a hat. But of course, there is so much more to take into account, whether you are five or fifty and the British Consul for the Canary Islands gave me ten of the best when I admitted that I wasn't perhaps as knowledgeable as I thought I was:
Don't hike alone unless you are an experienced walker and are familiar with the area (guilty)
Always plan your trail in advance.  There are many useful websites with well researched routes (more or less)
Choose an appropriate trail according to your fitness level (Emm, guilty).
Take a map with you and don't go off the trail (Not guilty, but map not always brilliant quality)
Wear appropriate clothing and footwear for the weather and length of your hike (not guilty).
Take enough water and food (always pretty good on that one).
Don't forget other essential gear like sunscreen, sunglasses and a hat (ten out of ten).
Inform someone of where you are going and when you expect to return (Guilty)
Take a fully charged mobile phone with you (Guilty).
Phone 112 if you urgently need assistance (OK, I always confuse the international emergency code with 121, I admit – see European Emergency Number Association,  for details)

Timanfaya National Park in Lanzarote where you can only walk with approved walking guide
Another great piece of advice came from Amanda Marks, Managing Director of Tribes Travel, one of the most exemplary travel companies in terms of ethical and sustainable practices. Just back from Botswana, Amanda told me, " I'm probably a good one to ask about this problem, as I don't cope with the heat at all well, yet love going on walking safaris etc.  As soon as it goes above 25 degrees I struggle, but I have learned to cope with this in a variety of ways.  Firstly, shade.  I always walk wearing a hat with a wide brim all the way round. On top of this, if it's REALLY hot, I take an umbrella.  Yes, I get a lot of stick for that one, and it's not practical all the time, but can provide much needed shade at critical times.  Secondly, hydration.  Most people know to drink lots of water, but I always add rehydration powders to my water.  It gives you extra salts and sugars that help your body cope with the heat.  Thirdly, choosing your times. Apart from choosing the months which are less hot, I also choose my times of day quite carefully. Always walk in early mornings and late afternoons.  The middle of the day is most definitely siesta time for me".
So, my hydration salts are going to be a firm fixture in my Camelbak from now on, and if you haven't heard of Camelbaks, a brand of hydration pack,  check them out. There are many cheaper versions on the market now and when I have lots to carry, I just take the inner section out and transfer it to my normal day pack. Another expert is Carol Palioudaki, resident agent of Pure Crete which offers walking holidays on this stunning island, as well as a superb collection of holiday accommodation all owned by members of the local communities. She says that "People really don't think about the heat risks, or they underestimate them. We always warn our clients here in Crete that when temperatures are above 35 celsius hiking becomes dangerous. Our body temperature is 37 celsius so when the outside temperature goes above this, the body can't cool itself. The best time for walking in Crete is during the spring and autumn, but even then mini heat waves can pose a risk. The dangers of walking in extreme heat are well know in Crete, and the Samaria Gorge, one of Europe's longest and most demanding gorge hikes, closes to visitors during extreme local heat waves" .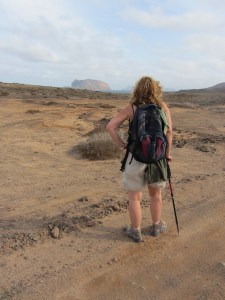 Gran Canaria is also home to a superb English travel writer, Matthew Hirtes who, if you are a fan of this part of the world, is worth checking out, either on his blog, Gran Canaria Local,  or via his book, Going Local in Gran Canaria (Summertime Publishing, 2012). His thoughts are also worthy of adding to the walking wake up call to those of us, myself included, who have been guilty of walking on regardless.  "What was most depressing of the recent hiking tragedies on Gran Canaria", says Matthew " is that they were  so preventable. There's a reason for the hiking season being from October through to March on Gran Canaria. And that's because the island is politically Spanish but geographically African. Heatwaves originating from the dry and dusty Sahara, which is a lot nearer than the Iberian Peninsula, make hiking a no-no from April through to September. I recently completed a round-island trek at the tail-end of March and it was heavy-going. The surprisingly verdant interior of Gran Canaria offers a whole new world to explore beyond the bucket and spade. But there's a time for this place and it's certainly not May".
And a few final thoughts to throw into the mix from a spokesman at the British Embassy, following the Canarian tragedy. As well as concurring with all the above, he wisely added that tourists should "bear in mind there may be no supplies of fresh water in the mountains and hills. Streams will often have dried up" and "be aware that the Catalonia region has started charging negligent hikers, climbers, skiers and other adventurers who have to be rescued. The regional government has recently started sending bills to all people who required emergency rescues, to encourage others to be more careful".  He also couldn't stress the importance of travel insurance highly enough, adding that "If you need to be returned to the UK it could cost between £12,000 to £16,000 for an air ambulance from the Canaries". All sobering stuff – not that I paid attention while walking along Pembrokeshire's Coast Path in Wales a couple of weeks ago. After a night of storms, it suddenly hit a cloudless 24 degrees, and not a bit of shade in sight. I didn't even have my Camelpak, just my usual aluminium water bottle and certainly hadn't packed a rehydration sachet. This was Wales after all. After three hours of walking, I had to take a rest under a gorse bush, slowly sip what was left of my bottle, and then walk off my route for a couple of kms to find proper sustenance. I can honestly say I have now learnt my lesson.
 This article was first published in The Southern Star newspaper, Ireland.