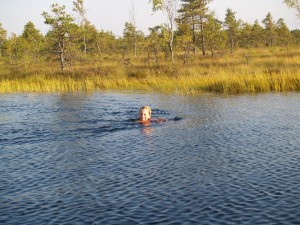 It's not every day you get to swim in a bog pool in real wilderness. But head to the Soomaa National Park in Estonia, just two hours drive from the stag-filled bars of its capital, Tallinn, and you will find yourself in the middle of Soomaa. Which translates as 'Land of Bogs' where you can meander through meadows and mires by canoe,  hike across squelchy sphagnum moss with the aid of ingenious bogshoes, and cool off in the most divine natural pools you will ever come across.
Unlike many other peat bogs around the world, Soomaa's grew out of the ground, "rising slowly like a loaf of bread", Aivar Ruukel, my guide says, " forming cracks on the crust where rainwater lakes have now been formed – these were our swimming pools when we were children".  Soomaa National Park is one of twelve protected wilderness areas in Europe, and a member of the Pan Parks Foundation (panparks.org), an organisation which aims to protect some of this our most undisturbed land and seascapes, and here on Kuresoo bog, the largest of Soomaa's bogs at 110 square kms, you really do feel like you are at one with wilderness.
Aivar Ruukel is the founder of leading ecotourism provider, Wilderness Experience in Estonia and knows every hidden path, concealed creek and foraging treasure trove in this part of the world. He is a wonderful ambassador not only for sustaining the ecotourism he truly he believes in, but also for the Estonian people and their innate sense of being at one with nature. As we hike across the dramatic landscapes of  their ancient woodland, which then opens out into a vast bogland, where cranberries are tucked in under layers under moss,  like jewels hidden and forgotten by pirates in times gone by. Aivar and his co-guides Algis and Ain's eyes are always open to nature's surprises, their focus on the fecundity of it all – from Chantarelles to Cloudberries, always sharing their innate joy of this forage into their own backyard even though they have spent all their lives here.
But for me, the real way to connect is to dive straight into these pure dark waters. Encircled by reeds which glisten in the autumn sun I strip off and jump in, having had the sense to throw my swimmers in my backpack. The Estonians do it their way of course, au naturel, but it will take a few days for me to shed my urban modesty.
Back at my charming riverside guest house, Riisa Ransto, where my lovely host has preheated the wood burning sauna, I bash myself with birch and sweat out whatever impurities are left. However, a few days hiking, canoeing and swimming in this stunning wilderness will detox and destress you quicker than any spa. Until you notice the price of the beer, that is, and all that goodness is undone, the upside being that you have just another excuse to dive into the wilds again.
For more information see Wilderness Experience in Soomaa , soomaa.com. From €510 per person (minimum two people) including airport transfer from Tallinn or Riga in Latvia, four days of guided activities, five nights' accommodation and all meals. Activities include canoeing, bogshoeing, foraging, wild animal tracking, or back country skiing and kicksparking in winter months.  For more information on Estonia, see visitestonia.com