It strikes me as somewhat ironic that the hedgerows which envelop me along this shady lane are called Pembrokeshire Banks. Because while the rest of the world's banks fall into crisis and collapse, these ones are proffering a wealth of natural wonders. These traditional stone field boundaries, known locally as Cloddiau or Clawdd, unlike drystone walls, are bedecked with grass and wildflowers, thanks to the turf and soil stuffed in between the stones, providing not only a windbreaker and boundary, but also a haven of natural and indeed, rich, habitats. This also creates the perfect habitat for walking in Pembrokeshire.
It is spring and the bees are in full swing, drunk on the banks' abundant foxgloves, poppies and ox-eye daisies which lead me down to my nearest beach of Aber Mawr. I am spending three days walking in Pembrokeshire as a break from London living, with the aim of avoiding congestion, carbon and cooking, the first two through a growing commitment to being a greener traveller, the third through sheer laziness and a desire to fill every spare minute walking, leaving my work-obsessed mind free to wander too. By using Pembrokeshire's Coastal Bus service to get me to and from different spots along the Pembrokeshire Coast Path, I am able to leave the car at home, as I am certainly not going to be able to take on all 299 kms of it. Even better, this bus scheme runs all year round, seven days a week, allowing you to wallow in Welsh wanderlust whenever you fancy.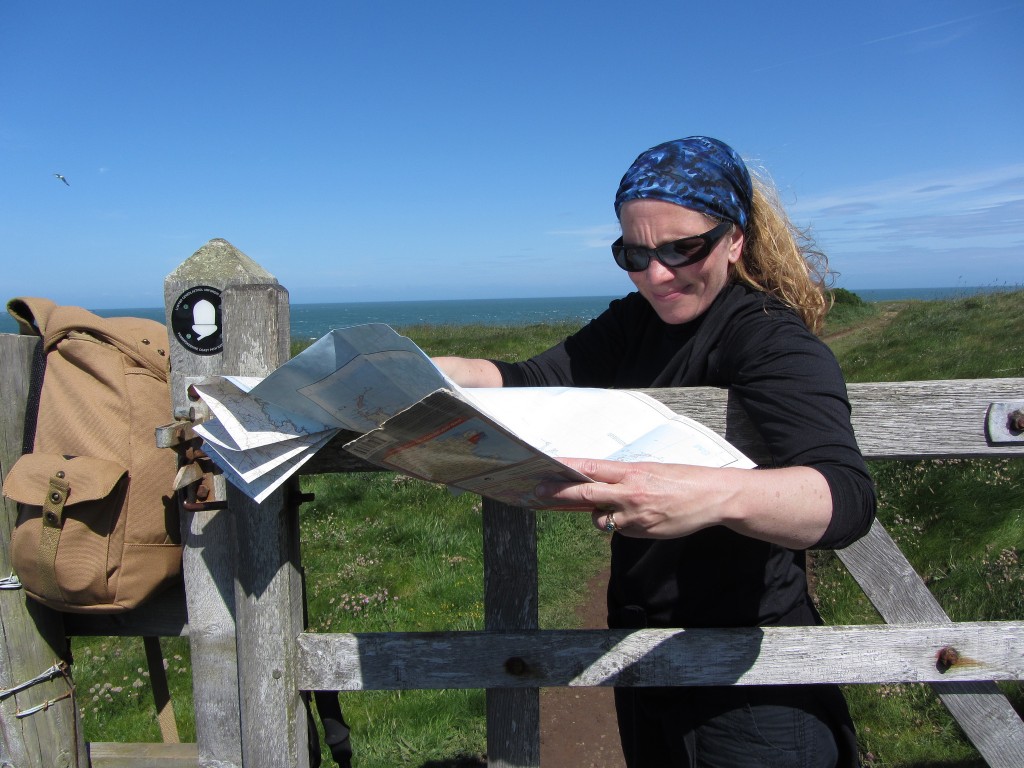 I am basing myself at Preseli Venture Eco Lodge, a vibrant, family-run activity centre where I first stayed a couple of years ago. I was on a family kayaking and coasteering holiday that time, and as they welcome everyone here like long lost friends, I thought this would be the perfect base for a bit of solitary walking this time. They also serve vats of wonderful home cooked food all day, so I hit the roads with a belly full of breakfast, a packed lunch, in the knowledge that a big curry or casserole was waiting for me each night.
So, having just arrived in on the lunchtime train to Fishguard and Goodwick, where Preseli met me at the station, I am able to fit in a three hour walk from Aber Mawr beach, just ten minutes' walk from the lodge, heading south on the Coast Path to Trefin. I'm a little confused over the signage for a while – the Coast Path is a National Trail, the sign for which is an acorn. However, it is co-managed along long stretches by National Trust, the sign for which is, bizarrely, an acorn. And when I digress from the sea and walk inland, I am spoilt for choice on this Welsh wide web of inland pathways with signs using a walking person, yellow and white arrows, depending on their walking category. However, all all in all, there is little chance of getting lost.
I stick to the Coast Path, however, which lures me from one bay to another, urging me on to 'just one more headland' to see what riches lie beyond it. The terrain varies from craggy, sandy or grassy, and most of the Path is separated from the sea by well managed bracken, gorse or hedging, with stomach churning 'don't look down' moments few and far between.
At Trefin, a small village with the perfect hikers' hangouts, a pub called The Ship Inn and a charming café called The Mill (with a well earned cream tea), I catch the 18.27 Strumble Shuttle bus back to Mathry, about twenty minutes' walk from the Lodge, although when I get my bearings I learn to ask the bus driver to drop me further down the road at the crossroads at the bottom of Mathry Hill, a welcome saving of five minutes to my already tired legs.
I leave my big walk for Day Two, a 19 kms circular around the coves and cliffs which wrap themselves around St. David's. Too full from my excellent curry the night before, I decline breakfast, but welcome my packed lunch. I fill a flask of tea and a large water bottle and hit the roads, with nothing but the cacophony of Spring birdsong to accompany me as I hike up the hill to catch the 8am Strumble Shuttle again. Stand at the crossroads on the main road into St. David's and stick out your hand when you see it coming. They do stop, really, although there is no official bus stop at this point, and they are more than helpful to vague looking, still half asleep, OS Map waving hikers like me.
I don't dally in St. David's where, as the cathedral clock strikes nine, the temperatures are rising into their mid-twenties already. So, I head straight out along a narrow back road, tucked behind the ruins of the Bishop's Palace, which turns out to be a heavenly route indeed to the impressive expanses of Whitesands Bay. Heading south again, the Coast Path overlooks Ramsay Island, a bird reserve and favourite hangout for seals, dolphins and porpoises although, as I dip in and out of tiny uninhabited bays, I only spot a few cliff climbers, kayakers and a couple of fishing boats.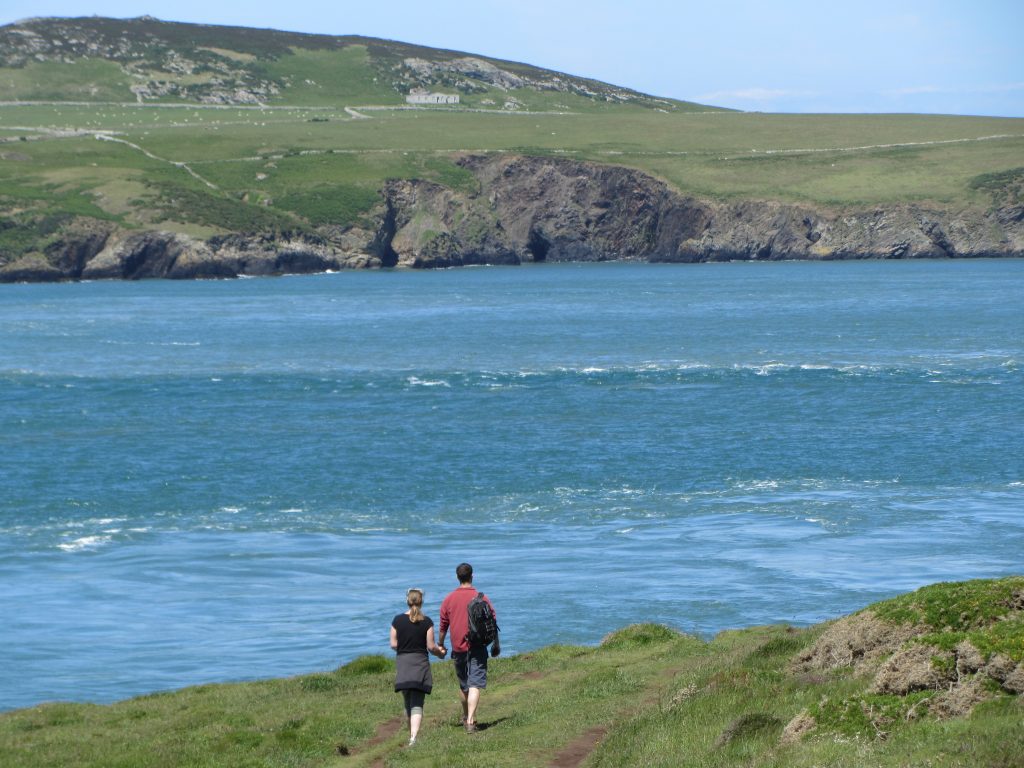 In fact, the Path is never busy, except around St Justinian's Bay, with its ancient chapel and a stunning red and cream lifeboat station with funicular system designed to transport people and good up and down the cliff, or the turquoise inlet of Porth Clais with its ancient lime kilns built into the harbour walls (and a much needed coffee and ice cream kiosk). The only other company en route are a few smiling hikers and the choughs, cormorants and stonechats all in nesting frenzies at this time of year. I keep an eye out for dolphins and seals, but they aren't playing today, despite this being one of their favourite hang outs. However, the solitude and solace to be found on this Path soothes my soul, dolphins or no dolphins.
I time my exit from the Path at Caerfai Bay perfectly, fitting in a quick snack at the delightful Caerfai Organic Farm shop just before it closes. Owned by Christine and Wyn Evans, Wyn talks to me about his renewable energy schemes created long before green became the new black. He is totally fired up about how we all have a responsibility to do our bit if we are going to reverse the impacts of climate change. I listen and learn from this knowledgeable man, and when I look back along the Coast Path which swivels in and out of his land, I realise that these farmers who work so generously with National Trust and National Parks to preserve this natural wealth so that we and future generations can all enjoy it, are all doing more 'bits' than most of us put together, and I vow to return with my family and take a longer stay at his campsite or cottages.
I make my 17.45 bus from St David's back to Mathry , with half an hour to spare looking round the Cathedral where, to my delight, the choir is rehearsing for Sunday service, the sopranos' Amen bringing this already uplifting day to the perfect close.
My last day of walking takes me around Strumble Head, the most barren spot of the Coast Path so far, where wild ponies are let out to pasture in order to keep these remote rocky slopes and paths clear of bracken. An imposing white lighthouse issues warnings through the mist which, in turn, emits nourishing droplets on the yellow blankets of Kidney Vetch and Wild Primrose, peppered with purple wild Thyme, all around me. Suddenly, I spot a seal staring up at me, basking on the steps of this now unmanned lighthouse. It feels as if we are both staring at this marine magnificence all around us in unison and, as the hairs rise on the back of my neck in this quiet moment with nature, I realise that not only are Pembrokeshire's banks rolling in it, but this highly protected Coastline is just one big bubbling vat of natural assets which is there for everyone to profit from.
---
I went walking in Pembrokeshire by travelling from London Paddington to Cardiff Central with First Great Western trains, and from Cardiff Central to Fishguard and Goodwick with Arriva Trains Wales. Return ticket from £74.50 if booked a month in advance. For more information on the Coastal Bus Service, with prices and timetables, see Pembrokeshire County Council
For accommodation at Preseli Venture Ecolodge and Adventure Centre, see preseliventure.co.uk, Tel: +44 1348 837709. From £39 per night for lodge accommodation and breakfast including use of all lodge facilities, plus a range of breakfast choices including a cooked Welsh breakfast or £59 for lodge accommodation and all meals. They also do a 5 days/6 nights walking package for £395 which includes all meals, info pack, free train station transfers if you are travelling by train, emergency back up support whilst out walking and a waterproof OS map
An edited version of this article by Catherine Mack was first published in Visit Pembrokeshire magazine.