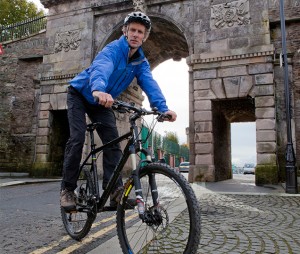 I travelled around Inishowen Peninsula in County Donegal, Ireland with this company recently and was blown away not only by the fierce wind, but also by their fiercely committed approach to truly responsible tourism. I will be writing more about that trip anon, but in the meantime I have asked Lawrence McBride, founder of Far and Wild to write a guest post about their latest, very exciting project in Derry/Londonderry, just thirty miles from Inishowen. Over to Lawrence…..
If you asked someone where in the world would you find joyous chants  floating on the sea breeze up to ancient battlements,  while troops of cyclists prepare for a historic competitive Mountain Bike Challenge along historic ramparts, they would be unlikely to say Derry-Londonderry. But in fact this is indeed the location of a special cycling event, here in the  first UK City of Culture- Derry-Londonderry 2013, nestled on the political border in the far North West of Northern Ireland.
The Wild Walls Cycle event by local eco-adventure company Far and Wild on Sunday 12 May is a unique event in the City of Culture calendar, combining a healthy dose of competitive and non-competitive cycle events with the very real culture of our 'post troubles' civilisation.
The day will start with an urban cross-country mountain bike competition which will weave its way through the communities, both nationalist and unionist, that live around the City's four hundred year old battlements, built originally as a garrison town by the Guilds of London. It was this London connection that led to the highly controversial addition of the pre-fix 'London' to the original Derry, from Doire – the Irish for 'Oak Grove'.
A charity and family cycle will follow the main cross city cycle trail, making for an all inclusive day which will culminate in the first ever cycle ride down one section of the historic walls from the local Court House and past the Bogside. Young people in both nationalist Bogside and unionist Fountain communities will take part, bucking summer trends of simmering friction.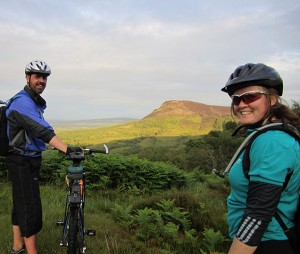 What has this all got to do with eco-tourism? Well the short answer is 'Come and see'! The Wild Walls Cycle event can be booked here . Evidence argues that our foreign visitors are fascinated by the complexity of Irish and Ulster society, despite the nervousness of the traditional tourism industry.  With countryside to die for (no pun intended), perhaps the factors that have keep folk away for so long are ready to reveal their hidden treasures.
Contact Far and Wild on hello@farandwild.co.uk or +447775911198 for further information or check out what other eco events we have in store at  www.farandwild.co.uk.
(Far and Wild is a community interest company combining adventure with ecology- including historical interpretation or human ecology- in the stunning North West of Ireland, in both political jurisdictions).