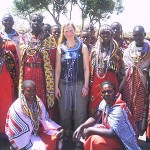 It is not everyday I get the opportunity to sit under an Acacia tree in the middle of the Masai Mara, listening to Maasai men, women and children, discuss their future. The famous black dots of the Wildebeest are interspersed with the equally world renowned red robes of Kenya's Maasai people, drifting across the Mara plains, to take part in today's meeting under the tree.
I have been invited here by The Travel Foundation, a UK charity funded by leading tour operators. It runs sustainable tourism projects in popular tourism destinations such as Kenya. In January 2006, Dr Cheryl Mvula came to the Masai Mara on holiday, and decided to take a cultural tour of Enkereri, a Maasai village. She paid $20 and watched it being given to the village elders. After her tour, she was shown the women's craft work, or 'curios' as they are sometimes called. But it was the curios that got Cheryl curious. The women appeared really desperate to sell, and she knew instinctively that there was something wrong with this picture. After all, her tour group had just given them $100, but there was not a lot to show for it.
A responsible tourism consultant who specialises in community development, it didn't take long for Cheryl to investigate. One source inside a well known Kenyan tour operator told her, "When you are off looking at curios, your driver guide takes the money back from the elders. They leave them $4 out of the $100. That's how it's been working here for thirty years".
But not anymore. Within weeks, Cheryl had received funding from The Travel Foundation to take on this exploitation and returned to Enkereri. She spent days and nights talking with the Maasai, who nominated two junior elders as representatives. Cheryl's first question to Ben Rramet and Ben Longisa (now fondly referred to as Big Ben and Little Ben) was "Why did you put up with this exploitation for so long?" They told her that the driver guides, employed by tour operators, deserved the money because, as far as they were aware, the drivers had to 'press gang' visitors to come to the villages. "Tourists think we have typhoid and HIV, and are afraid to come here. But we need them to buy the curios". Appalled by this lie, Cheryl showed them tourist brochures full of photos of their people telling them, "The Maasai are famous. People want to meet you, as long as you are happy for them to do so." And this was the moment the Kenyan worm turned.
For the next year they worked together, learning about the workings of the tourist industry, business record keeping, banking, community development, health and hygiene, crafts development and marketing. The villagers' hunger for knowledge and willingness to learn far outweighed any bitterness about the exploitation of the past. By May 2006, the work had stretched to four other villages, and the creation of the Mara Triangle Maasai Villages Association. Each village opened a bank account, nominated Finance, Tours and Marketing Managers and together they were ready to take on the big boys. They knocked on the doors of lodges and tour operators who, in the past, had turned a blind eye to the unethical practices.  The Maasai presented record books, showing visitor numbers being sent by each lodge, and proof of how much money was being given and taken back by their drivers. The lodges were no longer able to deny it. Big Ben told me, "We were not even allowed in through the gates before. Now we are sitting around the conference table doing business. It is wonderful". 
Most of the lodges in the area are now using the Maasai's new system. Tourists buy a $20 voucher from the lodge for a cultural visit to one of the villages (rotating visits to avoid favouring one village).  The drivers don't have access to cash anymore, just their larger than average salaries for Kenya, and tips to boot.  At the end of the month, one hundred per cent of the tour money is lodged into the villages' bank accounts.
Which is what brings me to be sitting under this tree in November 2007.  It is the Mara Triangle Maasai Villages Association's first AGM. The two Bens and Cheryl present details of the Association's progress in a year. This amounts to $43000 from tours alone, an 800 per cent increase in just a year. The applause and cheers must be heard all the way to the Serengeti. The men hold hands and smile proudly and the women translate to their excited children. Enkereri has extended its school and pays two teachers' salaries. Each village has built a long drop toilet for visitors, with plans to build one for villagers. However, tradition dictates that this should be positioned in the privacy of the bush, at a distance from the village. Such hygiene improvements should help combat common illnesses such as diarrhoea.
Little Ben tells Cheryl that they are waiting for her to tell them what else to spend it on.  "This is your money. You decide", she says and sends them off into their village groups to discuss it.  An hour later they return to the main tree and share their thoughts. There is a strong common thread of welfare and community. They want to build bore holes to gain access to clean water so the women don't have to walk several kilometres to collect infected river water. Next on the wish list is more local schools, and college funds. They all agreed on a need to replace the current firewood  fuel system; "The women have to go further and further into the bush, risking attacks by elephants or lions". I marveled at some of their business ideas like using cow dung as fuel, and possibly even supplying this to lodges. As their lives revolve around cattle, there is no shortage of resources. But I couldn't help thinking that issues such as access to clean water is a basic human right, not something that they should be paying for out of tourism income.
The Maasai's achievements in one year are awe inspiring, not to mention their strength, honesty and determination. But this is just the tip of the termite hill. There are still hundreds of Maasai being ripped off in Kenya. Cheryl plans to take this new system elsewhere, starting in the New Year with twenty villages in the Sekanani area of the Mara. This time she will be helped by two consultants contracted to lead workshops and set up systems. Enter the two Bens, now skilled facilitators in their own right.
Meanwhile, there are still thousands of tourists being lied to. As I returned to my lodge in the evening, I realise that many are not interested in the Maasai. Conversation starters are invariably, "Did you see anything exciting today?" "I saw a crocodile eat a wildebeest", "How wonderful, I saw a cheetah maul a lion cub". "I listened to the Maasai talk about having hearts full of pride and gratitude" was usually a conversation stopper. A retired insurance broker from the Shires proudly announced, "The Maasai get plenty from us, and still they are after our money. I don't know how they live like that.  It is God's gift to be born an Englishman". I defended the Maasai's intentions as being honourable, and explained that their traditional lifestyles were unique. He only became interested when I pointed out that 'Englishmen' were being lied to about the Maasai's income. This made him put down his binoculars and listen.  
On my various visits to Maasai villages I heard the word "welcome" a thousand times. They take  visitors into their homes without judging, mistrusting or insulting them. Why can't tourists do the same thing? Luckily, many visitors are more open minded than this. If you want to meet the Maasai, best to do so through one of the lodges in the Mara Triangle, or use a KATO tour operator, which signs up to the voucher system from January 2008. If you are travelling elsewhere in Kenya, don't give cash to drivers for cultural tours and ask for proof of a transparent system. If none of this is possible, visit the villages anyway, but don't give money to the elders until the end of your visit. That way the drivers can't take it back from them again.  And when they thank you, just say "you're welcome". Because if anyone understands and practises the true meaning of this word, the Maasai do.
 
For more information on the work of The Travel Foundation see www.thetravelfoundation.org.uk
Catherine stayed at Olonana Camp, Masai Mara, one of Abercrombie and Kent's Sanctuary Lodges, which is soon to subscribe to the Mara Triangle Maasai Villages Association's visitor system. See www.abercrombiekent.com for details.
For information on Mara Triangle Maasai Villages Association, see www.katokenya.org or email: cdmvula@aol.com
This article was first published in The Observer, 11 May 2008