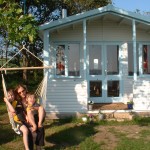 Gone are the purple rinses, the Isle of Wight is the new black. Or should I say green. It surfs, it sculpts, it sings, and it's shouts sustainability.  It was also the guts of a hundred quid to go there by car ferry on the weekend I wanted to travel, which certainly encouraged me to go green. It was cheaper to travel by train from London with a family railcard, and so began our pickings from a rich menu of green offerings on the Isle of Wight.    It even has a green tourism website with endless suggestions on how to enjoy this beautiful island without destroying what it has to offer.  A website which adds 'chilling' to its list of activities wins my green vote straight away and so we started as we meant to go on.
I booked a cute little beach shack a few miles from Cowes, booked bike hire through a company which delivers and collects wherever you want, in this case at the ferry terminal, studied cycle maps into the early hours and obsessed over five day weather forecasts.  One small backpack each, no packing the car with 'stuff', no stopping on the M25 to adjust our dodgy bike carrier, and no arguments over directions.  So far so chill.  Two and a half hours after leaving home, we were lashing across the Solent on the Red Funnel high speed jet. This is not the cheapest option, but it is only a twenty minute crossing and worth the look on my children's faces as we took off. It was so fast, I was slightly concerned it wasn't going to stop.  But we settled gently into the quay at West Cowes, where John, the bike guy, gave us our bikes and took our luggage, to be dropped to us later at the shack.  The Island is cyclist heaven. Just enough hills to push yourself, or your bike and tagged on four year old in my case, varied landscapes of coast, forests and estuarine marshes.  We took the coast road from Cowes, through Gurnard, up quite a few steep hills and, about forty five minutes later, down a dusty track to the sea, and our shack.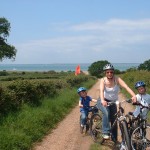 The shack is a gloriously simple wooden summer house, painted in pastel blue and white, overlooking a buttercup filled meadow dipping down to a quiet sandy beach.  The children leapt onto the swingseat hanging from an oak tree in the garden and I had to blink twice to check I was not on the set of a Boden photo shoot.  Our dusty backpacks and sweaty trainers suddenly looked out of place among the collection of carefully chosen vintage bric a brac and funky fifties furniture. . But Helen, the owner with the enviable designer eye, is not precious about her vision – it is a place for having good old fashioned 'Enid Blyton' fun.  She leaves antique board games, binoculars and even a copy of the Famous Five itself, for sticky sandy hands to explore. With its solar powered lighting, no electricity, wood burning stove amply supplied with driftwood, composter, recycling, and environmentally friendly cleaning products provided, this ticks many of the green boxes. And the solar powered mobile charger is inspired.
A pre-ordered hamper of Island goodies awaited the hungry cyclists, enabling us to prepare a gastronomic evening picnic watching the sunset over the bay.  The menu included locally made organic pasta served with the Island Garlic Farm's Confit de Tomates.  To drink, a chilled rosé from Rossiters Vineyard, and local apple juice.  The cheese course was a coup.  A blue cheese from the Isle of Wight cheese company which was recently awarded the Fortnum & Mason Best English cheese award 2007.  We finished off with cake and biscuits baked only a few miles away and the children used the, now nearly empty, canvas style bucket (ordered instead of traditional hamper, as it was easier for us to bring home) to collect driftwood. You can also order a splendid breakfast hamper, with local muesli, bacon, sausages and eggs. The strapline here should really be 'fill before you chill'.
It would not be difficult to fill your days doing nothing at the shack.   Buckets, spades and fishing nets were provided, the boys cycled safely up and down the lane, chased butterflies across the meadow, and swam several times a day.  But I couldn't resist some of the other Island activities on offer.  One day we took a two mile cycle to riding stables for the boys' first horse riding experience. Hugo, my younger boy,  had been talking for weeks about riding on a white unicorn, so when Faye the farmer led the most perfect white pony towards a seldom silenced four year old, there was no explanation needed for why it didn't have a horn sticking out of its head.  As far as he was concerned, his dream had come true.
There were many such highlights on this trip.  Putting coffee on to brew, and hopping down for an early morning swim watched only by onlooking oyster catchers and curlews.  Cycling in nearby Parkhurst Forest and spotting red squirrels.  Or shopping at the superb weekly Farmer's Market in Newport, and picnicking along the offroad (and gloriously flat) Medina estuary cycle route nearby. But the big high was saved for last.  We took our final view of what had by now become our new favourite place in the world, from the top of a sixty foot ancient oak tree.  The Isle of Wight is one of a handful of places in the UK where you can go recreational tree climbing.  Guided by New Zealand arborist, Paul, who confesses he would rather preserve and climb trees than follow his original career path of cutting them down, we donned our harnesses and helmets, and I prayed for a head for heights. There was no reason to fear. In this remote field, located a few miles from East Cowes, Paul gave us detailed tuition in the art of tree climbing, mastering ropes and knots as well as a greater appreciation of the ancient gem which supported our weight throughout.  I watched Louis, my eight year old, climb gracefully from branch to branch, handling knots and carabeener clips like an expert.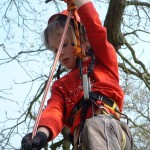 It was like watching a dance performance as he climbed, then swayed, and finally swung gently upside down to a soundtrack of nothing but birdsong.  My climbing was more baboon than Bussell, but I finally caught up with my little elf lying high up in a tree hammock eating the chocolate eggs which awaited him.  We lay in the hammock together, swaying gently with the breeze and the world seemed to stop for a while.  Under Paul's constant supervision, we absailed gently back to earth, where we landed on a picnic rug laid out for afternoon tea. Paul pointed out that the milk was from a farm only a mile away, and the homemade cakes from a local bakery.  I realised that people here don't just promote Island produce because they have to, but because they are proud of it.  They have every right to be.
After three hours of climbing, absailing, chatting and eating, we headed back to the boat.  We locked our bikes by the jetty, and waited for our bags to be delivered back to us. They were running a bit late, stuck in traffic apparently, happily not something I had experienced in the last few days.  Nor was I worried about catching the boat as they run every half hour.  In fact, I realised that something had happened to the uptight London timekeeper in me.  I really didn't care.  Or, as they say on the Isle of Wight, I had finally chilled.
Catherine and family travelled from London to Southampton with South West Trains, www.southwesttrains.co.uk, and to West Cowes with Red Funnel, see www.redfunnel.co.uk.
To stay at 'The Shack' see www.vintagevacations.co.uk.  Weekly stays from £375 and weekend stays from £175
Catherine hired bikes from Wight Cycle Hire.  Adult bikes £30 (children £20, Tags £15) for three days. Baggage collection free of charge. They deliver and collect from anywhere on the Island. See   www.wightcyclehire.co.uk
If you bring your own bikes, you can store or transport your luggage with www.bagtagiow.co.uk. £6 per bag
Micha the white 'unicorn' can be found at Romany Riding Stables, Porchfield, tel: 01983 525467. 
Order top hamper for treats on arrival from www.wighthamper.co.uk.
For the best ever trip to the treetops with Goodleaf, see www.goodleaf.co.uk – 2.5 hour climbing experience costs £25 for children and £35 for adults. 5% discount to anyone arriving by public transport, pushbike or by foot.
(This article was first published in The Observer, 10 June 2007)