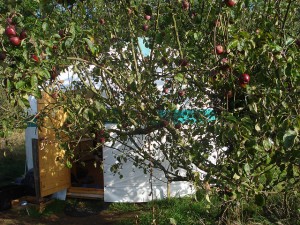 Glistening red apples have always been symbolically tempting. Snow White was lured, they got Adam and Eve into big trouble, and in ancient Norse mythology they were seen as providing eternal youth. Whatever their powers, there are thousands of them here, lining the path to our gleaming white yurt, tucked away in a corner of this burgeoning  orchard, like a red carpet to a palace. Camping? Not as we know it, Jim.
We are met on arrival by Anthony, who co-owns The Really Green Holiday Company with his partner Alison, creating this glamping gem on land they lease from Afton Park Orchard.  He leads us down the red carpet to our yurt, and opens the wooden door into our ongoing storybook world. Because a yurt resembles a theatrical space, with its raised wooden floor, perfectly lit by natural light seeping in through the (covered), transparent hole in the ceiling, its canvas backdrop stretched over a circular frame, almost resembling a model of Shakespeare's Globe Theatre itself.
These yurts have been beautifully furnished with recycled antiques and bric a brac. But most important for glampers, there are beds. Proper beds. An old mahogany frame for us, and a double futon for our two boys. After endless 'normal' camping breaks, our two boys, aged seven and ten, can't resist a bit of bouncing. "They're real mattresses, Mum!"  Not air, not army, not yoga, and just to add to the five star-ness of it all, there are crisp (and ironed, I notice) white sheets and eiderdowns to make our cocoons exquisitely cosy.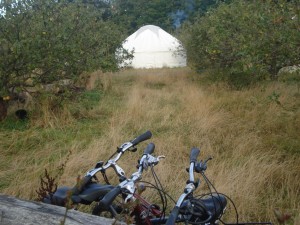 Although I am a lover of real camping, wild camping even, I must admit that this bit of luxury is like a naughty, but more than nice, treat. Indeed, it feels almost opulent putting a match to the yurt's preset stove, creating a homely atmosphere which is nigh on impossible in our tent. After leaving us to bask in the gorgeous glow of it all for a while, Anthony then shows us the inner workings of the campsite. Unlike most campsites, there is lots of room between us and our neighbours (although we are close enough for me to spot that they have a four poster bed in their palace). There is a proper solid table and chairs outside the yurt, and a cleverly designed brazier cum barbecue for cooking, or just keeping us warm. There is an ample supply of wood, all from sustainable island sources, and constantly stocked up by Anthony and Alison.
However, glam is quickly upstaged by green, as we continue to explore. There may be sheets and stoves, but if you are looking for shower blocks and sockets, that is where the luxury ends. Like so many places I have already visited on the island, and one of the main reasons I keep coming back for more and more, The Really Green Holiday Company does exactly what it says on the tin. First of all, this is a precious working orchard, with 150 trees to be nurtured, and also, this stunning coastal area of the western end of the island is protected, officially known as an Area of Outstanding Natural Beauty. Consequently, the orchard is totally off-grid.  No electricity, gas, sewers, or mains water (although there is a little onsite water, just in limited supplies).
The loos are compost, and function with a brilliant barrel system, which is turned regularly to speed up the composting action. Using the loo is far from glam and takes a bit of getting used to, but the kids are totally enthralled as Anthony explains how they work. With steps up to their wooden huts, they remind me of the Granddad in Chitty Chitty Bang Bang, who gets carried up into the air while going through the motions in his wooden hut; "Maybe that's why they called it 'Chitty' Mum," my younger son announces loudly to the amusement of all the nearby happy campers.
The shower is also pure and simple, powered by solar and, when the sun lets you down, there is a wood burner underneath to get the water sizzling again. The grey water from the shower goes into barrels, then used for watering the trees around us. There are buckets of water to wash hands, using rainwater from butts, and eco-friendly products everywhere to protect the immediate environs.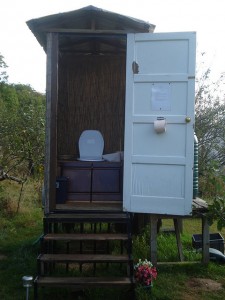 The campsite revolves around a communal dome tent, used for cooking and eating when it gets wet. There are some Calor Gas cookers, and flasks full of hot water for a quick coffee to get the sand out of the eyes in the morning. Just as Anthony is showing us the workings of the dome, the clouds over Freshwater open like they haven't all summer. We all look up as the dome roof lifts into one big arc, a gale force kicking in with wild abandon. Anthony looks at the water seeping in under foot, totally unperturbed. A little more concerned, wondering if our storybook adventure is about to segue into an Oz-like tornado, we excuse ourselves and rush back to the safety of our yurt. With the comfort of the wood burning stove, cuddled up under duvets, we stare up through the now black hole at the clouds swooping in like the wicked witch herself, spookily backlit by the moon.  The canvas is shaking, and the apple tree branches cast shadows everywhere. However, after a few marshmallows toasted over the fire, and hot chocolate heated on the stove, all is good in the land of yurt, soon transformed to a sumptuous land of nod.
Morning comes and, as if following a script, the sun is shining, skies are blue, and the dome tent is still there. Anthony is up a ladder mending a couple of tears, the kettle is on, and people gather round the dome to compare storm survival notes. I couldn't help thinking of some of the clifftop campers nearby, some of whom must have had to pack up in the middle of the night, and take refuge in cars. Glamping is stormproof, that's for sure.
After a typically slow start to the day, one of the best things about camping in my view, we stroll down toFreshwaterBay, just a ten minute walk through woodland. The waves are still too high for swimming with the boys, despite clearer skies, and gentle paddling leads to general drenching. We head back to the yurt to dry off and for lunch, and shopping is made easy with the onsite Afton Park Farm Shop. Within a few minutes we  stock up with chicken fillets, mushrooms, crème fraiche and onions, all from local farms. I realise that we are now becoming galloping, glamping gourmets. None of your baked beans here.
Paul and Michaela Heathcote, who own this fab farm shop and orchard, are also rare breed specialists and have de-camped a few favourites from their nearby farm to graze in the field beside the orchard. Even the animals are posh here, I think, such as Mayzie, an Irish moiled calf, one of only 400 females left worldwide, and Matt, a Wensleydale sheep, of which there are only a thousand left worldwide. Don't get too attached though, as some of their relatives are available in the shop, and you won't taste a better sausage on the barbeque than theirs. Combined with their new co-venture, whereby their café is transformed into a superb evening restaurant, run by a budding local chef, AftonPark has to be one of the most impressive examples of rural diversification I have come across on my travels.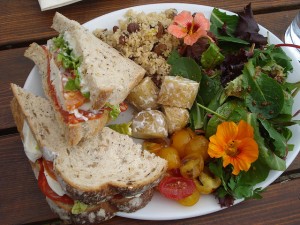 We finish our stay at the yurts with just one more bit of magic, taking place, rather aptly, up a tree. But this time, an ancient oak tree. Anthony recommends an outing with Goodleaf, a local recreational treeclimbing company. Over a period of two and a half hours, trained arborist Paul McCathie, teaches us how to use harnesses, carabiners, ropes and knots, as well as climbing and abseiling techniques, and then leads us gently up into the branches of a sixty foot oak. My sons dance like nymphs from branch to branch, while I slowly heave my way feeling more like the giant trying to get back up the beanstalk. When I reach my first big branch I dare to look down at Paul smiling below, breathe in the smell of the branches, and realise that I haven't contemplated a fear of heights for a second. There is something about the slow pace of climbing this magnificent natural structure, which helps conquer your fears, and its canopy. And in terms of thrills, my kids say it beats any roller coaster ride.
This exhilarating treeclimbing experience is undoubtedly the perfect closing chapter to our storybook weekend, which draws to a close much quicker than we want it to. However, as we close the door for our last night under the stars, and lie down to take in the ever-changing night sky drifting over our heads, we vow to come again, and raise our hot chocolates in a mutual toast to glamping happily ever after.
For more details of the yurts at Freshwater Bay, see www.thereallygreenholidaycompany.com, weekend hire from £220. For details of the orchard, farm shop and restaurant, see www.aftonpark.co.uk.
 Five things for glampers to gloat over on the Isle of Wight:
Isle of Wight Sea Kayaking. Shimmy in off the beach at Freshwater Bay, straight into the waves and around the coast, depending

Catherine and children sea Kayaking in Freshwater Bay Photo: Catherine Mack

on your ability, confidence, and the weather. With a bit of experience you can take trips to caves, sea stacks, off-shore Napoleonic forts and otherwise inaccessible beaches. Fantastic family half day offers from £45.

Walk the Coastal Path – With just over 100kms of brilliantly maintained coastal walking paths, this has to be the best way to discover the island. For details of all walking routes, as well as the annual Isle of Wight Walking Festival in May, www.islandbreaks.co.uk have great maps of each route, and, very cool indeed, details of companies which offer a bargain bag collection service to move your bags from one accommodation to another as you head there by foot.
From field to fork – You will have the perfect glamping experience if you stock up your barbeque with some of the superb range of the island's local produce by seeking out some of the local farm shops. My favourites include Bluebells at Briddlesford Farm, Wooton, which also has a superb restaurant, Kings Manor Farm, and of course, The Garlic Farm, near Newchurch. Or even more impressive, order in advance to be delivered to your yurt, with inspired local food delivery company, The Real Island Food Company.
Robin Hill Countryside Adventure Park, which successfully combines a fun park and rides to suit all ages, with 35 hectares of

Catherine's husband and son treeclimbing with Goodleaf Copyright: Catherine Mack

countryside, including nature trails, sculpture parks and falconry displays.

Goodleaf Tree Climbing – For the best ever trip to the treetops with expert recreational treeclimber Paul McCathie. A two and a half hour climbing experience costs £25 for children and £35 for adults, including equipment, tuition and tea and cakes.  This very green company also offers 5% discount to anyone arriving by public transport, pushbike or foot
For up to date information on all things cool and green on the Isle of Wight check out my favourite blogs, My Isle of Wight, and Ventnor Blog.This article was first published in Island Visitor Magazine, Summer 2011