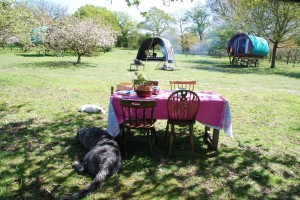 You know that feeling when you first open a box of Green and Black's chocolates? Butterscotch is better than…Ok, let's not go there. Well, when I first went on Canopy and Stars website, it had the same impact really. Each web page unwrapped a delicious, quirky place to stay,and  the choice almost overwhelming. Which is why I have invited them to write a guest blog, featuring places which are all accessible by public transport of one sort or another. I am all for leaving the car at home, so hopefully these places will inspire you to do the same. And after all those chocolates, it is best for me to get walking, cycling, canoeing there anyway. Over to the gang who created it…
"Holidays are great. Getting there… less so. If you're lucky, you'll get to stop at the M&S at the service station. You might even have a really good mix CD…
But it doesn't have to be like that! Canopy & Stars, the leading new glamping company, is encouraging you to leave the car at home, and make your journey part of the fun! To get you started, here is a selection of unusual places that can be reached by unusual means…
The Gypsy Camp , Essex – where two Romany bowtop caravans lie between the apple trees in a private orchard – is connected to central London by the National Cycle Network, so you can cycle all the way there from 'town'. Or, if you don't fancy propelling yourself, you can catch the train and arrange for Ann, the owner and creator of this rural gem, to pick you up in her pony and trap from Wickham Bishops, a short bus ride from Witham Station.
Millstream Camp, Shropshire – To reach this hideaway under the stars, you can take the single track line to Bucknell, a rural station so tiny the train will only stop if you ask the driver.  Let Carolyn know and she can arrange to have two bicycles waiting for you on the platform. Then it's just a three miles down quiet Shropshire country lanes to the Millstream Camp, where a homely shepherd hut just for two awaits you. You can even cool off after your journey with a dip in the dammed Millstream.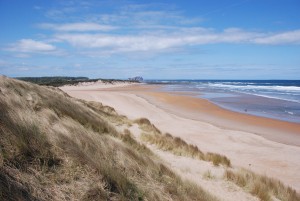 If you have access to a noble steed, you can gallop along the beach right up to the Lochhouses Safari Tents near Edinburgh, and stable your horse there, too! If you don't have your own horse, don't worry! Trains from Edinburgh Waverley to North Berwick take about half an hour, and there's a trekking centre next door, so you can still go riding on the beach.
A 'post bus' sets off daily at 3pm from Llandovery, Dyfed (where the railway station is) and goes right to the bottom of the drive of The Cabin – a cosy octagonal space in the lush Cambrian mountains. If you can't be bothered with all the stopping and starting as they pick up the post, you can always hire a mountain bike from the station (a very reasonable £3.50 a day) and cycle there.
The Mollycroft, a retired showman's wagon, is less than a mile from the Coast to Coast walk, so an excellent place to stop off for a couple of days, and rest your weary legs.
You can reach On The Water, a luxurious boat in Regent's Park, by bike (courtesy of Boris), horse (from Hyde Park stables) or canoe (hire from Pirate Castle). A stylish aquatic haven in the centre of London, On The Water is the perfect place to hide yourself away, or dip a toe in the city as you please.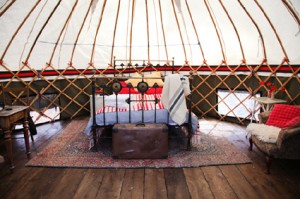 The Cairngorms are cool, especially when you discover them by canoe. You don't even have to bother with much portage, with Inshriach Yurt, right on the water's edge at. Take the train to Kingussie, and paddle all the way there in around three hours (with a guide from Spey Descents, if you don't have your own canoe). Go down the Spey, through the Insh marshes and across Loch Insh. Enter Inshriach waters half a mile from Loch Insh and 2 miles later keep your eyes peeled for a yurt on your right hand side. Disembark for divine canopy, and of course, stars.
And if you really want to make an entrance, why not charter the Yacht Infanta to take you to By The Beach – a luxury yurt with a private beach on the Isle of Wight. Canopy & Stars has a wonderful collection of glamping places including a treehouse, luxury yurts, Gypsy caravans… even a boat in Regent's Park!