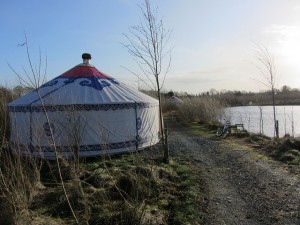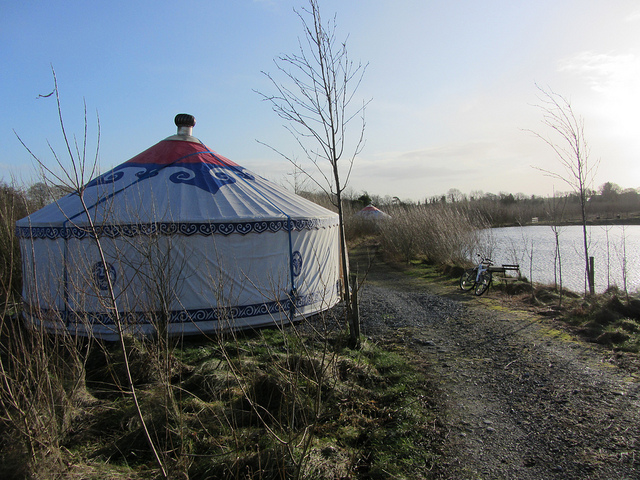 'The Hundred Acre Wood'  is Winnie the Pooh's home, my younger son reminds me as we start to explore the pathways leading through the 200,000 trees planted by the owners of this extraordinary 100 acre farm in Castletown Geoghegan, County Westmeath. Although Pooh, Tigger and Roo are nowhere to be seen, there are streams and bridges to throw Pooh sticks from, endless spots for Owl to hang out but, happily, nowhere for Eyeore to feel gloomy. In fact, he would be positively jumping for joy if he could take part in the yurt hunt here, with ten of these magnificent Mongolian tents carefully concealed around its 100 acres.
The landscaping here is about as perfect as the famous map of AA Milne's fantasy world, except this is a reality and certainly not just to be enjoyed by children. Boutique Camping was opened just over a year ago, by owners Adrian and Deirdre Murphy, although they have been developing their dream landscape, called Mount Druid (and yes, it does have a mount with a druid) for the last five years, and the many broadleaf trees which thrive all around us providing evidence of this long term planning. With carefully thought out pathways which follow the natural undulations of their hills and the recently opened up streams and lakes which were concealed underground until the Murphys went a digging, this is definitely not a case of someone just making a quick dash to jump on board an eco bandwagon.
I am a fan of yurts anyway, but have never seen anything as extensive as this in Ireland, and with so much land to explore, everyone has space to themselves. And space was just what the doctor ordered after a week of Christmas cabin fever. 'Why on earth would you go camping in December?' one of the curious villagers asked me at the gorgeous local pub, Claffeys, two minutes' walk away from the farm, and just one of three lovely pubs in this village. I explain that it has a large central, wood burning stove, warm beds raised off the floor, enough insulation to cope with a Mongolian snowstorm, and that it feels lovely waking up in the 'fresh air' with a toasty body and a chilly nose peeking out over the top of the winter tog duvets. The only problem, I add, is working out who gets up first to stick some wood or turf on the fire to warm us up in the morning. 'But where do you make the breakfast?' he asks, and I reassure him that there is a beautifully restored barn for the use of all guests, with giant stove, comfy sofas, a large communal dining table and cooking facilities.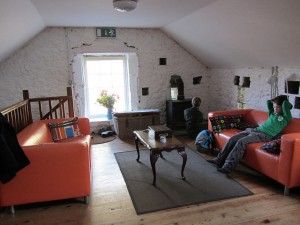 The only thing missing in the yurt  is a kettle, as it would be lovely to stick one on the stove to get your day off to an even cosier start, so bring a camping one with you if you are a 'tea before you can move a muscle' sort of a person, like me. And if you travel with a hot water jar, then you'd have something to fill it from, without having to embarrass yourself in the communal barn. Not speaking from experience of course. They also like you to bring towels, although all bed linen is provided.
And then there is the sauna, which would have shed a whole new light on Christopher Robin's day if he'd have had one, I'm sure. Our kids, who are always banned from such luxuries in leisure centres, were in their element, going from their early morning cycle around the land, on kindly provided high quality mountain bikes, to the sauna. It also gave them a good excuse to use the shower in the barn, rather than running from the yurt to the shower in a 'shed' which are scattered in various locations convenient to each accommodation. Albeit fine quality, eco wooden sheds.
I spared my new pal in the pub the details of the compost loos, though, as I thought this might just finish him off altogether, and as he and a few of his welcoming friends, who had joined the chat by now, were full of admiration for what the Murphys had achieved, I didn't want them to think that we were all just a bunch of hippies hiding up on the hill with the druids. The Murphys live on site, and so are always around to make sure we are warm and comfortable, Adrian popping over to the barn with a freshly made loaf and some of their farm eggs, their boys inviting ours for a game of football, and their daughter keen to show us the recently converted self-catering house. This is a clever addition to their accommodation portfolio, created with the same flair for contemporary design  which the Murphys have applied to their own fine house, once a grey Presbytery, now a magnificent home to six kids, dogs, cats and a stream of visitors enquiring about this and that. The self-catering house, known as Kindalin, was the old school master's home, and has been refurbished with a green oak frame, has an open plan design, mezzanine walkways and three bedrooms. And a telly, for those people who find it difficult to let the screens go completely. There is a yurt just nearby so if you have friends who want to do the indoors thing, while you do the out, then this is ideal. Or bring the grandparents, who won't get the 'yurk' idea, as my mother in law insists on calling it. And if you have a very special birthday or anniversary coming up, rent out the whole place, putting families in yurts, and feed the gang in the barn or Kindalin. The Murphys are happy to help with catering if there is a crowd in.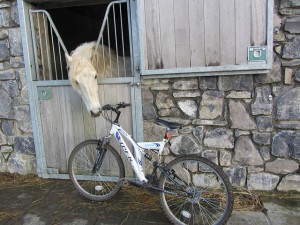 We did not explore any further than the Hundred Acres or the village during our brief stay, but there is already pressure to return from our kids, and so I note that for a summer week there is plenty to do in the area, with Lough Ennell on the doorstep, where you can rent a boat and go fishing (www.lilliputboathire.com), the Mullingar Cycle Hub which consists of several looped cycles around the Lough and others nearby (www.irishtrails.ie), walking or cycling along the Royal Canal which goes through nearby Mullingar (www.iwai.ie), or day long summer camps with kayaking, orienteering and gorge walking at the nearby Lilliput Adventure Centre from as little as €30 per day. Oh, and because the Murphy's don't do things by halves, they also have a Green Village Music and Arts Festival on 29 September 2012, and they are still basking in the success of its 2011 inauguration. In fact, I think the Murphys, with their dynamic, life loving energy, combined with sustainable awareness must have gathered a little of Winnie the Pooh's wisdom along their way in life. Among many famous quotes, he said, 'A little Consideration, a little Thought for Others, makes all the difference.' And this pretty much sums up Mount Druid. Thoughtful and making a difference. As my friend from the pub said just before he downed his last, 'Adrian saved that land from being developed into a housing estate, you know. He just couldn't stand back and let that happen here'. To which I raised my new Year's pint, and toasted a year of Pooh-like positivity the likes of which lie on the top of a Westmeath hill.
For more information on the yurts and self-catering at Mount Druid, see www.boutiquecamping.ie. Yurts from
€80 per night for a midweek two night stay, otherwise €100 per night.
This article was first published in The Southern Star, Ireland