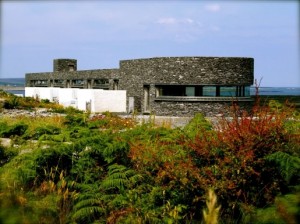 Few things in life beat a wish which actually comes true. This time last year I wrote a New Year's wishlist, which included a mission to visit more of our stunning islands. First, a trip to Cape Clear made me smile and celebrate our natural heritage, but a trip later in the year to Inis Meáin, one of the least visited of the Aran Islands, actually made me cry. In the same way that a fine work of art makes me cry, or a stunning piece of writing,  or just an overwhelmingly kind gesture. I experienced all of this on Inis Meain, staying at Inis Meáin Restaurant and Suites, a place where I felt all my travel writing Christmases had come at once.
Inis Meáin is a place of solace and reflection and Inis Meáin Suites has been designed with this in mind. As the only hotel here, it could have made a big splash, but instead its architect opted for a native limestone façade, with just enough glass to reflect the soft, luminescent blue sky, creating a long, low-lying building which segues seamlessly into the matching limestone terrace. This is just one of hundreds of hard-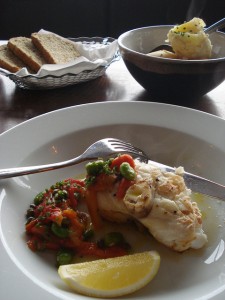 won terraces, so characteristic of the Aran Islands, stretching out in every direction like veins across a body.
Indeed, Inis Meáin Suites plays the role of a central artery on the island, providing tourism income which is sustainable in a sumptuous, seductive and yet sensitive way. Sustainability is core for its owners, Ruairí and Marie-Thérèse de Blacam. Ruairí is chef in his own restaurant, where the food has already won endless accolades from the gastro press. Before dinner, he showed me his impressive fields of vegetables, free range chickens, cow and piglets.  As we walk past one barren field after another, all enclosed by the famous stone walls,  I realised it's not long ago in the island's history that this land was considered impossible to cultivate. However, the local people created soil from sand and seaweed and, having grown up on the island, Ruairí seems to have inherited some of this determination to create life and sustenance out of the rock.
How far this island has come, with developments like the hotel's water harvesting system which enables the use of grey and rainwater, helping in the creation of  salads, herbs, cabbage, spinach and spuds. Later in the restaurant, his inspiration seeps through every mouthful of his food too, as we watch him produce lobster salad, monkfish and dry aged sirloin from his open plan kitchen, chatting with the guests as he merrily chops, sears and simmers.
The de Blacams want you to savour every bit of Inis Meáin, so even though you have the luxuries of an enormous whiter than white bed, chilled champagne, white robes and alpaca throws, the call of the land is too great. They leave bikes outside each suite, as well as swimming towels and a fishing rod. I managed to avail of all three and, along with my hiking boots, was able to reach the less accessible coves and cliffs, allowing me to live every moment here. I even caught some Pollock off the pier, which Ruairí prepared as a starter later – not just thrown in a pan, but sashimi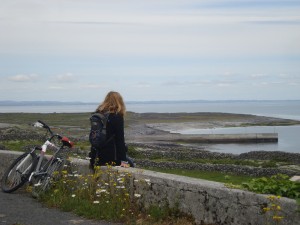 style, sprinkled with sesame seeds, ginger and a bowl of wasabi sauce.
Walking is the only way to truly imbibe the wild, desolate and totally intoxicating beauty of Inis Meáin. The de Blacam breakfast is strategically generous, so that you can pack the leftover boiled eggs, salami, cheese and homemade bread into your bag for a good long walk. Don't miss the wilder south west side of the island which took me a good four hours, as I navigated my way across the mad, craggy, limestone cliffs, constantly stopping to try and get my head around these unique and awe inspiring seascapes.
This is a pricey getaway, with suites €250 per night and a minimum 2 night stay. But if I could pick one ethical travel treat as a voucher for someone this Christmas this, without doubt, is my top tip. Because although I generally adore the solace of islands when travelling alone, Inis Meáin evokes such poetry and passion, offers such mystery and magnificence, that it is just one of those special places which begs to be shared with someone you love.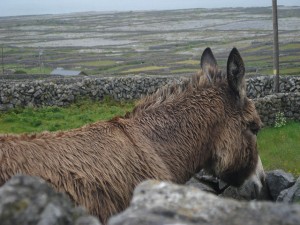 This article was first published in The Irish Times