If you love Goa, then you have a chance to take action to preserve its most vital resource – water. There are so many injustices going on with relation to water that the majority of tourists don't have any idea about, and the fact is that water which is being made available to tourists in contrast with that available to people who live there has hit crisis point. Which is why I am asking you to urgently sign a petition to the Goan government, as part of an campaign led by Tourism Concern, the Council for Social Justice and Peace (CSJP) and Eco Footprints to urgently address the overexploitation of Goa's water resources by  a growing numbers of resorts and hotels.
Petitions do make a difference, especially when they have an heap of tourists behind them, upon whom Goa's economy heavily depends. New research by Tourism Concern entitled Reclaiming Water Rights – Towards and Equitable Social Contract in Goa will also give a strong spine to the petition landing on the Ministers' desks, which indicates that the luxury tourism sector is being prioritised over domestic and small-scale livelihood needs.
For example, findings show that residents in the popular resort town of Calangute receive piped water for just two hours every two days. Traditional community wells are becoming unusable due to pollution and over-extraction, forcing a growing dependency on inadequate public supplies and infrastructure. Meanwhile, nearby resorts boasting swimming pools and golf courses enjoy a continuous water supply. One 5-star hotel in Benaulim consumes up to 1,785 litres of water per guest per day, compared to just 14 litres per day by neighbouring villagers. One guesthouse owner in Calungute comments,  "The wells here have been contaminated for 10 years. The contamination has been partly caused by soak pits from tourism. Dirty water leaches into the ground. The soak pits are illegal. In the hot, dry season – March, April, May – we get water for 20-30 minutes a day…. Many people depend on tankers.   Local people sometimes feel angry, but they recognise the benefits that tourism can bring. But it is we ordinary people who are suffering. We are drinking this water, they are not. Some can afford to buy water, some cannot."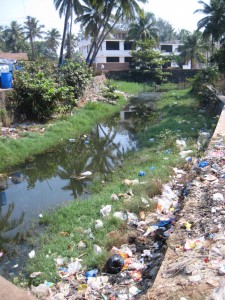 It does not mean that you shouldn't go to Goa, enjoy your pool, shower or golf course, although using water responsibly, just as we do at home these days, does help.   Real immediate change must start at government level, so that urgent improvements can be felt straight away among the local population, who need water urgently.  "The Government of Goa must respond to this critical issue and implement the recommendations of our report, Reclaiming Water Rights – Towards an Equitable Social Contract in Goa. We urge them to instigate a clear regulatory framework for water and tourism management, implement existing laws and improve infrastructure to ensure community water rights don't come second to major resort developments", says Mark Watson, Executive Director of Tourism Concern.
The research simmers with discontent, quoting many local people who are now panicking about this life threatening issue. Geraldine Fernandes, another guesthouse owner in Benaulim says, "I have a well, but the water level is going down.  When they build these new developments they dig a borewell with a pump. My well water has significantly declined. I'm now running dry by February… There's so much environmental destruction and garbage, and lack of proper sewage treatment… We are not anti-development; we want development that protects our livelihoods."
So please, if you love Goa, take thirty seconds and sign the petition here to keep Goa going.