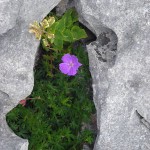 Spring is most definitely in the air, with the birds and the bees getting busy, and flora and fauna becoming positively fecund.
There are numerous ways to get out there and gain a similar boost of new life from all this burgeoning beauty. I caught some of Leitrim's loveliness last year at Tawnylust Lodge. Here, on the May Bank Holiday weekend, the owner Nuala McNulty, offers a Bluebell and Primrose walking tour in nearby Lurganboy Forest as part of a weekend package in her ecolodge, overlooking Leitrim's hills. Just one of several walking packages throughout the year, it is a bargain price of €139 per person, (based on three adults sharing or two adults and two children) including three nights' accommodation and two guided walks (www.tawnylustlodge.com).
The Burren is like a metaphor for Spring itself, with soft colours squeezing through hard grey rock with bursts of gorgeousness when you least expect them. I regularly applaud the commitment of owners Simon Haden and Frederieke McMurray, for protecting the National Park which surrounds their hotel, Gregans Castle. As well as sponsoring the Burren in Bloom Festival in May, they also offer a birdwatching weekend on 9 May, where ornithologist Gordon D'Arcy  leads guests out onto the limestone wonders to hear songs of the Burren's native birds. Two nights bed, breakfast and a six-course dinner, and half a day's birdsong outing, from €249 per person sharing (www.gregans.ie). See also excellent conservation website, www.burrenbeo.com for other nature activities in The Burren.  
For women wanting to celebrate the beginning of summer in a traditionally Celtic way, check out The Wise Woman Weekend, 8-10 May, in conjunction with the Celtic festival of Bealtaine. Eminent wise women will be gathering in Dromahair, County Leitrim, to give workshops in 'Living Your Vision', astrology, Egyptian dance, African drumming, painting, and yoga. There will also be a guided nature walk to explore the spirit of the Celtic Ogham trees. The weekend pass is €140, but places are limited, so get in quick. One of the founders of the Weekend is one of my eco-goddesses, Noeleen Tyrell, co-owner of eco-retreat Ard Nahoo, an ideal spot to stay for the weekend, as they are also hosting the opening ceremony. Two nights' shared accommodation in one of their stunning eco-cabins, as well as a steam and soak in their Uisce Area, from €100 per person sharing (www.ardnahoo.com). For more information see www.wisewomanireland.com.
This season of growth is also about planting at home and if, like me, you need some inspiration to finally get your vegetable plot going, head for the hills overlooking Spiddal, to one of my favourite natural retreats at Cnoc Suain. From 1-3 May, they host a Traditional Growing & Forgotten Skills weekend, working with Cait Curran, organic market grower and editor of Organic Matters. Participants stay in one of their lovingly restored thatched, stone cottages. All this is laid on by two of the finest hosts I know, and leading conservationists of both natural and cultural heritage, Charlie Troy and Dearbhaill Standún.. This and many other residential weekends are from €375, including accommodation, meals, tuition, live performances of traditional music, and storytelling (www.cnocsuain.com).  
At a time when nature allows the earth to grow and regenerate, springtime travel can offer us the same opportunities. Just when we all need to get a bit of real spring back into our step.
(This article was first published in The Irish Times, 18 April 2009)