Sometimes the best things are on our doorstep and we just don't even notice them. That's what struck me when staying at the Galley Head Lighthouse in Cork recently. So many people I met who lived in the area said something along the lines of "Oh, I have always meant to stay there, but you know what it's like when something is on your doorstep. You never get around to it". It's hard to miss Galley Head lighthouse, however, its beautiful beam a familiar sight for many as it illuminates Clonakilty's coast. Read more about one of the finest places to stay on the Wild Atlantic Way, and perfect for a walking holiday in West Cork.
I was joined there for a girly getaway by a Cork crony who knows every hidden cove and cranny of Cork but has never had a stay in a lighthouse in Ireland. Nor has she ever stepped inside the Galley's gates. But when she, we, did we were blown away not just by the Atlantic surge which hit us with double strength out on this headland, but also by the simply gorgeous restoration of this important piece of Irish cultural heritage.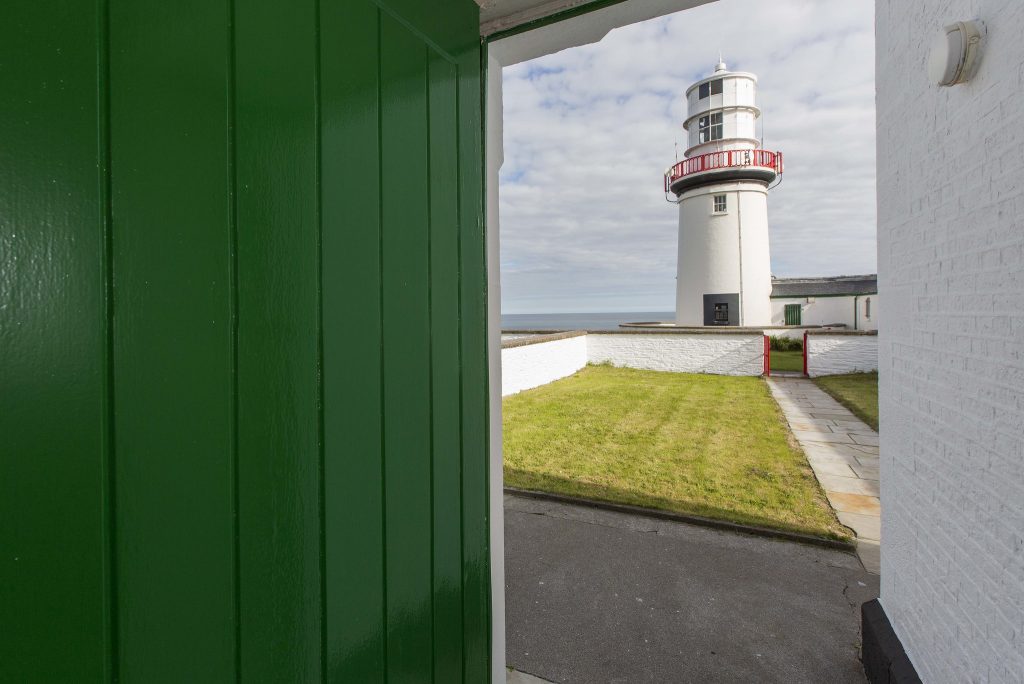 Galley Head is a landmark and, therefore, it is pretty apt that it is one of the Irish Landmark Trust's properties, a charity which has been restoring buildings of architectural importance with a view to renting them out as holiday accommodation for twenty one years now. During this time the Trust has restored 24 buildings across Ireland including a 15th century castle in Co Kilkenny that sleeps ten, a castellated gatehouse just for two in Castletownroche and an 18th century wool merchant's house right in the heart of Temple Bar, Dublin. So if ever there was a good year to be given the key to the door of one of these fine places, this is it. And their collection of amazing buildings is really worth visiting, all renovated with a classic design in keeping with the original architecture, and in to die for locations too. Galley Head being no exception.
There were no shops nearby, which gave us the perfect excuse to stock up on chorizo, red onion and puy lentil tarts, quinoa and couscous salads and a plethora of pastries, all washed down with organic wines from the superb Lettercollum Kitchen Project on Connelly Street, Clonakility before we arrived. We were actually staying in one of the two lighthouse keeper's houses, although if you are planning a bit of a party, they have adjoining doors so you can take over the whole place. And the minute we came inside, we knew this was a pretty special place.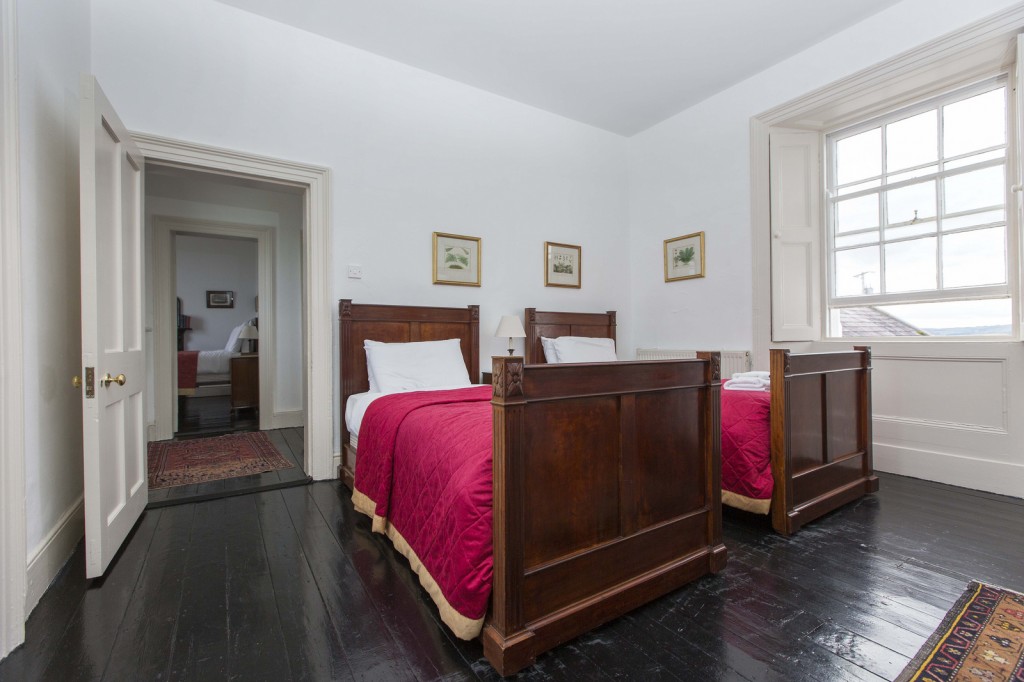 The lighthouse keeper from a family of lightkeepers
Galley Head lighthouse is made even more special by the fact that the caretaker, Gerald Butler, who handed over the keys to us, had lived here for years before. He kindly lit the fire for us and told us that he had been a lightkeeper and that "my family served in the Irish Lights for over a hundred years. My father, Lawrence, joined in 1902 and when he was stationed on Eagle Island in 1945 he met the principal keeper's daughter, Pauline, my mother. After they married, they came here to Galley Head in 1950, but then were stationed elsewhere for a few years, only to return in 1965 with fifteen kids in tow. Of which I was one. My brothers all went to sea with two of us joining The Irish Lights and I am now the attendant lightkeeper here as well as working with the Irish Landmark Trust".
Stepping out of a magical underworld
The Galley Head lighthouse was built between 1874-78 following the sinking of The Crescent City in 1871 when she struck Dhulic rock just off Galley Head. Although the lighthouse has gone from gas to paraffin and now to electricity, Galley Head, like all lighthouses, was assigned a 'character' long ago, Gerald told us. This one has five bulls eyes and a rotation which takes twenty seconds, which contrasts with Old Head Lighthouse at Kinsale which has two flashes every ten seconds, or The Fastnet which has one flash every five seconds. No two lights have the same character, he told us, and few characters could hold our attention on the subject of engineering quite as well as this one, I was thinking. My friend said later "His eyes are so blue, he looks like he just stepped out of some magical underwater wonderworld". I was engrossed by his stories, however, and so was delighted to see that he has put them all in a book called simply The Lightkeeper, published earlier this year by The Liffey Press, (€16.95).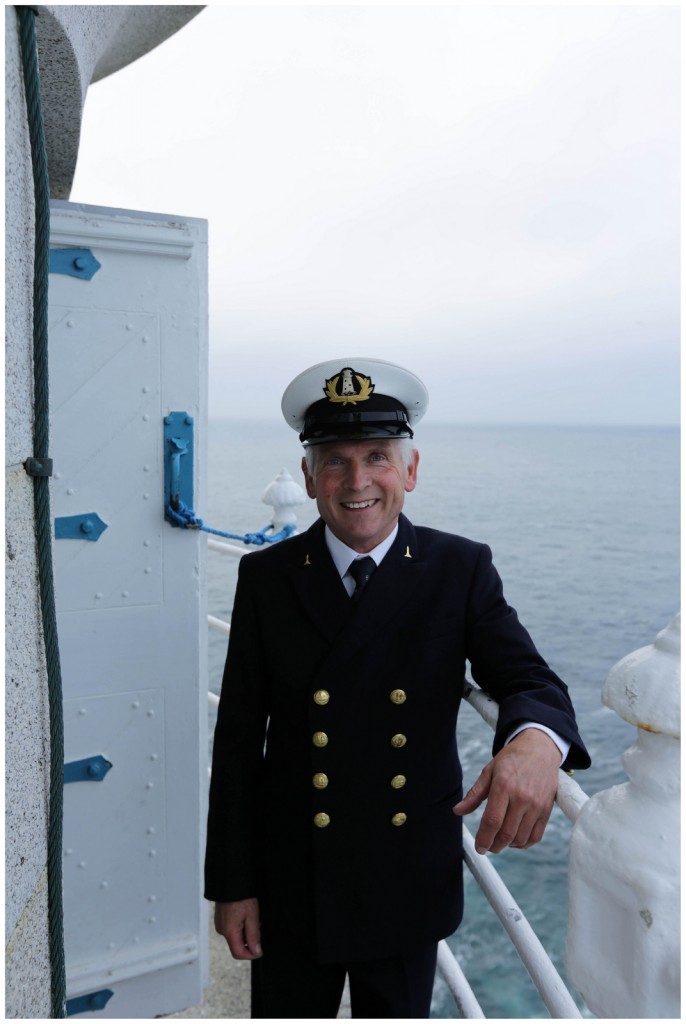 As darkness fell and the fire roared in response to the intense Atlantic draft pulling the smoke out into the wilds, I started to probe Gerald on the more personal stuff which fascinated me. Like how on earth his mother had brought up fifteen of them in this house, and not live in constant fear of one of them falling off the cliffs. "Being born and reared at a lighthouse was great fun, with life being one big adventure really", he told us. "However, it was not all fun and games, as we had to whitewash the entire station every spring. But in the summer holidays we would climb down the cliffs and go fishing and swimming off the rocks". I shuddered as I looked out at the rain which lashed down all around us, highlighted all the more by the dramatic twenty second character which beamed through it.
The Landmark Trust, Ireland
Galley Head lighthouse was fully automated in 1979, but Gerald's parents stayed on as attendant keepers until his father died there in 1992, his mother continuing as attendant for another five years when she retired. Gerald stepped into her shoes until the cottages finally closed in 2001 and now lives nearby. He said that he loves what The Landmark Trust has done with Galley Head and that there is life breathing through it all again. I love what they have done with it too – the comfy sofas and armchairs around the fire, an ottoman overlooking the lawns and light, shuttered windows, dark wooden floorboards and a functional kitchen. There is a plethora of sea themed paintings and a library with everything from shipping manuals to Irish poetry. Considering this place is so close to the elements, the Irish Landmark Trust has pulled off a cocoon like cosiness with a sense of ease.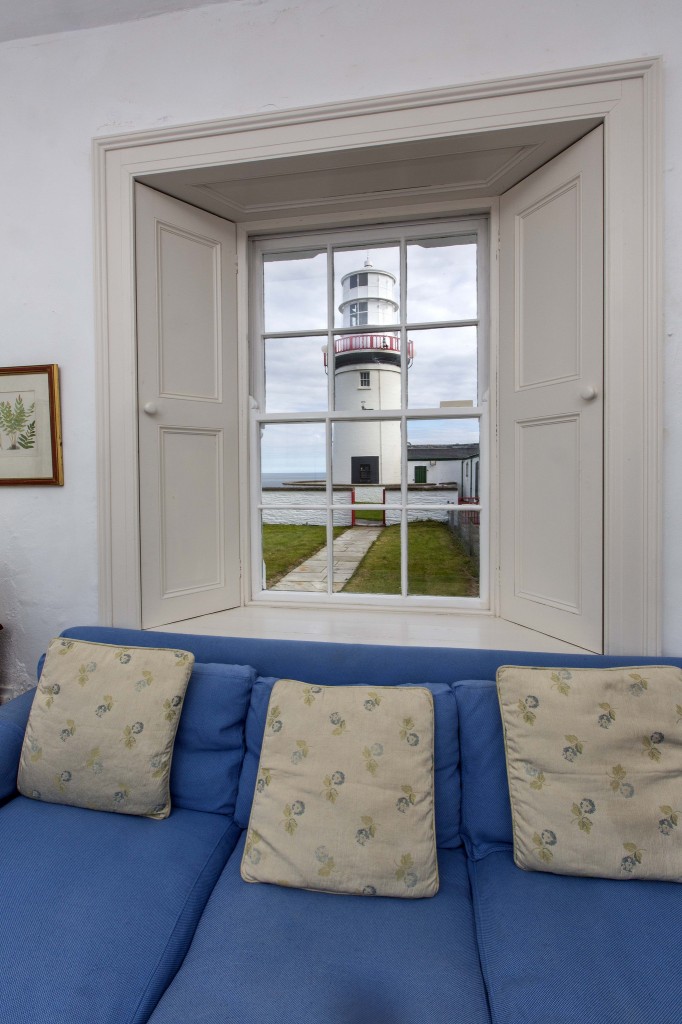 The Irish Landmark Trust's strapline is 'Save, share and sustain. But they have forgotten one more'S'. Stories. Because the Trust is about so much more than buildings. Their charity preserves walls which tell so many stories like Gerald's. Which is why they were wise not to bother putting tellies or other distractions at Galley Head. All you need to do is tuck up in one of the enormous mahogany beds, looking straight out at the light and enjoy the stories. I fell asleep reading the comforting words of Pauline Butler who had penned some notes in the visitors' book. It was almost as if I was one of her fifteen and she was telling me bedtime stories. "I never felt lonely here", she said. "The lighthouse is alive, resembling a gracious old lady winking and blinking over us. Five blinks, every twenty seconds".
For more details on Galley Head Lighthouse and the other Irish Landmark Trust properties, see irishlandmark.com . I also just found this gorgeous video below which captures Galley Head perfectly.
To read more about Gerald Butler's life as a lightkeeper, see his new book The Lightkeeper (The LIffey Press, €16.95 theliffeypress.com) and his blog www.thelightkeeper.ie.
You may also enjoy my blog on the Seven Heads Walking Trail, Clonakilty, West Cork, Ireland, one of the best kept secrets when it comes to walking holidays in Ireland.