'He's a really good head' is something you will often hear in Ireland. It's a colloquialism for a person who is truly decent. So when I decided to take on the Seven Heads Walk around the coastline between West Cork's Timoleague and Clonakilty, I set myself the task to also try and meet seven 'good heads' along the way. I put out a request on Twitter and it was quite easy to see that the same good heads kept being recommended and that I wasn't going to be short of companions on this, one of the best kept secret walking trails in Ireland. Before I knew it I had gathered fellow walkers, dates in pubs, tea in a gardening writer's kitchen, picnic pals and a swimming soul mate for a dip in the Atlantic. Tune into my quick chats with them by clicking on the links attached to each of my 'heads' below.
With only two days free to delve into this unexplored part of West Cork, and short autumn days, I realised I wasn't going to have time to take on the whole 42km loop. My compromise was to take in as much of the coastline as possible and then head inland back to Timoleague a bit earlier than planned, an inner loop which comes in at about 35km.
After a stay at the exquisite Galley Head lighthouse, which I write about in another blog here, I checked in with my first 'head' in Clonakilty, John O'Brien, Chairman of the Seven Heads Walk, and creator of the Seven Heads website and guidebook which is full of information on the flora and fauna, architectural heritage and history. He chats to me here about the creation of this walking trail, and his favourite spots, before sending me on my way and reminding me, like everyone I met on this trip, that I have been 'blessed with the weather'.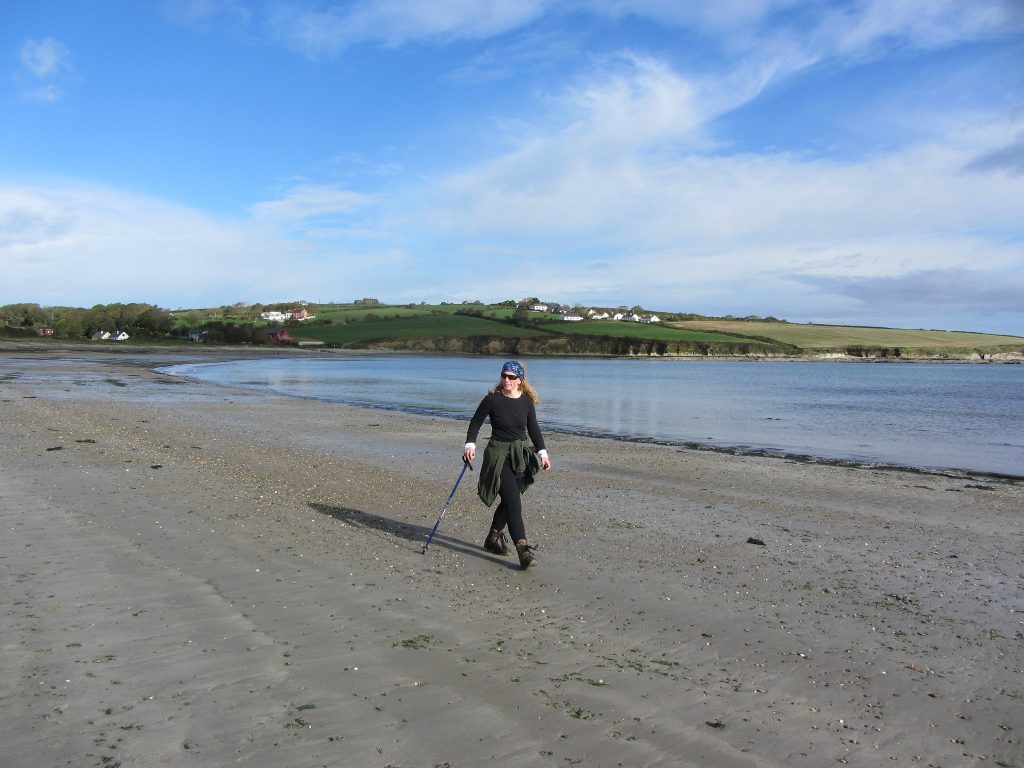 The Wild Atlantic Way, Where to eat and stay
My next head (or heads really) was keen to walk the Timoleague loop of the Seven Heads Walk with me, as this is where he and his partner started a journey of their own twenty five ago. John and Sally McKenna are Irish food and accommodation guidebook gurus with their Bridgestone Guides (now simply known as the John and Sally McKennas' Guides ) a highly respected institution in Ireland. They have put good food on the tourism map in Ireland, by digging out brilliant bread makers in tiny B&Bs, eminent pastry makers in pubs, cheesemakers and artisan butchers hiding their secrets under bushels . They are also experts on walking trails in Ireland and, if you want to eat well on your travels, their most recent book is The Wild Atlantic Way, Where to eat and stay is a must buy.
John and Sally's top tip was to meet at one of the region's leading delicatessens, The Lettercollum Kitchen Project in Clonakilty to grab a coffee, peruse John's maps, and put together a picnic fit for a president, before heading up to our starting point in Timoleague. By the time I got there, they had already filled a bag full of Lettercollum's chorizo, red onion and puy lentil tart, quinoa salad and a ton of other goodies which we now had to earn by hiking the hills.
Loving Lettercollum, Clonakilty
Just before we left, I also managed to grab Karen Austin, the co-founder of this food emporium and 'good head-chef', to chat to me about her Clonakilty creation, where locals queue out the door just to grab one of their famous sausage rolls and where gourmets gather to feast on their home grown produce transformed into epicurean works of art.
We drove to Timoleague and dropped the car there where, although the loop walk around the village is only about three hours long, it was the perfect introduction to the Seven Heads, especially as I had spent the morning getting to West Cork and only had half a day left to get out into the air. But also, as we started to climb the hill to Ardmore, we passed the elegant environs of Lettercollum House where the aforementioned Karen and her husband Con live, grow their produce and also have a cookery school, so that was a lovely coincidence. We then continued up along quiet fuchsia and elder-filled country roads to a viewpoint overlooking Timoleague, its estuarine mudflats gleaming green as they awaited the tide to fill them, and the rest of the Seven Heads disappearing into a sea mist in the distance.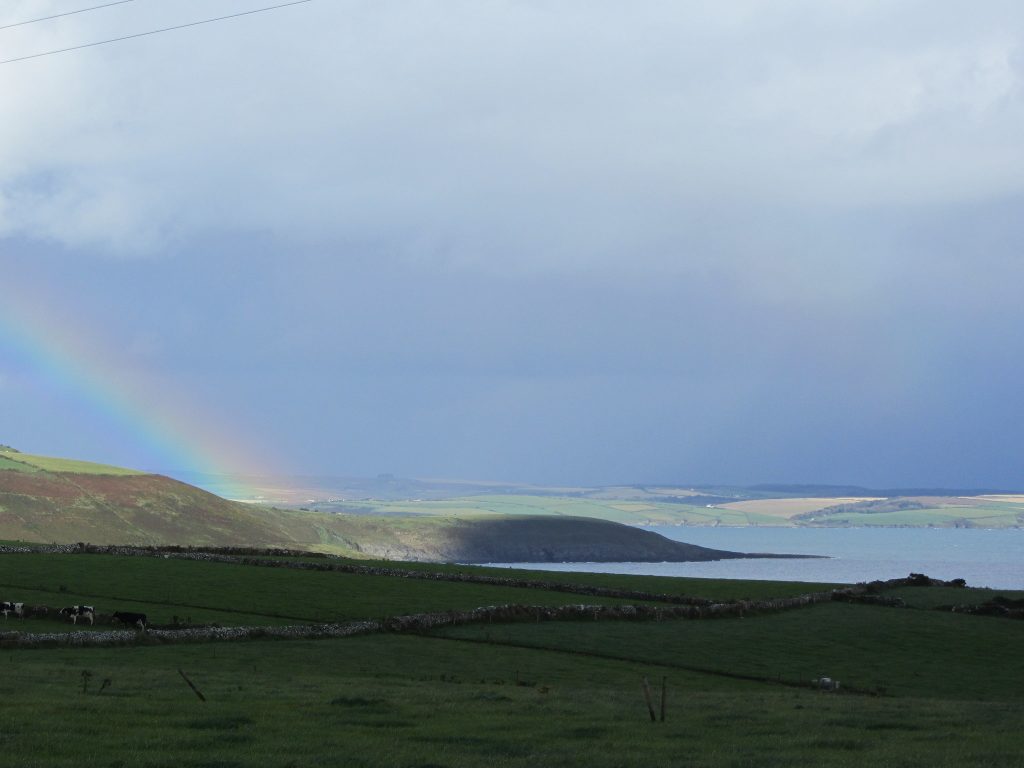 Michael Collins Centre, Clonakilty
As Sally, John and I continued to walk, we chatted about the growth of fine food production in Ireland, whereby it can be proud of the provenance of its produce. Indeed, food can now safely claim its rightful place at the top table of tourism. We completed our loop by following the Argideen River back down towards the estuary where, in a woody glen right beside the river, we toasted our afternoon of walking the hills with Sally's homemade rosehip cordial. Our Lettercollum feast was complete, and the walkers well and truly replete.
My next 'head' was to join me for a pint in Charlie Madden's pub that night in Timoleague, so when a smiling man walked over to shake my hand, I had presumed this was my man. But it was Charlie Madden himself, just giving a stranger a welcome, genuinely keen to know what had brought me to Timoleague. I told him I was meeting Tim Crowley, founder of Clonakilty's Michael Collins Centre, and within minutes I had heard Charlie's version of what happened the night Ireland's most famous leader had been shot at Béal na Bláth in 1922, culminating in a soulful rendition of rebel song 'The Boys of Barry's column' and the promise to post me the words so that I could learn it and join in the next time I passed. Sure enough, a handwritten note, with the words, arrived a week later, so I will have to go back now.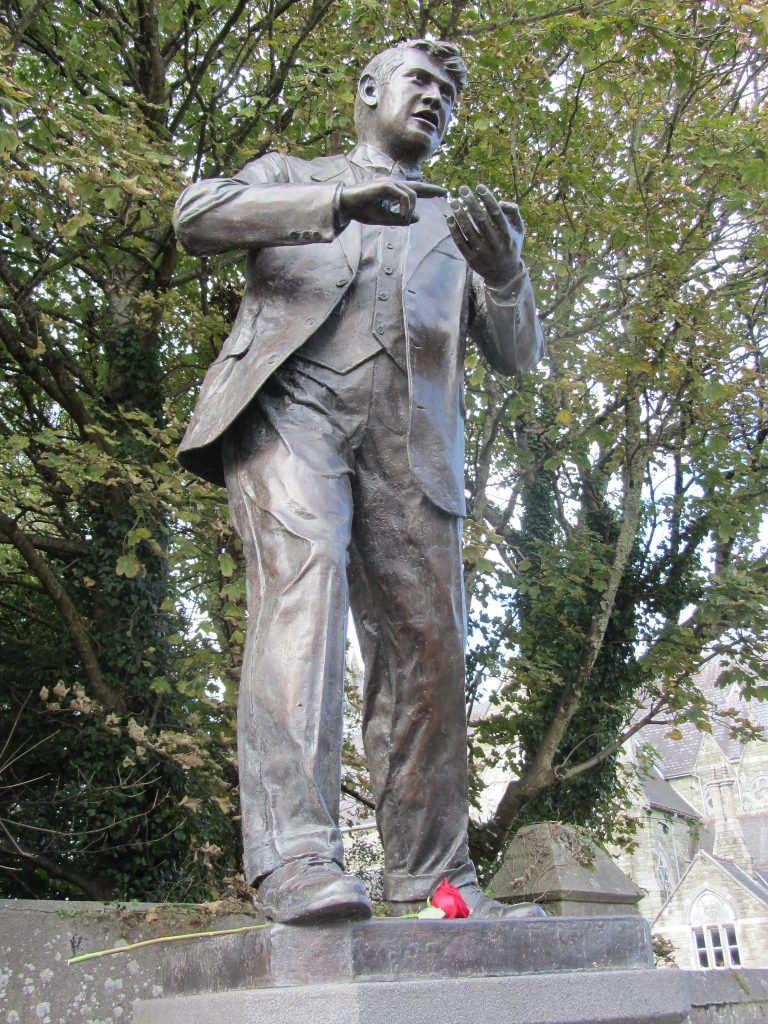 A night in Timoleague
So, my actual planned meeting with Tim had a hard act to follow, but on hearing about his lifelong commitment to the Michael Collins story, and how he has created a small independent museum in a converted cottage as a tribute to his hero including a recreation of the fatal ambush site complete with a replica of Michael Collins' famous Rolls Royce Armoured Car, "Sliabh Na mBan", I couldn't help but be swayed into adding another stop on my Clonakilty circuit. You can tune into my chat with Tim here.
Day two started early, walking from my charming Timoleague guesthouse into Courtmacsherrry, just 4km away along a converted railway line which clings to the estuary, a melange of migrators such as loons and geese, as well as oyster catchers and herons, appearing to feel as 'blessed' as I was. Indeed, looking back at Timoleague's magnificent 13th century friary sitting up on the hill, its headstones and crosses silhouetted against the sky, the shallow waters lapping gently all around me and it, this view is almost painful in its beauty. It's a feature of walking trails in Ireland, in fact, ancient cemeteries with, ironically, views to die for.
Courtmacsherry, the perfect place from which to explore the Seven Heads
Courtmacsherry (or Courtmac as it is known locally) is a small fishing village, sleepy enough, although a hub for fishing boats tucked safely away from the Atlantic which awaits around the first of the Seven Heads. I dropped my overnight bag at my next sleep spot, Woodpoint B&B timing my arrival well as Patricia Gannon, the owner, was about to go out on her daily walk, having just made breakfast for a load of guests, packed lunches and sent them off on a fishing expedition in the safe hands of her skipper husband, Mark.
The Courtmacsherry Woods, is the starting point for many who take on this walk, where a line of oak, beech and pine trees follow the shore, a series of stone steps leading down to miniscule coves at regular intervals, the water just teasing in the distance through the diminishing leaf cover provided by the ancient oak trees. Patricia turned out to be the perfect 'head' to talk to, as she reveals that this gorgeous glade is part of her family's land, but they have given access so that it can be shared with everyone. Listen to my chat with Patricia Gannon here.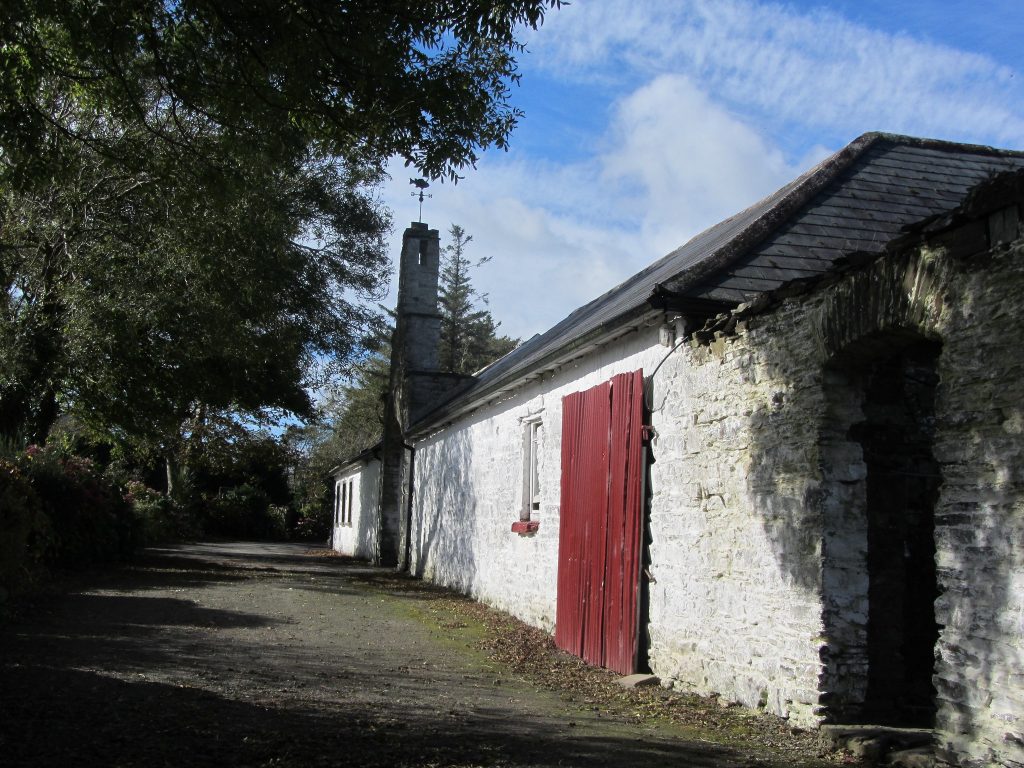 After a couple of kilometres we emerged at Wood Point, the first of our Heads, and the turning point into the Atlantic. The wind was thankfully low, the clear skies allowing us to see all the way to the Old Head of Kinsale. We traversed fields full of horses and cattle, which is where Patricia left me to get on with her busy day, and where I was joined by another good head, New Zealander Bridget Healy, co-founder of Cork's famous café Paradiso, kayaker, fellow lover of wild swimming and, of course, walking. She had never walked this whole loop, so we sauntered on together, imbibing the sun and sharing each other's stories. Although the way marking was thin on the ground, keeping the sea on our left was a pretty safe bet and the booklet also has detailed instructions so be sure to take this with you, although I fully recommend an OS as well.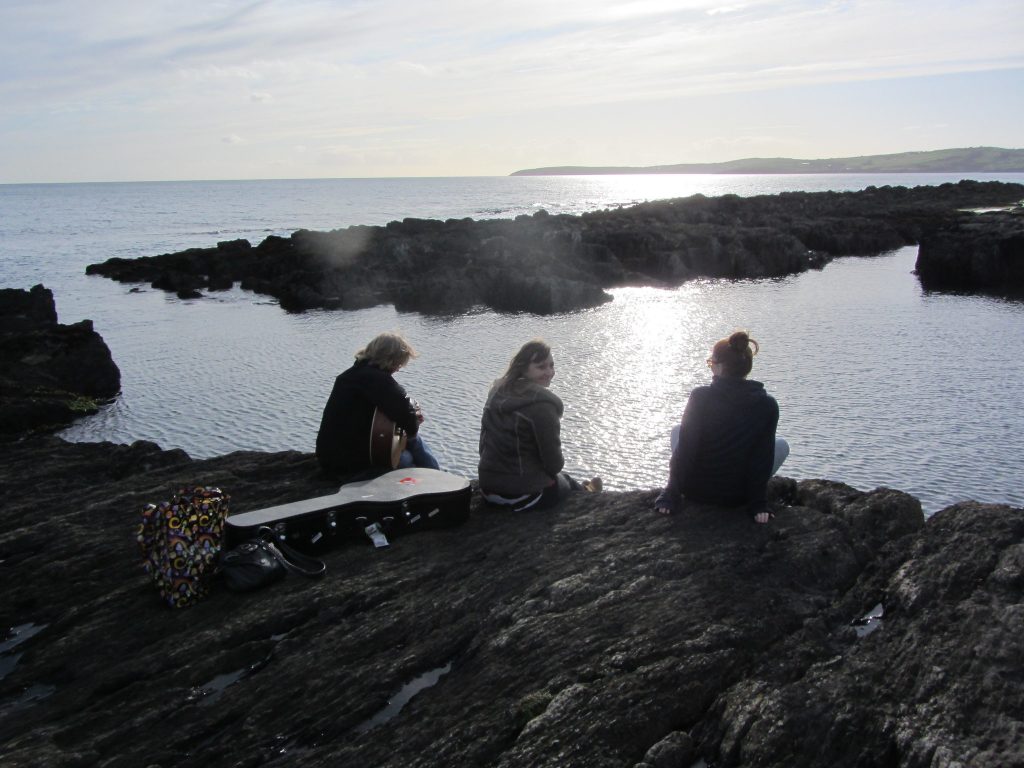 You meet some of the best people on walking trails in Ireland
After about an hour we descend from the clifftop farmland into the deserted Broadstrand Bay, save a couple of dog walkers. A sandy stretch is always welcome underfoot on a hike and although this is a safe and clean bathing beach we agree that it was a bit too early in the day to brave a dip. It absolutely wasn't too early to tuck into the Clonakilty Chocolate Bridget produced, however, a hint of chilli giving us a new spring in our step. If the tide is high it won't be possible to cross this strand, but there is a road on the clifftop so you can follow that if needs be.
We climbed the steps at the far end of the beach leading us inland again, where we followed narrow walking paths tucked between hedgerows, brushing past the escalonia and whitethorn up to a highpoint with a great view out to the Old Head of Kinsale to the North and Galley Head to the South. We had lost count of the seven headlands already, reaching the conclusion that this seven headed monster of a walk seems to have lots of hidden heads as well. Headlands which have seen treacherous times, however, such as near Barry's Point where, in 1915, the lifeboat headed out 18km to sea to try and rescue victims from the torpedoed ship, Lusitania. There was no wind, so the oarsmen rowed for three hours to find survivors all, tragically, in vain, with a loss of 1200 lives.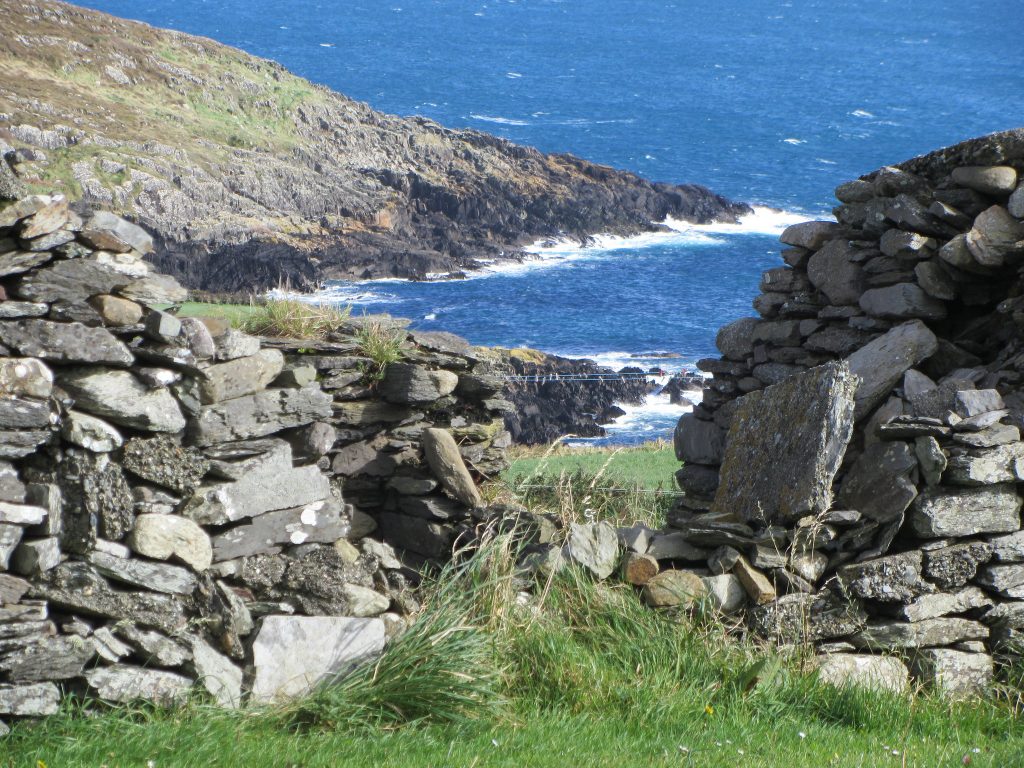 The walking trail continued with so many breathtaking views it could actually make you stop breathing altogether, with Seven Heads Bay and finally Dunworly Bay (our lunchstop) stretching out in front of us. Much of the shoreline is inaccessible on this particular walk due to dangerous cliffs and land access issues, with a few exceptions such as one of the cute coves West Cork is famous for, at Trabeg. We ducked out of dipping again, despite the calm inlet on offer, as we had a date with my ultimate 'head' and we had some inland walking to cover. At this point we entered a landscape filled with stone walls more reminiscent of Connemara than Cork, where the laneways seem to be almost untrodden. In the distance we could see the old signal tower at Travarra, built circa 1800 to watch out for Napoleonic forces, linking up with others like it along the coast so that fire signals could be passed quickly from one to the other.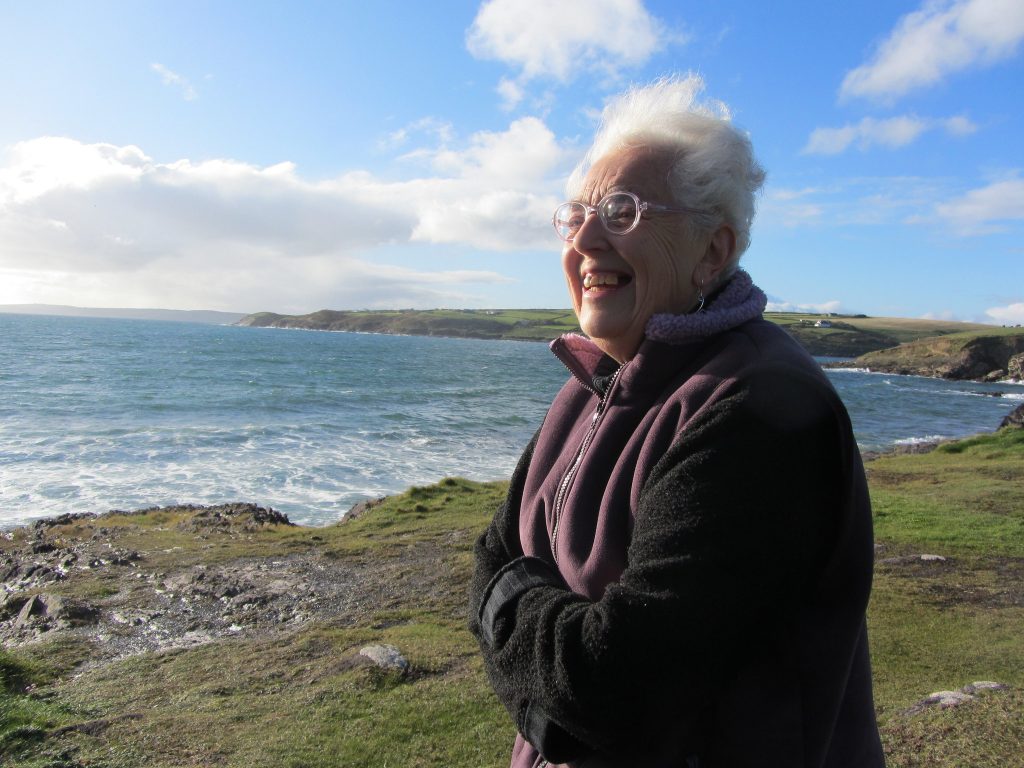 Joy Larkcom, gift of the gab and the gift of growth
From the fern filled and lichen lined lanes around Carrigeen Cross, we finally descended towards Dunworley, homeland to revered gardening writer Joy Larkcom who welcomed us with a fresh pot of tea and a smile that would warm anyone's heart. Not only is she a divine person, and inspiration to many, she is like a guardian angel to us as the heavens had just opened in true Atlantic coast style, and we were truly drenched. We stripped off around her aga, were offered whisky to add to our tea and Joy regaled me with stories of how she landed in this part of West Cork from her home in Suffolk, England ten years ago. You can listen to Joy chatting with me here, a woman who is not only aptly named, but is also a humungous talent.
She has a gift of the gab and the gift of growth, and has completely transformed her barren, wind beaten coastal garden to a veritable haven, fecund with fruit trees, shrubs and vegetables. She is also committed collector of rare seeds, many of which are strewn in envelopes around her study, and tireless campaigner for home produce and I highly recommend the story of her life journey in her latest book 'Just Vegetating' (Frances Lincoln, 2012)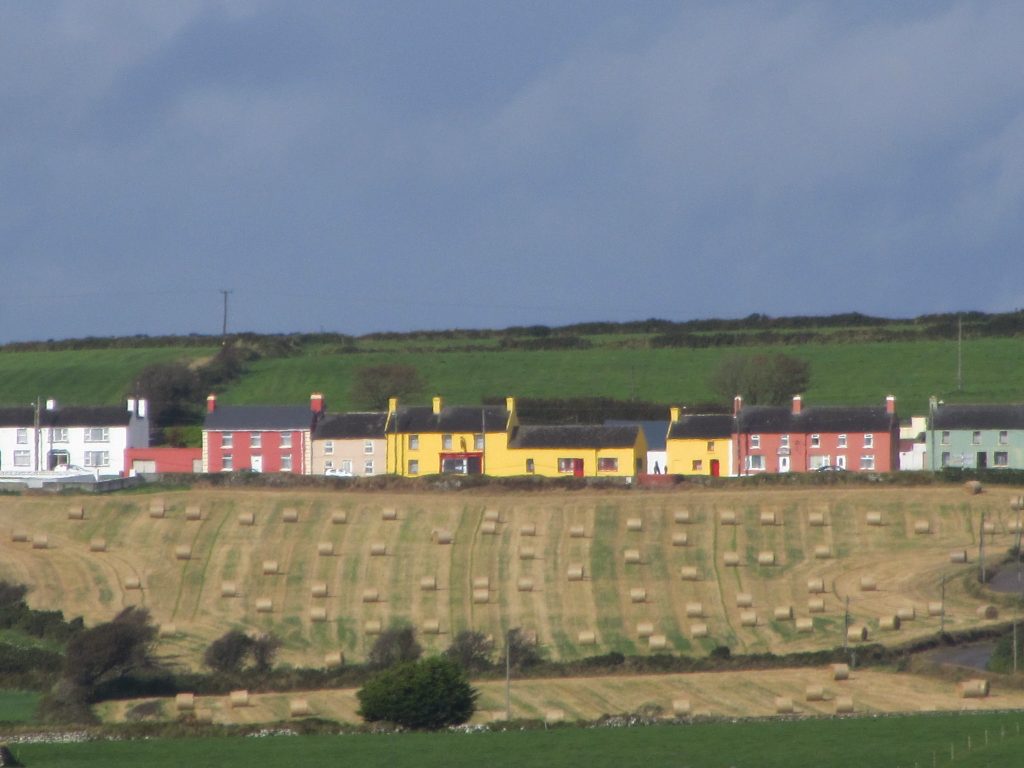 Meeting Joy had revived us totally. As we part company, Bridget and I continuing along the last lap of our walk back through Butlerstown, its colourful esplanade of houses and shops totally vibrant in the light of a perfectly timed post storm rainbow, we ponder the passion in such people's lives and hope that we can emulate it to some degree in our own. We took the road route back to Courtmacsherry but, when the days are longer, there is also an option to take a path back to Broadstrand just after Butlerstown and retrace your steps back to where you started, clinging to the coast again through Ballincurrig and Melmane. As it was, we were happy on the quiet roads, picking blackberries, wild sorrel and sea spinach, chatting and taking in the pretty villages such as at Lisleetemple, which developed around its 16th century church and Georgian glebe house.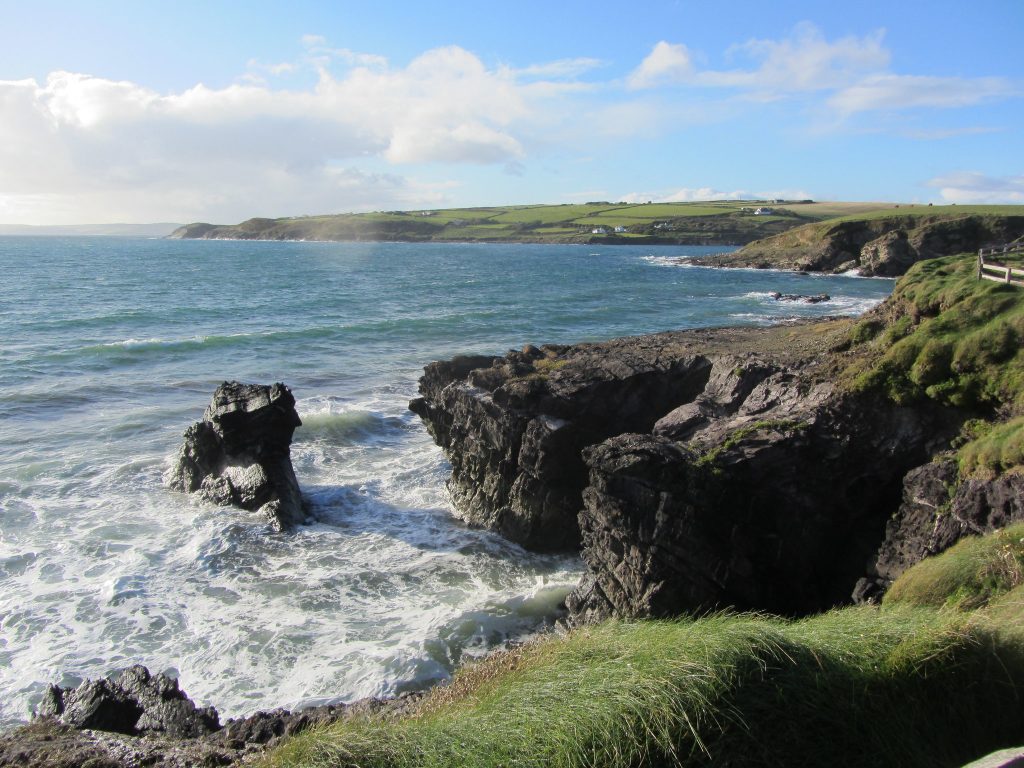 On our return in along the seafront at Courtmacsherry, my delightful walking head shared a few last thoughts about her love affair with Clonakilty and these Seven Heads (listen here). I could see now why Bridget was seduced into staying in this Atlantic nook from her native New Zealand. It is not just the dramatic land and seascapes, the abundance of final local produce or the ability to escape the norm. It's the people. We had lost count of the heads along our walk and similarly, if you come here for longer, you would lose count of the good heads you'll meet along the way. Clonakilty, good weather or not, you are truly blessed.
For more ideas on walking trails in Ireland, check out my blogs on Inishowen, Donegal and Great Western Greenway, Mayo and Loop Head, County Clare.