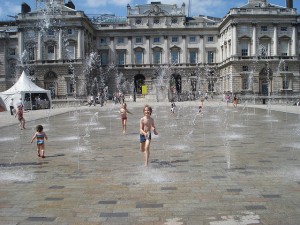 One of London's greatest icons is the Underground Map. Designed in 1931 by Harry Beck, his mass of multicoloured lines will lead you horizontally, vertically or diagonally from one end of this sprawling city to the other. But it isn't really the bowels of the city that appeal to me for a family visit.  If you really want to breathe in London life, you never actually have to leave the banks of the river. The Thames is London's artery; a tidal, working river which led us into endless nooks and crevices of London's past and present.
A family weekend on the Thames really requires a boat and, if you book well in advance  you can stay on a luxurious barge overlooking Kew Gardens (www.bushhouseboat.co.uk). We were after something a little more central, however, so we opted for the family-friendly Novotel Hotel in the heart of Waterloo, nestled into a leafy corner just off the riverbank at Lambeth Bridge. Our spacious fifth floor room overlooked The London Eye, Lambeth Palace, and the Houses of Parliament with Big Ben giving us our early morning call.
Walking around London can be a bit of a nightmare with children, until you discover The Thames Path. It is traffic-free, tree-lined and only a minute's stroll from our hotel, so it made for easy planning, with our daily itinerary starting to revolve around bridges. A short stroll down the Path to Waterloo Bridge led us to our first river spot at Somerset House. Since it was built in 1547, this has been a royal residence, a naval centre, a tax office and, most recently, a collection of art galleries. But it's what is hidden behind Somerset House's austere frontage which really made us smile – a giant courtyard flowing with water from about fifty fountains. Enjoy the art inside by all means, but the picture on the children's' faces as they run around outside, getting totally soaked, is truly priceless. We had come prepared with towels and togs for the boys, as we sat back and sipped a glass of wine enjoying the freedom and general wild abandon that this place invites.
It was hard to pull ourselves away from the water, but knew that it wasn't far away for a cool-down session if we needed it. In fact, nothing is too far on the Thames, once you get the hang of navigating it. This was made easy by the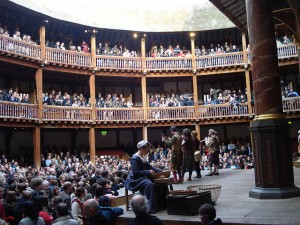 Thames Clipper commuter boat service . A family 'roamer' pass allowed us to hop on and off at whichever pier we fancied. It wasn't the cheapest way to get around (£26.50 for a family day pass), but definitely the most fun, spacious and, if you have one, totally buggy-friendly.
From Somerset House, it was only a ten minute boat ride down to Tower Bridge, where we walked straight off one gang-plank onto another – The HMS Belfast, which was indeed constructed in Belfast's shipyards as a WW2 battle ship and now turned naval museum. War museums are not my thing, but the curators of this one have rather brilliantly recreated the atmosphere of what it must have been like for these men serving at sea for months at a time. After three hours on board studying engine rooms, missiles, ship's kitchen, hammock-filled dorms, and hearing veterans' audio accounts, we took our final salute on the ship's bridge. Poised in the Captain' s chair, my older son, Louis, said "How is it that the Captain had so much control, and yet did so little of the work?" An elderly medal-wearing veteran visitor guffawed loudly as he passed by, enjoying my little mutineer in the making.
The Thames has always divided the city socially as well as geographically. In Elizabethan times, the South was outside the City of London's authority – trading was swapped for theatre, finance for farming and, in many ways, these roots still hold strong. Although the farming has gone, many old markets have remained South of the river. As for the arts, the South Bank is the centre of the London arts scene. Our next stop was Bankside Pier, where we walked straight off the boat into Shakespeare's Globe – a magnificent round, white-washed, timber beauty, its thatched roof open to the elements. It comes as a disappointment to many that The Globe is, in fact, a reconstruction, but I think of it more as a perfect homage. In 1949 American actor and director, Sam Wanamaker, was visiting London and went in search of The Globe, disappointed to find only an old blue plaque on the wall of a derelict brewery. For the next forty years, he followed his dream to pay proper tribute to Shakespeare and, after years of fundraising and planning battles, this magnificent structure was finally opened in 1997.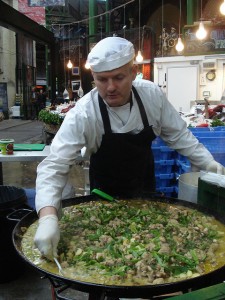 We visited the exhibition and took a tour of the building to learn more about this amazing man's quest. No modern building techniques were used in the reconstruction, using English oak, thatch and lime mortar plastering, and it is the only building in London with a licence for a thatched roof. Everything at the Globe is done in as traditional a way as possible, including the seating. Later that day, Louis and I watched All's Well that Ends Well from our wooden bench, glad that we had rented a cushion for a £1. Or you can buy a 'yard' ticket for £5 where, just like the 'groundlings' of the time, you stand throughout the show. These are the best tickets in the house 'though, as you can get up close and personal with the actors as they weep, and feel the sweep of a rapier as they fight. If you don't think that Shakespeare is going to do it for your kids, and to be honest, this is the place to see it done as it should be, you could head to The Unicorn Theatre just beside London Bridge, London's leading children's theatre, often upstaged by West End hype.
The next morning I took an early morning stroll around Borough Market at London Bridge and Walworth Market nearby, with walking tour guide Sandra Shevey . Passionate and knowledgeable  about London's markets,  Sandra just opened her Pandora's Box of a head full of historical titbits, social politics and contemporary gossip, and was the most delightful company for three hours.   I made sure that I didn't leave Borough market without a quick stop at Hobbs' Roast Meat stall for baguettes brimming with layers of hot roast pork.  The boys had spent the morning back at the fountains in Somerset House, so I hopped back on the boat up to Waterloo and followed the screams of delight emanating from our new favourite urban haven.  Met with wet hugs and sunkissed faces, they devoured the takeaway delights and dived in for another soaking. "Can we stay here for the rest of the day? Pleeeeese!" they shouted. With the Thames as my new guide, I realised that this was the moment to sit back, enjoy, and just go with the flow.
An edited version of this article was published in The Southern Star, Ireland