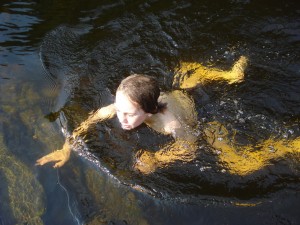 Ever since returning from my swimming holiday a few years ago, my kids have been pestering me to know when they can do one too. Most swimming holiday providers don't cater for kids, or families, being aimed more at the long distance neopreners. However, there is a place for everyone, and Dan Graham and Gabby Dickinson who founded the new outdoor swimming company based in North Wales, Gone Swimming, have filled this gap in the market.
This coming October half term, from Saturday 27 – Tuesday 30 October, they are running a family wild swimming long weekend, teaching not only the skills of open water swimming to parents and children, and as Dan is a water safety expert and Gabby is a child care professional (as well as complete water babies themselves) they are well qualified to do so too.
They are basing the trip in Cwm Pennant Hostel in the Cwm Pennant Valley close to the base of Snowdon. From here, they have a plethora of outdoor swimming spots on the doorstep, and the choice of swim will depend on the weather conditions and also the sort of thing that families are hoping to do.
Gone Swimming want to provide families with the knowledge they will need to make sure that they carry on wild swimming long after the Half Term. They will be reading the maps, deciding on locations as well as learning about how cold water affects both adults and the kids. Dan and Gabs will be with them in the water and every step of the way, but this is not a coaching or training weekend, more a blast in the open water sort of weekend. And yes, wetsuits are a must!You can also hire them from Gone Swimming if needs be.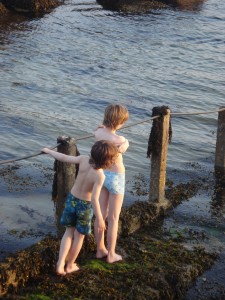 There is an early booking offer on this trip of £300 per person, adults and children alike (a saving of £50 per person over the regular price) – that is for an all inclusive three night stay (arrival Saturday and depart Tuesday). It is also worth noting that they will pick you up from Bangor station if you choose to go by rail, so dig out your Family and Friends' Railcard and get a great offer on the train too.